It can be tough to unplug and unwind at the end of a day, let alone reconnect with your spouse. Fortunately, a simple massage can help.
It's the simple moments in our marriage that we often love the most. Your husband bringing you a cup of tea in the morning. Your wife bringing home your favorite sweet treat for you. A little shoulder rub every now and then.

Yes, a shoulder rub. It doesn't sound earth-shattering, but actually introducing some romantic massage into your marriage comes with a whole variety of amazing benefits for your relationship with your spouse.

Treating your sweetie to a massage will dramatically increase the intimacy in your marriage, help build stronger trust and even have you falling a little bit more in love all over again, just like the courting phase of your relationship!

Sounds fantastic, right? Of course it does! And besides all this, who wouldn't want access to muscle-melting massages on tap from their spouse?

Massage is the gift that keeps on giving. Once you know how to do it, it becomes just one more trick in your relationship toolkit to help show your partner love and appreciation on a regular basis.

Here are five amazing ways massage can help transform your marriage:



1. A Closer Connection & Stronger Trust


Trust is the cornerstone to any marriage, and touch has been shown to release oxytocin (the "love hormone") in in the brain. You probably already have a great established trust with your spouse, but sometimes this bond can do with a little reinforcement, especially over the course of a longer relationship.

Massage between couples has been proven to help supercharge this trusting bond. For you to really, fully enjoy any massage, you need to first relax. Having your spouse deeply relax into you as you're rhythmically massaging the tension from their neck, shoulders and back is a wonderful experience. Watch them fall back into you, eyes closed, not a care in the world.

Falling this way into your spouses arms and likewise, having them surrender to you in the same trusting way is a truly comforting experience that will have wider effects throughout your marriage.



2. Generates Natural Intimacy


Treating your spouse to a massage may well be one of the most intimate experiences you can have together (I said one of!).

Intimacy doesn't just automatically occur in a relationship. It's about being emotionally close to another person, and sometimes you do have to put some effort into cultivating it.

Intimacy is about being exposed and still feeling secure. It is created in private moments through shared experiences together; and one of the most central ways to develop this intimate connection is to spend time alone as a couple, concentrating entirely on each other.

When it comes to massaging your spouse, you are unquestionably focusing your absolute attention—right down to your actual hands!—on one another in a quiet moment together. Try it out and watch your intimate relationship bloom.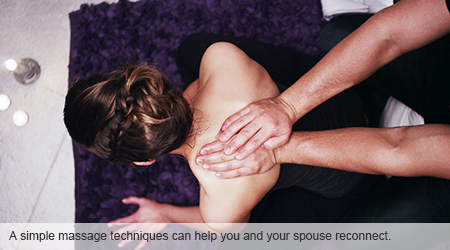 3. Fall Head Over Heels (Again!)


When you first met your spouse, you had the very definite experience of falling in love. Butterflies in the tummy, trouble sleeping, not wanting to eat, fixating constantly on the object of our desire… your brain in this early phase of love quite literally mimics the brain of an addict. It's a wonderfully giddy time.

This falling-for-you stage typically only lasts 6-18 months (which is probably for the best; or how could anyone ever get anything done?) before it gives way to a more comforting, bonded, long-term love (think sitting on the couch watching movies night after night).

Interestingly, researchers recently found that simply injecting some novelty into your relationship will cause a small and sudden spike of love-inducing hormones, the very same ones that are flying around in our system during our head-over-heels stage of love!

By novelty, we don't mean you need to move or take an around the world vacation. It can be a small change to your daily life—eating at a new restaurant or learning a new skill together, for instance.

When it comes to new skills, massage is a fantastic one for any couple to indulge in together. You can learn from the comfort of your living room, it's cost-effective, loads of fun and very simple. Add to that the fact that you'll literally have your hands all over each other's bodies makes it romantic and exciting too. What else could you ask for?



4. An Effortless Stay-home Date Night Idea


Regular date nights are very important for any marriage. Purposely carve out time for your spouse during the week, away from the humdrum of work, eat, sleep, repeat—a chance for you to catch up on quality time with each other.

When you're massaging each other, you won't be talking about money, or the stressful day you had at your job. It's an opportunity to be alone, to relax and to pamper each other.

You can transform a simple massage into a decadent date night with just a few simple additions: dim the lights, put on some soft romantic music, open a bottle of wine and a box of chocolates.

Make no mistake: indulging together in a little massage is easy, cheap and can be a regular weekly thing—learning new massage techniques or trying new massage routines each time will keep it fresh and new. Just add oil!



5. Time To Pause


It's a hectic world we live in. We work long hours, we're connected 24/7 to the internet so we can always access our messages and e-mails. High-speed Wifi has set a high-speed pace for our lives. Sometimes, you just need to pause and take a timeout from it all.

Giving your spouse a massage is a great exercise in mindful respite. You get to focus on just one thing, counteracting all that multi-tasking we do all day. You both need to consciously relax into the massage, a beautiful remedy to those stressed, hunched shoulders we carry around all day. And you can both get totally lost in the moment if you allow yourselves. No more thinking.

Cultivating the space and time so your relationship can flourish is extremely important for your marriage. Pause. Inhale. Bond. Love… Just be.

All this from one simple massage? Yes, absolutely. It's the beginning of something wonderful.

Emma Merkas is a relationships expert and the co-founder, along with her husband Denis, of Melt: Massage for Couples, a series of online couples massage videos teaching simple techniques for a beautiful massage at home. Hitched readers can access instant lifetime memberships to Melt for

just $39 until August 11, 2014.

That's 60% off. Use code: HitchedMag at checkout.