How To Survive In-Laws
Hundreds of couples offered their in-law stories in a new book so others would be prepared.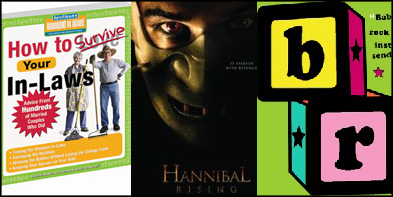 ---
READ
How to Survive Your In-Laws
Various Authors, Edited by Andrea Syrtash
www.hundredsofheads.com/inlaws

As the saying goes: you can pick your nose, but you can't pick your family. Thankfully, someone has written a how-to survival book helping you cope with the potential, or already-existing, in-law problems all courtesy of a hundred couples that have "been there." From making the first impression to weathering the worst parts of blending two families, this book teaches you the hard-earned lessons of many new couples before you have to learn them yourself.

WATCH
Hannibal Rising
Gaspard Ulliel, Gong Li, Helena Lia Tachovska
www.hannibalrising.com

All good serial killers have an evil past, and Hannibal Lector is no exception. Long before he became the infamous cannibal who terrorized our books and screens, Lector was a normal 8-year-old living with his family in Eastern Europe. Soon after Hitler's invasion in WWII, Lector's destiny begins to unfold with the violent death of his parents and the horrific killing and cannibalization of his younger sister at the hands of Nazi-led militiamen. After escaping a terrifying orphanage, Lector finds his widowed aunt and flourishes as a student—and a murderer, killing his first victim as a teenager and then systematically killing the men he witnessed kill his family one by one in gruesome, graphic detail.

LISTEN
Baby Rock Records
www.babyrockrecords.com

Tired of the same old dull, uninspired lullabies that were forced on you as a child, and your parents before you? Baby Rock Records has the answer with hip yet gentle lullabies made out of timeless rock songs from bands such as Metallica, No Doubt, Radiohead, the Pixies, the Smashing Pumpkins and Led Zeppelin. These delicate, instrumental lullabies are soothing to the little ones as they drift off to sleep and to adults who are one nursery rhyme away from ripping the spinning mobile out of the ceiling. As their saying goes, "It's cherub rock for a new generation."


---
---
---
Leave a Comment