Did you know that the world is your oyster and San Luis Obispo (SLO) County is your playground? Home to more than 280 wineries, 80 miles of scenic coastline, scores of locally owned restaurants, a bounty of fresh foods from the farms and the sea (including oysters), enticing boutiques, artisan galleries, engaging museums, and so much more, SLO County is your place for pure play in California. Whether you're seeking a culinary, coastal, or cultural wine touring experience, you'll find it here. San Luis Obispo County is home to two distinct wine regions and both have earned international acclaim! North County Better known as Paso Robles Wine Country, discover a full range of varietals that thrive in Paso's extreme diurnal temperature swings. South County Commonly called SLO Wine Country, find Burgundian-, Alsatian-, and Rhône-style vintages that thrive in the mild, maritime climate. There are hundreds of things to do and see. So come out and play! Discover visitsanluisobispocounty.com.



Your Classic Getaway to Pismo Beach



Here's a place in the heart of California's Central Coast where people still live the California dream. Pismo Beach is a classic beach town set on seven miles of pure white sand. It has a relaxed, friendly vibe and all the makings for a getaway for couples, families, and groups of friends—including the four-legged variety. Pismo Beach is located halfway between San Francisco and Los Angeles along scenic Pacific Coast Highway 1 and Highway 101, so it's easy to reach and oh, so easy to settle into.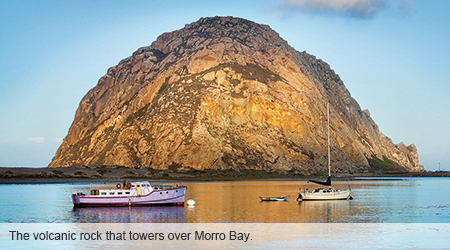 Your Seaside Village, Morro Bay



Named for the crown-shaped, 576-foot-high volcanic rock that towers over its harbor, Morro Bay is a picture-perfect community with a beautiful, gentle bay and easy ocean access, so it's perfect for all sorts of water sport—and you. Kayaking, sailing, paddleboarding, biking, fishing, surfing, beachcombing—it's easy to start with one activity and switch to another with plenty of equipment rental places along the town's bustling Embarcadero. In fact, this busy sidewalk serves as the hub of Morro Bay, with inviting boutiques, antique shops, galleries, wine bars, and oodles of popular seafood restaurants serving fresh-caught fish and locally raised oysters. Everything is delightfully easy: a walk up to Old Town to shop or out to Morro Rock to watch the surfers, a quiet paddle on the bay, a Trolley trip to the unspoiled beaches of North Morro Bay. Discover this sweet seaside village and escape for a while at a campground, a homey bed and breakfast, a budget-conscious motel, or an elegant waterfront suite. Explore morrobay.org.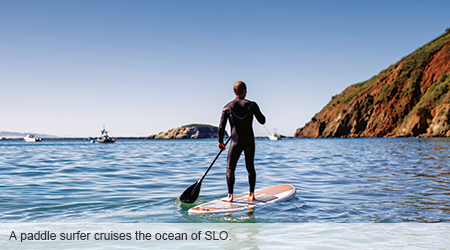 Sincerely Yours, San Luis Obispo



It's no wonder people call the city of San Luis Obispo "SLO." They find no reason to rush in this delightful coastal city. SLO has everything one could ask for: an ideal year-round marine climate of balmy days and cool nights, an unrivaled proximity to both the Pacific Ocean and wine country, a friendly downtown lined with shops and intriguing restaurants, two colleges, a symphony orchestra, and a beautiful Spanish Mission in the center of it all. Recently, San Luis Obispo has topped a variety of "Best of" lists for everything from most friendly, most romantic, and most healthy to America's best college town and best Main Street. But what really matters is you. This is where you can choose your own adventure and find the adventurer in yourself. SLO locals sincerely treat you like a personal guest, with friendly tips and advice to make you feel at home. There are plenty of places to stay in the heart of this tranquil downtown, so spend some SLO time soon. See sanluisobispovacations.com/.



The Always Iconic Madonna Inn



The beguiling Madonna Inn is a landmark destination, known for its timeless elegance and whimsical appeal. It sits in a prime spot just minutes from downtown San Luis Obispo and the vineyards of SLO Wine Country and Paso Robles. You'll be inspired by its creatively decorated guestrooms and resort-style amenities and activities. Besides a beach-entry infinity pool, two whirlpool spas, and a fitness room, there are tennis and basketball courts; hiking, biking, and horseback riding trails; and a luxurious day spa for you to enjoy. Pop into the Madonna Inn Bakery for cookies, Danish and European pastries, cakes, and pies baked there each day, and stop into the award-winning restaurant, Alex Madonna's Gold Rush Steak House, each evening to hear live tunes. Best yet, the Madonna Inn Gourmet and Wine Shop is an intimate place to taste and learn about local wines. Besides carrying a list of carefully selected wines, the shop offers the private Madonna Inn label: wines made by local vintners. Visit madonnainn.com



Grapes Kissed By the Ocean Air



Just west of Paso Robles and north of SLO Wine Country, the natural and rugged California coastline begs to be explored with deserted beaches, enchanting seaside towns, and—best of all—seven distinct boutique wineries. Together, they form The Pacific Coast Wine Trail, an incomparable route leading from the quintessential beach town of Cayucos to historic San Simeon, with stops between in the towns of Harmony and Cambria. Each tasting room is different with its own story to tell. But, as you sample the handcrafted, premium wines of Hearst Ranch Winery, Black Hand Cellars, Moonstone Cellars, Twin Coyotes, Stolo Family Winery, Harmony Cellars, and Cayucos Cellars, you'll discover what strings them together. You'll see that, words like "small," "family owned," and "history" are commonly used. And in many, the owner or winemaker is there, willing to talk for awhile about what it's like to make wine in this stunning place that's off the beaten path, yet perfect in so many ways. Discover pacificcoastwinetrail.com.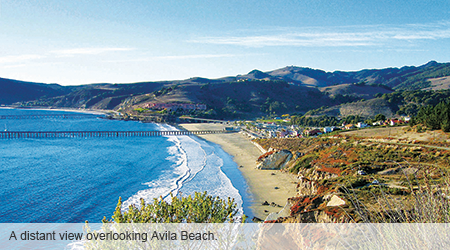 The Festive Town of Avila Beach



At the end of a narrow canyon that leads to the ocean, you'll find enchanting Avila Beach. Breathe in the fresh salt air as you unwind: an expansive stretch of glistening sand; a tiny, historic town; sparkling yachts in the harbor; pelicans and seagulls skimming the water; and a long, working fishing pier at the end of the road. Avila Beach is a wonderful place for a family vacation, including the dog, who is welcome at one of its many pet-friendly lodgings. Besides a captivating beach and inviting public play area, the Avila Sea Life Center lets visitors experience the ocean with hands-on programs. This charming little town has a 100-plus-year-old history as a shipping port and fishing pier. It's still busy, and downtown, the tasting rooms are too, pouring locally produced, award-winning wines. Welcoming wineries wait moments away in Avila Valley, where the soothing, natural, mineral hot springs will help you relax and recharge. See visitavilabeach.com

Touring & Tasting is a media company that produces a wine and travel magazine and is also partner in the Hitched Wine Club.