Crafting distinctive wines is nothing new to Kristina and Jim van Löben Sels who have successfully worked side by side at their family winery, Arbor Crest, for 15 years. A few years ago, to pay homage to their combined family roots, they decided to resurrect the van Löben Sels Cellars label. "Kristina and I wanted to create a new slate of wines honoring my roots in the Napa Valley and pay tribute to my uncle who was part of the original van Löben Sels Cellars in Oakville, California 40 years ago," Jim explains. "Since Kristina's expertise is winemaking and mine is the vineyards, we wanted to take what we do best and blend our skills together to create something special. We'd like to make it something to hand down to the next generation."

After just three vintages (the last released in June), it's evident that they're well on their way. The first releases came out with a bang, with 92 point scores awarded to both the 2010 Chardonnay C and the 2009 Cabernet Sauvignon by Wine Advocate.

Both the Cabernet Sauvignon and Chardonnay grapes come from two cooler sites in Washington State: Stillwater Creek Vineyard and Conner Lee Vineyard. "The vines we have selected are own rooted, from specific clones which we planted over a decade ago," Jim says. "The age and maturity of the vineyards combined with Kristina's winemaking style are creating complex layered wines, which are food friendly and fruit forward." All of the van Löben Sels wines are ready to drink when released, however, they are made to age in the cellar. Jim and Kristina believe these wines will pass the test of time and demonstrate how strategic viticulture complimented by masterful winemaking skills can produce truly world-class wine.

Currently, the wines can be sampled at the Arbor Crest tasting room in the stunning Cliff House Estate, an historic estate overlooking the Spokane River.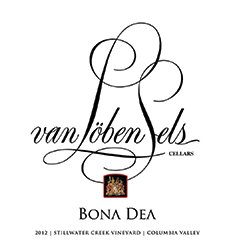 What to Buy




'13 Chardonnay, Conner Lee Vineyard - $30


Peach, apricot, toasty oak



'12 Bona Dea, Stillwater Creek Vineyard - $65


Chocolate, maple sugar, black raspberry, nutmeg, plum, black cherry



'12 Cabernet Sauvignon, Stillwater Creek Vineyard - $55


Chocolate, red currant, plum, spices, herbs



Special Notes


Private tastings and private barrel tastings by appointment, wine club events.



Contact


4705 N Fruit Hill Rd.
Spokane, WA  99217

Phone: 509-981-8199


E-mail:

info@vlswine.com


Website:

vanlobenselswine.com



Tasting Room:

Open Daily 12-5

Touring & Tasting is a media company that produces a wine and travel magazine and is also partner in the Hitched Wine Club.






---