Spouse To Go
How do couples get by when one has to travel a lot? Meet some couples who are making it work.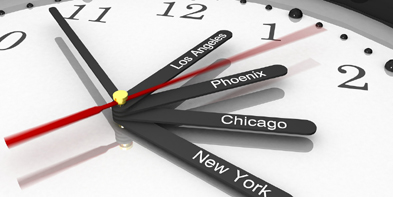 ---
For some couples, coming home to each other every night isn't an option. And whether the job is a must for income or ones passion, the long-distances between a couple can take its toll on a marriage. Meet five couples committed to going the distance despite the miles between them, and see how they're making their globetrotting lives work.

The Husband of a Sales Rep Always On the Go
Russell Trahan
Married to: Kendra Trahan
Home base: Winter Garden, Florida

My wife is a regional sales manager for a pharmaceutical company, and she's been traveling for her whole career—14 years. For me, it's like being a single professional. When I need to arrange an appointment with a delivery person or a repair person, it always takes twice as long to coordinate one of us being home.

I know Kendra doesn't like to travel any more than I like her traveling, so I never guilt her about it. We've also learned to enjoy some of the perks of her travel: We've taken vacations on her frequent-flier miles and stayed in great hotels thanks to her Marriott Rewards Points. I've also learned to enjoy my alone time. I listen to a type of music Kendra doesn't enjoy and eat lots of seafood, which Kendra is allergic to.

The first time Kendra went away I was very lonely. I went over to her parents' house for dinner to be as close to her as emotionally possible. But over time, my attitude has changed. I used to sit at home every night and wait for her call from the road. I'd get upset when she'd go out to a movie or dinner in whatever town she was in while I never went out. Now, I sometimes go out with friends in the evenings when she's gone. Then we might talk in the morning before we start our respective days. But we still always talk every day.

The Lifetime Traveler Who Met Her Spouse on the Road
Janelle Barlow
Married to: Jeffrey Mishlove
Home base: Las Vegas, Nevada

I'm an author and business consultant and I give a lot of speeches and meet with clients all over the world. My husband and I met while I was traveling, and he never put up any resistance to me continuing to travel like some husbands might.

I've been traveling since about 1976, and it's a lot easier today than it used to be. Now there's Skype, which is readily available for no-cost international calls; plus almost all hotels have broadband internet connections. We used to spend a lot of money on international calls.

Since I travel so much for work, I tend not to travel for vacations. That's just too much. I've also accumulated a lot of frequent flier miles, and sometimes I use them to take members of my family on trips with me, which is always fun.

Still, I don't enjoy how tired I feel when I come home after an international trip. I figure my husband is glad to see me, but frankly, I'm rather zoned out. So I try to nap right after returning home for a couple of hours so I can make something of the rest of that first day at home.

When Both Partners Travel
Melody Callaway
Married to: Jay Callaway
Home base: Denver, Colorado

We've been married for three years and travel has been a part of our jobs since the beginning—I'm a publicist with clients all over the world and Jay is in sales. Although it's not the dream lifestyle, we make it work—and we play to its advantages. Spring, summer and fall are usually my busiest traveling months because of tradeshows and conventions I have to attend. The shows usually last three to four days. Jay travels for work, too, and is usually out of town one to two nights a week.

The first time I went away, it was exciting. I was on a professional business trip and it involved wining and dining potential and existing clients and eight hours on my feet at a tradeshow. But after the rush of the conference had ended, it was just a lonely night in a hotel room. Although the fresh sheets of a hotel are nice, to this day I sleep horribly when I'm out of town. The same goes for when Jay is out of town. The first time he left on business, I don't think I slept more than 10 minutes at a time.

One of the hardest parts of traveling has been missing special occasions. Over the past year, I missed both my birthday and our wedding anniversary. Although celebrations can be postponed, being on the road on your birthday or on the day that you and your husband got married isn't romantic. It's also tough to keep your sex life normal, though sometimes absence does make the heart grow fonder.

But what keeps us going while traveling are the little things we do for each other. Sure, we know we love each other and that we'll always be there for each other, but when there's a little effort, like leaving a note in my make-up bag or calling and leaving a silly voicemail, it makes me smile from ear to ear and remember why I married this great man.

Still, time on the road is stressful. And stressed out wives and husbands can sometimes be short and frustrated when they get home. It's like you need a debriefing period. I think a work or lifestyle change will definitely happen in the future, either when we start having kids or when we just get burned out of having to drive to Denver International Airport.

The Husband Pursuing His Life's Dreams
Tom Ingrassia
Married to: Barbara Combes Ingrassia
Home base: Holden, Massachusetts

I'm a motivational speaker, life coach and academic lecturer, which requires me to travel to various locations for speaking engagements. I also run an artist management agency with a roster of 12 eclectic artists, so I often travel to gigs to handle details and manage merchandise sales. I love to travel—I'm a gypsy at heart. My ideal life would be living out of a suitcase full time.

My first extended business trip, which occurred in late November, 1997, took me to Sweden for a conference. I was thrilled; my wife was a bit jealous. She wanted to come, but couldn't take time off from her job. The trip also coincided with Thanksgiving and her family was planning to be here for the holiday.

Now, my wife doesn't cook—I do all the cooking. So as I was sitting in my hotel room in Vaxjo, Sweden, I received a frantic phone call from Barbara, asking where the roasting pan was and for how long to cook the turkey.

Perhaps, the hardest thing about my travel schedule is that I'm the domestic one in our relationship. Besides cooking, I do all the cleaning, laundry, grocery shopping and yard work, so it's very hard on Barbara when I'm away. If I didn't prepare meals before I leave, she'd subsist on bread and peanut butter and oatmeal. Often, friends will bring meals to her, or invite her over for dinner, which is very comforting to me.

I'm very fortunate to have the total support of my spouse. Barbara understands that this is my "dream come true" job, and she has always been there for me. She sometimes gets to accompany me on trips, which is always great. But when Barbara isn't able to travel with me, we check in with each other every day to see how things are going. She knows I'm much happier doing this than I was when I worked at the university—and that translates to a much happier marriage.

The NGO Founder Committed to Helping Others
Martha Hathaway
Married to: James Hathaway
Home base: Rural Vermont

I'm the co-founder and executive director of an international non-governmental organization called Clear Path International, which helps landmine and bomb accident survivors around the world. I got involved in the landmine and bomb issue in 1997 and have been traveling ever since, conducting management visits, negotiating program details, networking and more.

Leaving my family—especially my two boys—breaks my heart. But over the past 10 years, my husband and I developed a formula that seems to work. Given that I'm not only a full-time working mom but also in charge of the children, the house and the bills, I have to make sure that none of these duties goes untended. I hire a nanny, a housekeeper, an office support staffer and prepare a schedule that includes support from various family members and friends.

One of the toughest parts about going away isn't actually being away, but is what we call "re-entry"—the process of adjusting to being home after being away for a while. We used to really have a tough time, but now that I have an arsenal of professionals helping out, things seem to go a bit more smoothly. Looking to the future, I have no plans to change my line of work. The good news is that as my kids get older, I'm often able to take them with me.




---
---
---
Leave a Comment