Rick Moshin, a former San Jose State University math instructor, made prudent use of his math skills to design a four-tier gravity flow winery for small-lot wine production at Moshin Vineyards. In 1989, he and his family purchased a small Pinot Noir vineyard, and this year, they observe a significant milestone: the family's 25th anniversary of wine growing.

Rick's fascination with fermentation began with homemade beer, but he soon turned his attention to wine. His goal for producing Pinot Noir of the highest quality inspired him to teach himself how to farm his grapes while other family members learned useful winery management and marketing skills to help grow this endeavor into a full-fledged winery.

"I sold wine between teaching math classes and traveling to France to get a better understanding of how to capture the lovely elegance and finesse that emanates from Burgundy," Rick says.

As a result, Moshin Vineyards pays special attention to Old World techniques. Respect for the environment is a Moshin family value and it is enthusiastically practiced in the vineyard. Through the use of sustainable farming methods and gentle handling, grapes retain their true flavors with the goal of becoming wines that express the heart of the vine.

Even after the grapes are picked, Rick doesn't try to control the elements. His gravity flow design allows the grapes to move down four tiers gently, from crush at the top of the winery to fermentation, settling, barreling, and finally, to bottling. This process helps maintain the delicate nuances of Pinot Noir, which is Moshin Vineyards' signature varietal. Other handcrafted wines include Pinot Gris, Sauvignon Blanc, Chardonnay, Merlot, Zinfandel, and a handful of delectable dessert wines.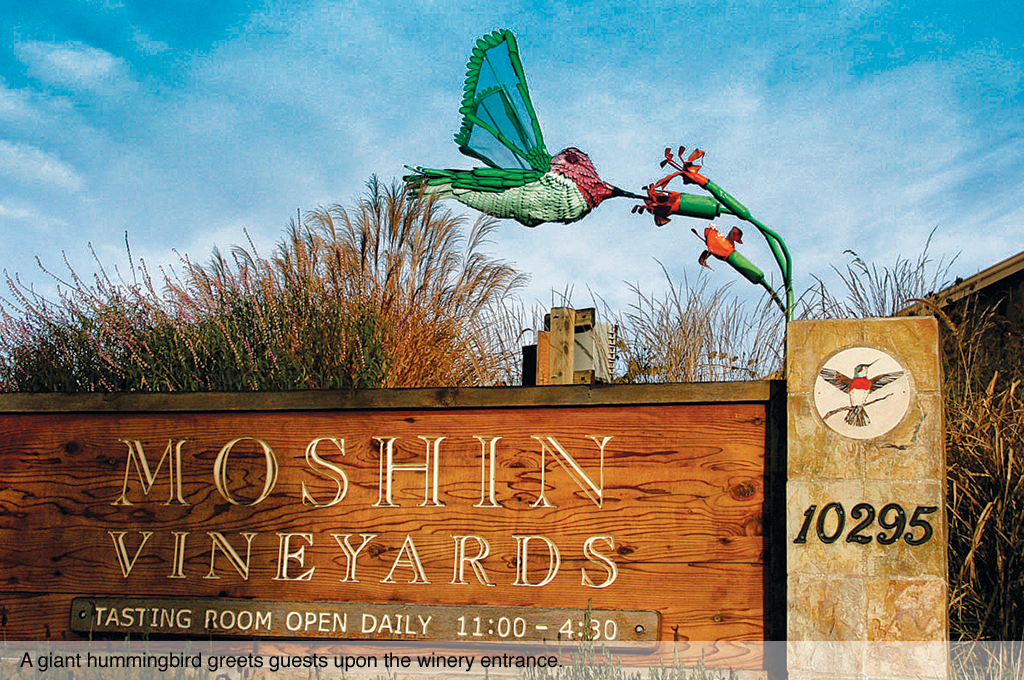 Although he has retired from teaching, Rick's equation for gentle winemaking using sustainable farming and minimally invasive handling adds up quite nicely in every bottle of Moshin Vineyards wine.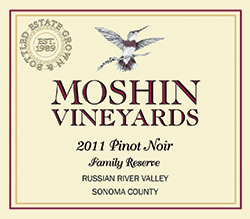 What to Buy




'13 Pinot Gris, Morris Ranch - $22


Barlett pear, white peach, key lime



'11 Pinot Noir, Estate - $40


Bright cherry, rose petal, baking spices



'10 Zinfandel, Carreras Vineyard - $35


Blackberries, framboise, baked spiced plum pie



Special Notes


Private tours by appointment, sustainable farming practices, winemaker on site, wine club discounts, owner on site.



Contact


10295 Westside Rd.
Healdsburg, CA  95448



Phone:

888-466-7446
E-mail: moshin@moshinvineyards.com


Website:

moshinvineyards.com



Tasting Room:

Open Daily 11-4:30

Touring & Tasting is a media company that produces a wine and travel magazine and is also partner in the Hitched Wine Club.






---