Financial First Date
Have you and your spouses been on a financial first date? Author Bambi Holzer offers advice on how couples can break the ice on their money philosophies.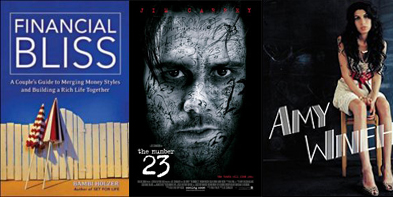 ---
READ
Financial Bliss: Every Couple's Guide to Merging Money Styles and Building a Rich Life Together
Bambi Holzer
www.financialfirstdate.com

Whoever said money doesn't buy happiness has never been married. Financial tensions are one of the leading causes of divorce, and financial planner Bambi Holzer believes that by scheduling a "financial first date," every married couple can prevent the sort of disaster that merging two money styles often brings. No matter how long you've been married, Holzer urges couples to schedule a sit down and follow the book's advice on what to discuss and how to handle different money situations. By having that all-important "financial first date," Holzer hopes to bring couples the financial freedom they've always dreamed of.

WATCH
The Number 23
Jim Carey, Virginia Madsen
www.number23movie.com

Jim Carey stars as a man (Walter Sparrow) obsessed with a book about a chilling murder mystery that begins to mirror his own life. The more Sparrow reads the book, the more he begins to realize the main character's history parallels his own. The book even begins to copy his current life, driving him into a torturous, psychological game where he realizes he must solve the book's mystery or be destined for the same horrific outcome predicted in the printed pages. Although The Number 23 has some flaws, such as some weak dialogue and dubious plot details (would a man who's a dog catcher really be able to do calculus in his head so quickly?), The Number 23 still manages to be a creepy, unsettling movie and a very smart thriller.

LISTEN
Back to Black
Amy Winehouse
www.amywinehouse.com

If you haven't heard of Amy Winehouse yet, you're missing out on one of the greatest modern soul singers of our time. Not since Aretha Franklin or Etta James has a voice been so full of soul and texture, and Winehouse's raw, sometimes dirty lyrics make her likeable even in a modern world far-removed from the heydays of '60s rock & roll. Back to Black's sassy horns and swinging guitar make it a modern-day soul album even Britney Spears fans can love (not to mention her first single, "Rehab," is inspired by her own struggle with alcoholism and her dad's insistence that she get help).


---
---
---
Leave a Comment