As Steve Ledson tells it, he began building his breathtaking Gothic winery, now fondly referred to worldwide as the Castle, as a family home. "The contractor and designer in me took control and I kept coming up with one more fantastic idea," Steve says. When he was finished, the 16,000-square-foot French Normandy castle, proudly entrenched amongst the vineyards, was deemed too grand for day-to-day family living. Instead, it became a magnificent hospitality center—a fitting place to discover and explore Ledson's impeccable wines.

Despite the grand exterior, the Castle is designed for genuine, intimate tasting experiences. Guests sense this the moment they step foot into the glorious front foyer and gaze up at the beautiful grand staircase reminiscent of Gone with the Wind and Titanic. Here, a gracious member of the Ledson hospitality staff warmly welcomes them. After a brief, personable chat, they are guided into a tasting experience they'll never forget.

They learn that every square inch of this glorious building was built by Steve, whose family has farmed and made wine in Sonoma County for 150 years. It's divided into many small rooms (there are four individual tasting bars downstairs and five upstairs), ensuring that all guests will enjoy an intimate wine tasting experience. In every corner of the castle, hospitality is paramount. Steve has personally spent time training every member of his tasting room staff. Many have worked with him in the vineyards or in the winery. All are fluent in wine. They recant stories Steve has shared about the land, his family, and Ledson's 250-acres of vineyards, and in no time, even newcomers feel like cherished old friends.

"Impeccable hospitality!" "Exquisite atmosphere!" "Extraordinary wines!" "Most impressive!" Ledson Winery has received countless accolades for the extraordinary way it treats its guests. Now, let's tell you about the Castle.






An Exquisite Atmosphere



Stretched end to end, the Castle's ornate wood inlays and hand-cut mosaics would reach more than five miles. It is a craftsman's masterpiece with cathedral-style windows, coffered ceilings, and stunning marble fireplaces. Yet, one of its most alluring features are discovered on the walls, in the enchanting photographs of Steve's ancestors and rural Sonoma County in generations gone by. Stories from the Ledson family tree are fascinating and rich, and they're often shared at the Castle.

"A tasting should be an intimate experience, where guests can take their time and ask all the questions they like," Steve says. Guests can book a private tasting for just two people or up to a dozen. Private guided wine and cheese pairings are another popular option. Many tastings take place out on the elegant veranda, or in the majestic Oak Grove, surrounded by the estate vineyards.

Like any gracious host, the Castle is well prepared in case appetites stir. The Gourmet Marketplace & Gift Boutique has a bounty of fresh salads and sandwiches from locally grown, fresh farm-to-table ingredients—perfect for a picnic on the lawn. There is also an array of gourmet food items, like oils, jams, and cheeses, and an appealing selection of gifts.

The Castle is a home where guests long to linger. It's a great place for corporate events, meetings, and an exquisite place to say "I do."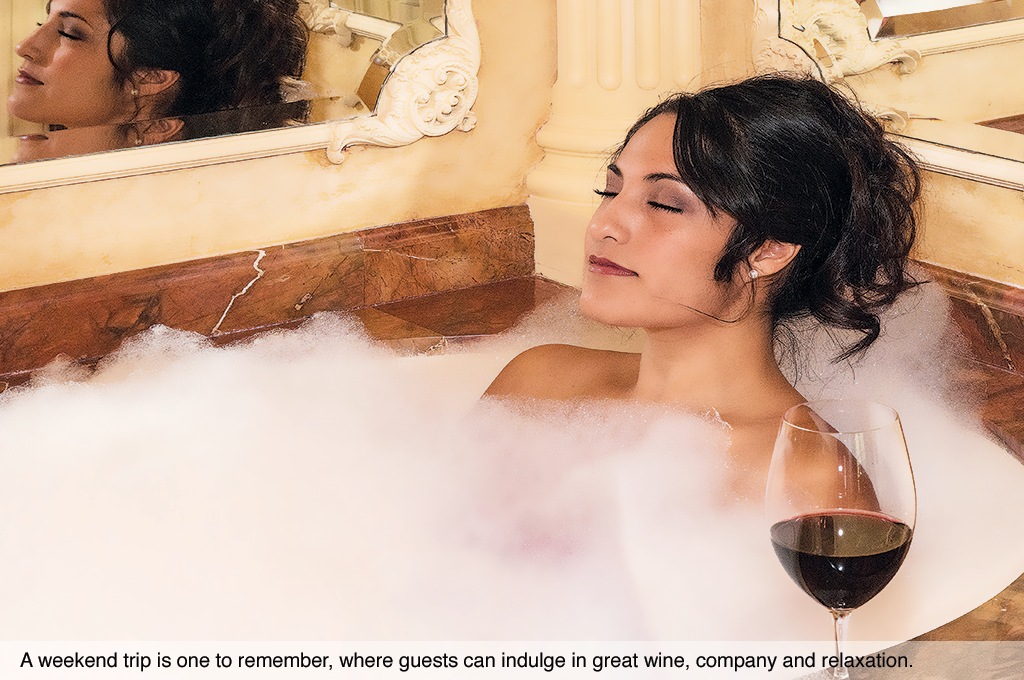 Impeccable Wines



As a fifth-generation farmer, Steve Ledson knows a good bit about what it takes to grow exceptional winegrapes and he knows what it takes to make impeccable wines. In addition to the 17-acre estate vineyard where the Castle stands, Ledson Winery owns or has access to a phenomenal variety of vineyards, including 65 acres of Cabernet Sauvignon at a 2,000-foot elevation in the exceptional Moon Mountain appellation, next to Mount Veeder. "We consider soils and climate and identify the best place to grow each variety," Steve says. "We study our sites scrupulously and resource only the very best winegrapes from the very best sites."

Judging from the rave reviews, high point scores, and medals the winery receives, they're doing this just right. But the people Steve wants to please most are his wine club members, whom he considers part of his extended family. "We only make about 25,000 cases of wine each year and we like to provide a lot of variety," he says. "I handpick the wines and I make sure that between new releases and limited bottlings—our wine club members always get something different. Something they probably haven't tried before."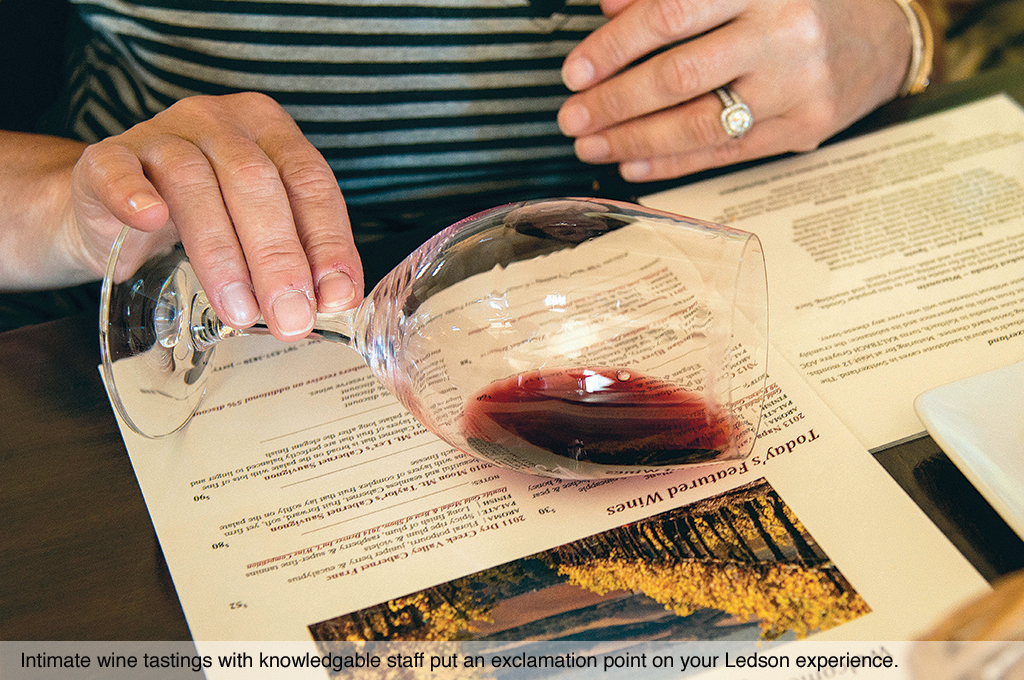 A Hotel, a Restaurant, and a Mountain Terrace



The Ledson reputation for extraordinary hospitality extends beyond the Castle to the Historic Sonoma Plaza and the Ledson Hotel & Centre du Vin. It's hard to believe that this charming vintage-style property was recently constructed by Steve and his crew. Each of the hotel's six individually decorated guest rooms provides the most modern amenities while paying homage to the past and Steve's family legacy. Downstairs, the delightful California bistro, Centre du Vin, offers a superb French-inspired menu and an array of Ledson wines. Wine club members are offered generous discounts at both. For a truly remarkable wine tasting experience, members of the wine club's top tier are invited to Ledson's newest tasting room surrounded by Cabernet Sauvignon vines on Moon Mountain. Here, guests savor utter privacy and incomparable views. There's even a guest house where Mountain Terrace Club members can arrange to stay. A castle, a hotel, a restaurant, and mountainside retreat—when asked what he'd like Ledson Winery & Vineyards to be best known for, Steve says, "Our impeccable hospitality, exquisite atmosphere, and extraordinary wines."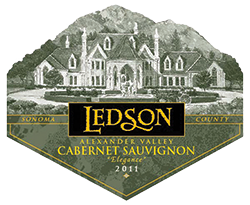 What to Buy




'12 Napa Valley Sauvignon Blanc - $28


Grapefruit, citrus, tropical fruit



'12 Russian River Chardonnay Reserve - $48


Fruit, caramel popcorn, green apples



'10 Dry Creek Zinfandel Reserve - $52


Black pepper, spice, Bing cherry, black cherry



Special Notes


Private tours by appointment, sustainable farming practices, winemaker on site, wine club discounts, owner on site.



Contact


7335 Sonoma Hwy
Kenwood, CA  95409



Phone:

707-537-3810
E-mail: info@ledsonwinery.com


Website:

ledsonwinery.com



Tasting Room:

Open Daily from 10-5

Touring & Tasting is a media company that produces a wine and travel magazine and is also partner in the Hitched Wine Club.






---