When B Cellars opened its doors along the renowned Oakville Cross Road last August, it was the first winery to do so in 18 years. Founded in 2003 by Duffy Keys and Jim Borsack, the winery is a fitting addition to the neighborhood, which includes Opus One, Silver Oak, PlumpJack, Groth, Gargiulo, and Rudd.

"We're honored to find our permanent home amidst the celebrated wineries who help define Napa Valley's esteemed Oakville AVA," Duffy says.

The name B Cellars and the degree symbol depicted in the B logo was inspired by the metric BRIX, which indicates the optimal sugar content for the grape at harvest. B Cellars is committed to handcrafting complex, beautifully balanced, food-friendly wines. The new winery includes a state-of-the-art production facility, including more than 15,000 square feet of caves that lend themselves beautifully to tours, tastings, and private events. What's more, there's a charming hospitality house featuring an interactive demonstration kitchen with an open-flame hearth oven.

"We consider hospitality to be paramount at B Cellars," Duffy says. "Our full-time Wine and Culinary Programs Manager, Christina Machamer, is a protégé of Gordon Ramsay. She works seamlessly with Chef de Cuisine Brian Green, who trained under Daniel Boulud and Dominique Ansel in New York, to provide unique and highly tailored experiences for our guests."

Guests of B Cellars are hosted for tasting and educational experiences referred to as Wine Journeys and Culinary Adventures. Guests can opt to take part in a guided trek throughout the property, such as the culinary garden, where they taste and harvest ingredients and learn more about the Oakville AVA and what makes it unique within the Napa Valley. They can also tour the caves and meet the resident flock of Jidori hens.

Following each Wine Journey, guests enjoy a guided tasting of B Cellars wines paired with delectable bites. The Appellation Tasting begins with a tour of the wine production facilities and ends in a private tasting area in the caves, where guests taste four stunning single-vineyard Cabernet Sauvignons from Oakville, Rutherford, St. Helena, and Atlas Peak, each paired with artisan cheeses, charcuterie, and flatbreads from the winery's own hearth oven.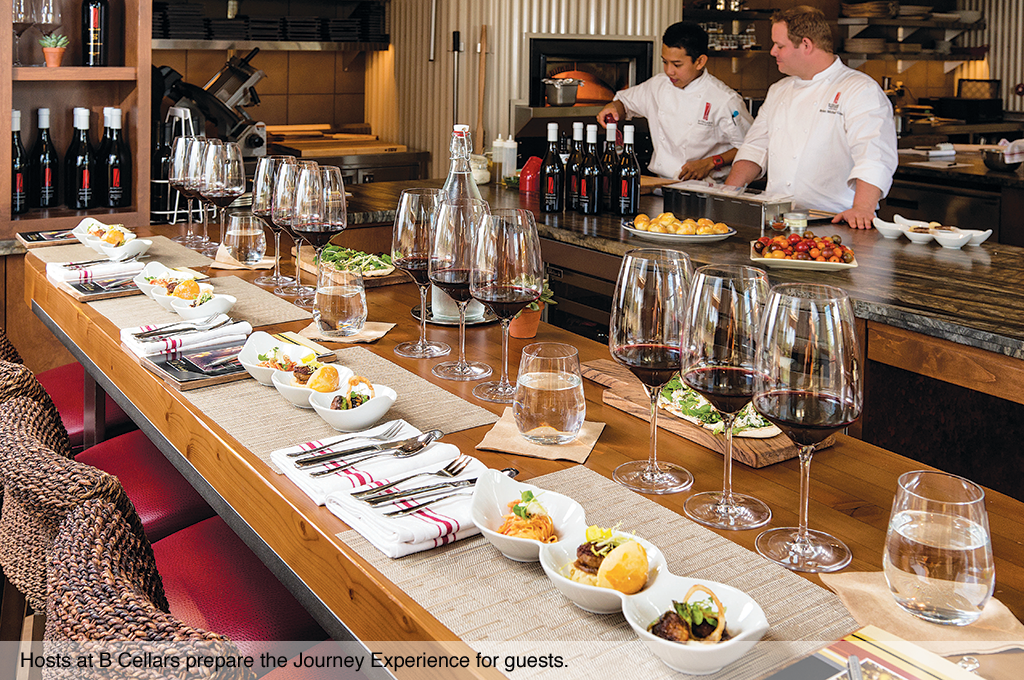 It's important to note that B Cellars food pairings are more than fine morsels—they're absolutely inspirational. They feature produce grown on the property and local artisanal ingredients, plus a degree of creativity that prompts guests to ask for the recipe.

Happily, seminars and cooking demonstrations led by the culinary team are frequently offered, plus there are visits from noted chefs and purveyors who lead forums on intriguing subjects like pairing chocolate with wine and making flatbread at home. Six legendary Napa Valley vineyards, collectively known as Beckstoffer's Heritage Vineyards—Dr. Crane, To Kalon, George III, Las Piedras, Bourn, and Missouri Hopper— are all owned by famed Vintner Andy Beckstoffer—B Cellars is proud to partner with him and has dedicated a special room in its caves—The Beckstoffer Heritage Room—in his honor. This is the only winery where guests are able to appreciate wines from each of the six Beckstoffer Heritage Vineyards.

To ensure that everyone is treated to an ultimate guest experience, all visits require an appointment in advance.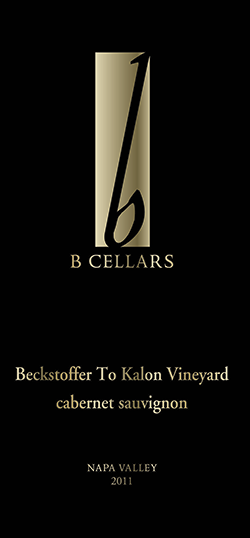 What to Buy




'12 Blend 23 - $38


Citrus, savory minerality, stone fruit, honeysuckle, fresh flowers



'11 Beckstoffer To Kalon Cabernet Sauvignon - $185


Black fruits, dried violets, graphite, dark roasted coffee, maraschino cherries, anise



'06 Dr. Crane Reserve Cabernet Sauvignon - $135


Ripe cherries, mocha, sage leaf



Special Notes


Private tastings, special culinary activities, social gatherings, special events.



Contact


703 Oakville Cross Rd.
Oakville , CA  94562



Phone:

707-709-8787


Email:

info@bcellars.com


Website:

bcellars.com



Tasting Room:

By Appointment

Touring & Tasting is a media company that produces a wine and travel magazine and is also partner in the Hitched Wine Club.