It's a glorious descent from the Santa Ynez Mountain range in California into the long, fertile Santa Ynez Valley. For wine tourists coming from the city of Santa Barbara, the first vista view is so stunning, they often pull off the road to take it all in. The Santa Ynez Valley is Santa Barbara County's largest AVA region covering 76,000 acres with more than 100 wineries and tasting rooms to discover.

It's about as authentic Wild West as you'll find these days, with lone cattle grazing on golden hills; silent, narrow country lanes; and farmers wearing cowboy hats in the fields. There's more elbow room in the Santa Ynez Valley. But don't let the wide-open spaces fool you. In every direction, there is plenty to see and do.

Besides the rural countryside, where opportunities for horseback riding, hiking, bicycling, and motorcycling abound, there are museums, galleries, theaters, a casino, spas, shops, and eateries. What's more, around every turn there's another winery or tasting room with wonderful new varietals and blends to discover.

You can't possibly see and do it all in a day, or even two—so when you make your descent into the Santa Ynez Valley, bring your suitcase.

Six unique towns brimming with genuine hospitality, each town in the Santa Ynez Valley offers delightful places to stay while you explore the others. The historic town of Ballard is home to a 120-year-old red schoolhouse and quiet streets for strolling. Buellton offers beautiful parks and two great brew houses. The main street of Los Alamos has an historic train depot with an antique mall, and quaint shops. Los Olivos offers scores of tasting rooms and art galleries. Santa Ynez offers an historic saloon, and a carriage house and museum. The Danish-influenced town of Solvang's flower-lined streets feature shops, galleries, and tasting rooms.

For more information visit visitthesantaynezvalley.com



LOCAL FOODS



As with its wines, the Santa Ynez Valley offers a remarkable variety of food choices. If hunger strikes along the wine trail, don't despair. Each town in the Santa Ynez Valley has at least one restaurant, and most have more. Feast on pan-seared duck breast, baked brie, linguine pasta, flatbread pizza, Æbleskiver (traditional Danish pancakes), pea soup, and beef tri-tip. There are also great local bakeries, groceries, and farm stands for picnics and quick bites along the way.



LOCAL FINDS



The longer you stay, the more you'll find to do. Play blackjack or see a concert at Chumash Casino Resort. Take a 90-minute horseback ride with wine tasting and lunch in Los Olivos. Try beer tasting in Buellton, Los Olivos, or Solvang. Visit a lavender farm, feed ostriches, play golf, ride a mountain bike, and learn to say skål (Danish for "cheers"). Toast yourself for discovering Santa Barbara wine country, an exceptional place to tour, taste, and stay. 



LOCAL WINES



Caressed by Pacific breezes and evening fog, the vineyards in the western end of the Santa Ynez Valley (Sta. Rita Hills) are known for exceptional Pinot Noir and Chardonnay. A bit further from the sea in the center of the valley, Sauvignon Blanc, Syrah, and other Rhône varieties thrive. And in the eastern end of the valley (Happy Canyon), Merlot and Cabernet Sauvignon reign supreme. The diversity and quality of wines grown in the Santa Ynez Valley is amazing. To learn more, visit sbcountywines.com



INSIDER TIPS



There are more than 30 hotels, motels, inns, and resorts with a variety of amenities in the Santa Ynez Valley. Look for mid-week, extended stay perks to help stretch your travel budget and make reservations at syvha.com.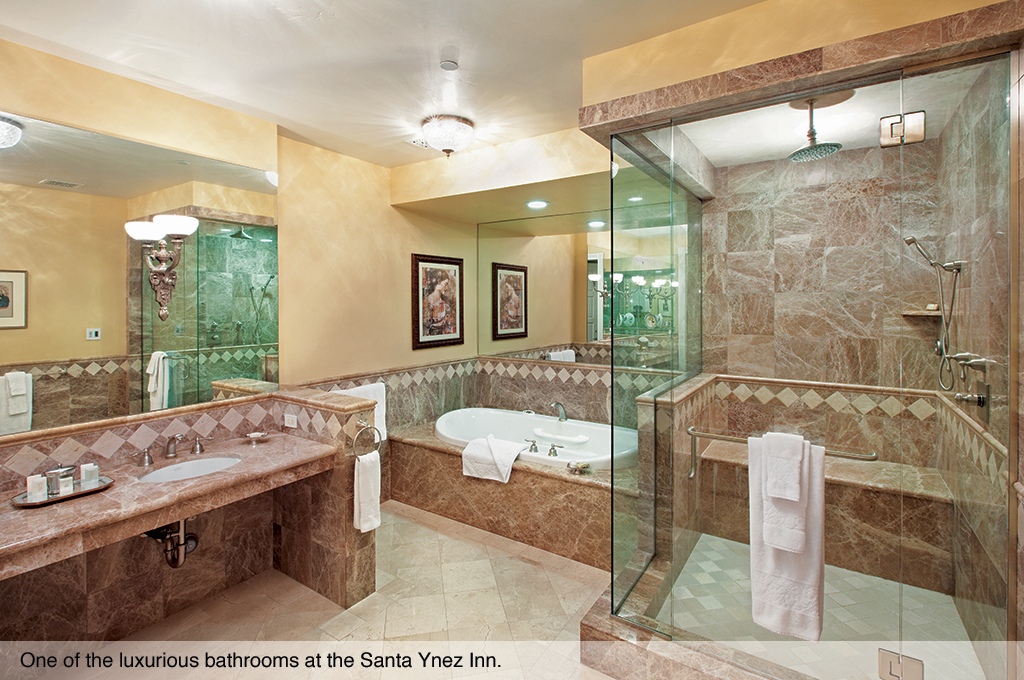 PLACES TO STAY





The Alisal Guest Ranch


Located in the heart of Santa Barbara Wine Country on a 10,000-acre working cattle ranch, the Alisal Guest Ranch and Resort gives wine tourers enough outdoor activities to warrant a real vacation.



Santa Ynez Inn


The Santa Ynez Inn has been honored with the AAA 4-diamond award rating every year since opening.



Fess Parker Wine Country Inn


Fess Parker Winery consistently creates wines of the highest quality. Led by a talented winemaking team that includes two former recipients of the André Tchelistcheff Winemaker of the Year Award—Eli Parker and Blair Fox—the wines are routine winners in all of the top tier wine competitions



Hotel Corque


Naturally warm and elegant, Hotel Corque personifies Santa Barbara wine country, making it an ideal retreat for anyone wishing to settle back in this special part of the world.



Bacara Resort & Spa


Set on two miles of private, natural beach within minutes of the charming community of Santa Barbara, the four-star Bacara Resort & Spa provides its guests an unrivaled vacation destination.

Touring & Tasting is a media company that produces a wine and travel magazine and is also partner in the Hitched Wine Club.