Located just 30 minutes northeast of downtown Seattle, charming Woodinville wine country is a showcase for almost every AVA in the state.

  In the past 20 years, Woodinville has grown from the pastoral home of Washington's first and largest winery (Chateau Ste. Michelle) to a chic little town dedicated to Washington wine. Today, Woodinville boasts more than 100 wineries and tasting rooms pouring wines that represent all of Washington's 13 AVAs. Yet Woodinville has kept its small town charm. It sits at the northern tip of the Sammamish Valley, a cradle for local farms with beautiful flowers, lavender, and fabulous fresh produce. Rent a bicycle and follow one of the many trails, stroll alongside the river, try a freshly brewed craft beer, and listen to live music. No matter the season, there's always a fun event happening at more than one local winery or tasting room. So sync your calendar and discover the wonders of Woodinville wine country!



One Region with Three Districts


In Woodinville's northern section, the bustling Warehouse Winery District uses banners, flags, and sandwich board signs to invite you into a series of industrial office parks. Here, many pragmatic wineries crush, age, and craft their wines in a practical setting with low overhead, while others simply offer tasting rooms where you can sample their wines. Just under three miles away, the Hollywood Winery District and West Valley Winery District are  home to the two oldest wineries in the state, and a score more, many with cozy tasting rooms and scenic valley views. In some spots, you could spend the day tasting and exploring a single block!



LOCAL WINES


Although you won't find many vineyards here (most of Washington's vineyard acreage is located east of the Cascade Mountains), this is a great place to taste the state. Whether the wines are made right in Woodinville or simply poured there in a satellite tasting room, you'll be able to get a full taste of Washington in one vibrant, central location just outside Seattle—and you'll love what you taste, because the wines are exceptional. Expect variety: everything from Riesling and Rousanne to Cabernet Sauvignon and stand-alone Cabernet Franc! In 2013, Woodinville wine country members earned 197 Seattle Wine Awards and 69 were Double Gold!



LOCAL FOOD


Woodinville boasts a long agricultural history and a bounty of farm fresh produce, dairy products, honey, and flowers. The seasonal Farmers' Market, open each Saturday from May until October, is a sight to behold. Local chefs are inspired by the ingredients sourced from Sammamish Valley and other resources nearby including the Pacific Ocean. There are many great restaurants including some of the most highly acclaimed in the Pacific Northwest. Several tasting rooms, wine bars, and coffee bars serve imaginative cuisine featuring local, seasonal ingredients that pair beautifully with Washington's wines.



LOCAL EVENTS


When it comes to fun wine events, Woodinville really pours it on. More than 500,000 people visit Woodinville each year to attend a winemaker dinner, a special winery seminar, a new release party, and so much more!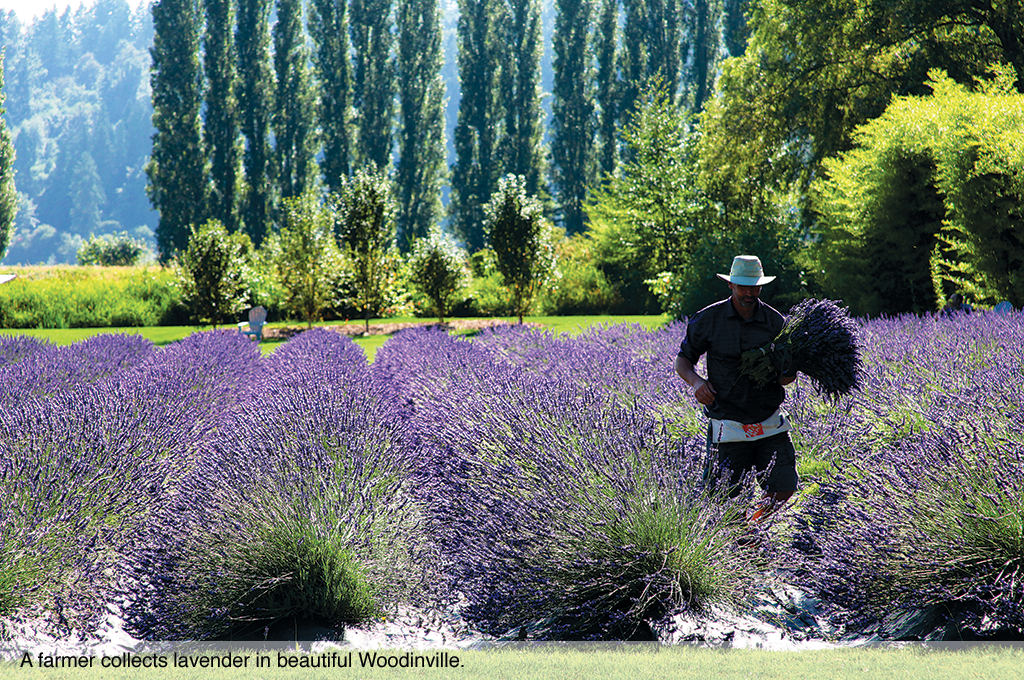 Insider Tips


Woodinville's wineries and tasting rooms are grouped in three concentrated districts. In some spots, you can do some touring and tasting on foot.

For more information, visit woodinvillewinecountry.com.

Touring & Tasting is a media company that produces a wine and travel magazine and is also partner in the Hitched Wine Club.