With a passion for the countryside and a rancher's way of life, Thomas J. Barrack Jr. acquired Piocho Ranch in Happy Canyon in 1992. Today, Piocho Ranch is home to the Barrack family, a vineyard, with two regulation-sized polo fields, and many powerful ponies.

The Barrack family has always taken great pride in their ranch and consider themselves to be stewards of the land where they blend a passion for polo with a commitment to producing the highest quality wines. Their estate vineyard, nestled into the undulating hills, is one of the reasons the new Happy Canyon of Santa Barbara AVA is getting so much attention. It is planted to the five principal Bordeaux varieties, including Cabernet Sauvignon, Merlot, Cabernet Franc, Petit Verdot, and Malbec, plus two white Bordeaux varieties: Sauvignon Blanc and Semillon.

From these grapes, Happy Canyon Vineyard crafts several outstanding award-winning wines. The highest tier wine from the estate is Barrack Ten-Goal, which is a blend of selected barrels from the Cabernet Sauvignon Block 8 Vineyard, a planting of head trained vines on a steep southwest facing hillside. Block 8 is so steep that it is not accessible to tractors and, therefore, 100 percent hand farmed. The flagship red wine is a classic Bordeaux style blend of Merlot, Cabernet Sauvignon, Cabernet Franc, Petit Verdot, and Malbec named "Piocho." Across the board, the wines demonstrate the beauty, richness, and heritage of their terroir and the potential for this emerging Bordeaux region.

"We grew up at the Ranch and the vines grew up with us," Thomas' son, TJ Barrack, says. "In each bottle there is more than wine, there is a memory, a story, a taste, and a feeling that is home."

It's important to note that the names the family has chosen for the wines have a great deal of meaning. The name "Ten-Goal" was chosen because polo players are rated by goals. Ten goals is the highest rating a player can attain and is considered perfect. Piocho is the historical Native American name of the Barrack's ranch and means "where the two rivers meet and go to heaven."

The family strives for excellence and elegance in everything they do. Their horses are trained and cared for according to the highest standards. Their two regulation-sized polo fields are groomed with the same care as the finest golf courses in the world, and their vineyards are farmed by hand using organic and sustainable farming practices. As a result, Piocho Ranch attracts the best of everything, from its ponies and athletes, to its vineyards and wines.



"In each bottle there is more than wine, there is a memory, a story, a taste, and a feeling that is home."


It's inspiring to spend time at Piocho Ranch. Here, one can experience the richness of the land first hand, learn more about the game of polo, and taste the wines in the environment where they were born. The family invites guests to make an appointment to visit the ranch for a truly enriching touring and tasting experience.

The wines are also poured at the Happy Canyon Vineyard tasting room in the newly formed Wine Collection of El Paseo in downtown Santa Barbara's vibrant Presidio neighborhood.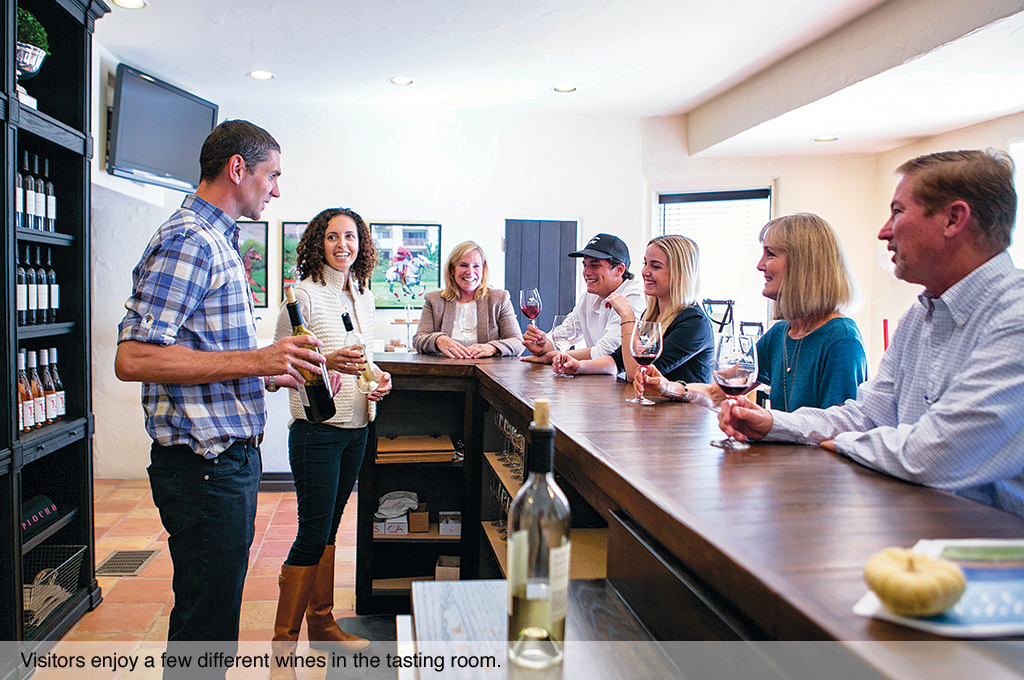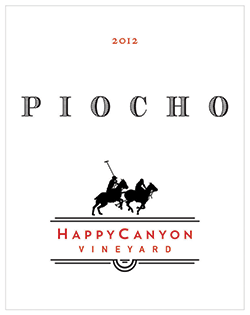 What to Buy




'13 Chukker - $21


Fruit, spice-laced red berries



'10 Piocho - $32


Blackberries, cassis, toasty vanilla, dark cherry, Kirsch



'10 Barrack Ten-Goal - $68


Dark chocolate, violets, Bing cherry, earth, toasted oak



Special Notes


Private tastings and tours of vineyard by appointment, downtown Santa Barbara tasting room, 100 percent estate grown, organic and sustainable farming practices, weddings and receptions, polo events.



Contact


PO Box 389
Santa Ynez, CA  93460



Phone:

805-203-0749


Email:

info@happycanyonvineyard.com


Website:

happycanyonvineyard.com



Tasting Room:


30 El Paseo
Santa Barbara, CA  93101
Tasting Room Open Daily 12-6

Touring & Tasting is a media company that produces a wine and travel magazine and is also partner in the Hitched Wine Club.