Since its founding in 2001, family-owned Maryhill Winery has won more than 2,500 awards, including the San Francisco International Wine Competition's 2014 Winery of the Year, the Indy International Wine Competition's 2013 Winemaker of the Year, Wine Press Northwest's 2009 Washington Winery of the Year, and Seattle Magazine's Best Destination Winery.

Maryhill Winery is the answer to an entrepreneurial dream shared by Owners Craig and Vicki Leuthold, who saw great potential for a winery in the Columbia River Gorge National Scenic Area, perched on the Northern side of the Columbia River, in the Southern tip of the Columbia Valley in Washington. Through the years, Maryhill has built a stunning portfolio of more than 50 wines of exceptional quality and surprisingly affordable price points. Under the direction of Winemaker Richard Batchelor, who has fostered relationships with some of Washington State's most highly regarded growers in eight separate AVAs, the portfolio features many rare and unusual varietals, as well as award-winning classics, including a standout Single Vineyard Series collection for wine club members.

Today, Maryhill Winery is one of Washington's largest and most visited wineries. Each year, the beautiful 3,000-square-foot tasting room, 1,200-square-foot Reserve Room, and gift shop greet more than 70,000 wine enthusiasts from around the world. Visitors come to this true destination winery to sample the wonderful wines, savor the spectacular view, and appreciate the climate unique to the Columbia River Gorge, often called the Mediterranean of the Northwest. Depending on the weather, guests can be found snuggling around crackling fire pits on the terrace, standing at the tasting room's original Brunswick Bar, or playing bocce on the tournament-quality Bocce courts.

Maryhill Winery's location was made for music and is well loved for its amazing outdoor concert venue—a 4,000-seat outdoor amphitheater that hosts a world-class summer weekend concert. Maryhill also offers free live music on the terrace every summer weekend. With a steadfast commitment to quality, affordability, and hospitality, it's no wonder that Maryhill has gained such admiration in just 15 years.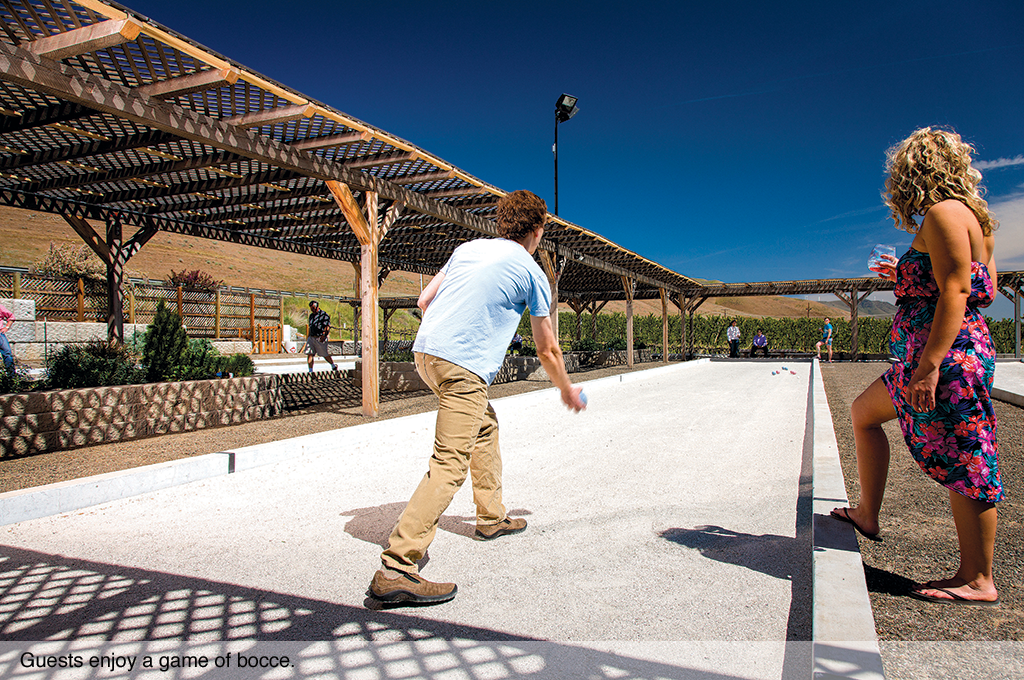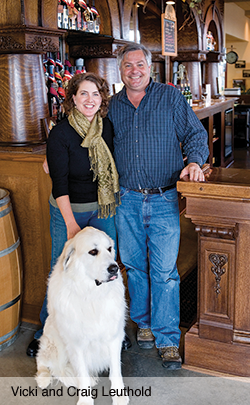 AN INTERVIEW WITH OWNERS CRAIG AND VICKI LEUTHOLD





T&T: Did you always intend for Maryhill to be a true destination winery?





VL:

Yes. We have always felt that building a relationship with our customers, while giving them a reason to stay longer, is a high priority. That's why we offer free live music every weekend from mid-May through early October and four tournament-quality bocce courts with an adjacent covered pavilion. We have always been family friendly but the bocce courts have brought families together more than we anticipated. We often see three generations playing bocce together.



T&T: Your portfolio offers an amazing breadth and diversity in varietal offering. What is your reason for this?





CL:

The diversity of the unique terroir found in the Columbia Valley is simply amazing and we want to showcase this. In addition, the introduction of our Vineyard Series wines offers our wine club members access to small lot, vineyard designated wines from most of the major AVAs in the state. This series provides the opportunity to taste wines made from some of the Columbia Valley's finest vineyards.



T&T: What should it mean to our readers that Maryhill is a family-owned winery?





CL:

We take being a family-owned winery very seriously. Not only do we spend time in our tasting room with our customers, we also travel a lot throughout the U.S., introducing people to our wines.



VL:

We also want all of our employees to feel as if they are part of our family. For example, when we are in town we cook lunch for the entire crew every Wednesday. We want to show how we appreciate their hard work and bring us all together to share a meal. We also provide food for the entire staff throughout harvest and try to cook a hot meal every day. Another event that we have every first Thursday of each month from May through October is our Deboccery night. We invite all of our employees to bring a side dish to go with a main dish we prepare, like barbecued chicken or lasagna, and we share wine and play bocce late into the evening. Having fun together as a family is so important for a healthy, well-balanced work environment.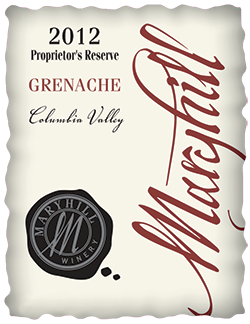 What to Buy




'12 Proprietor's Reserve Grenache - $32


Hints of smoke, black pepper, white pepper, black cherry



'11 Proprietor's Reserve Zinfandel - $36


Notes of dried plum, ripe berry



'13 Viognier - $12


Honeydew, macadamia nut, grilled pear



Special Notes


Scenic view, live music, picnic grounds, gift shop, pet friendly.



Contact


9774 Hwy 14
Goldendale, WA  98620



Phone:

887-627-9445


Email:

info@maryhillwinery.com


Website:

maryhillwinery.com



Tasting Room:

Open Daily 10–6

Touring & Tasting is a media company that produces a wine and travel magazine and is also partner in the Hitched Wine Club.