The name "Mercer" means far more than wine in Eastern Washington, where the Mercer family's farming tradition stretches back five generations and 125 years. Since 1886, the family has raised a variety of crops and livestock on the same expansive property in the Horse Heaven Hills.

In 1972, with the encouragement of the renowned horticulturist Dr. Walter Clore, Linda and Don Mercer planted their first vineyard there. Dr. Clore, who is now remembered as The Father of Washington Wine, was right. Winegrapes flourished, and today the Horse Heaven Hills AVA is one of the largest growing regions in the state, producing 25 percent of the state's total winegrapes.

For more than 30 years, winegrapes have overperformed in the Horse Heaven Hills––contributing to wines for many high profile Washington wineries. In 2005, the family ventured into winemaking with the founding of Mercer Estates.

In the scant decade that has followed, Mercer Estates has become one of Washington's most exciting producers with an impressive portfolio of award-winning wines. Since 2011, Winemaker Jessica Munnell has had the enviable privilege of producing wines with the Mercer family's exceptional grapes. The wines repeatedly earn 90-plus points from leading wine critics and top medals on a national scale.

The stylish tasting room is an inviting environment with historic family photos and intriguing artwork on the walls. Guests can enjoy a seated tasting, relax in a barrel stave chair, or stretch their legs outside on a charming path that leads to Carma's Vineyard, a little Pinot Gris vineyard, planted in honor of a member of the family's first generation of farmers, Carma Mercer.

The Mercer family plays an ongoing, active role in the the local community with impressive contributions toward sustainability, community support, and philanthropic efforts. Therefore, it comes as no surprise that Mercer Estates wines express the very best of all Eastern Washington has to offer.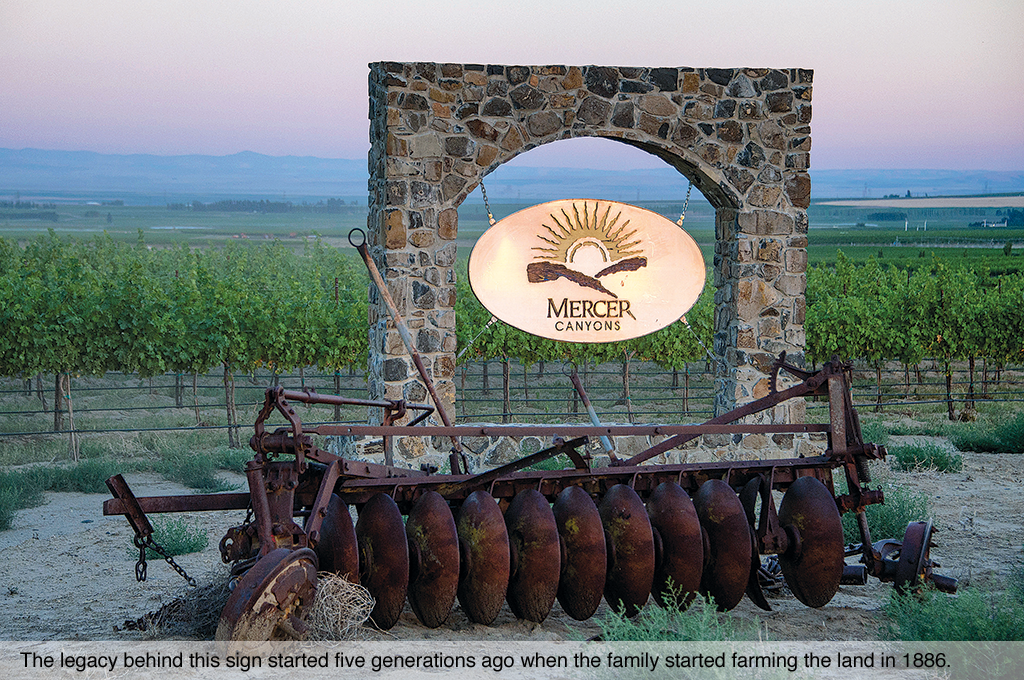 An Interview With Winemaker Jessica Munnell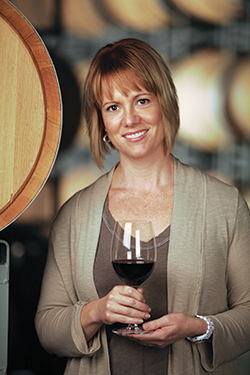 T&T: As the winemaker for Mercer Estates, you have access to some amazing fruit. What can you tell us about the vineyards and how they inspire you?





JM:

I had the great opportunity to work as a viticulturist at the beginning of my career. I was able to visit some of the best vineyards in Eastern Washington, and I can tell you that our vineyards in the Horse Heaven Hills are some of the best sites in Washington. The Horse Heaven Hills AVA produces wines with bright fruit, coupled with powdery tannins that give them a distinct elegance. I get to work with some amazing vineyards, but the one that is most inspiring is our famed Spice Cabinet Vineyard. The site is on a southeast facing slope dropping down to the Columbia River. It gets ample morning sunlight without the harsh afternoon sun. As a result, we are able to work with many different varieties and clones, giving us some of the highest quality fruit out of all of our vineyard sites. Spice Cabinet Vineyard is one of our gems.



T&T: How important is it for a wine to be food friendly? Is this something you strive for?





JM:

I think it is imperative for a wine to be food friendly. The wine you drink with a meal should enhance your experience. We strive to make food-friendly wines by harvesting each vineyard block when the grapes are not only ripe but also have a balanced pH and acidity. Whether you are drinking white or red wine, without balanced acidity it will not be a food-friendly wine. We make wines for people to enjoy with friends and family, which inherently includes great food.



T&T: In general, how would you describe the wines that bear the Mercer name—one of the most respected farming families in Washington State?





JM:

We make wines that showcase the amazing terroir of the Horse Heaven Hills. When you drink a Mercer wine, you'll experience a sense of place that honors the vineyards our wines come from. The Mercers know their land and how to treat it. At the winery, we try to preserve what has been created in our vineyards. The result are wines that are fruit forward, with sweet ripe tannins that are balanced with firm acidity.


What to Buy




'13 Chardonnay - $15


Apple, pear, sweet vanilla, hints of lemon-lime zest



'12 Sharp Sisters Red Blend - $24


Ripe blueberries, plum, touch of caramel



'11 Ode to Brothers - $40


Ripe currant, raspberries, aromas of smoke, cured meat, white pepper



Special Notes


Private tastings and tours, picnic grounds, scenic view, sustainable farming practices, wine club events.



Contact


3100 Lee Rd.
Prosser, WA  99350



Phone:

509-786-2097


Email:

info@mercerwine.com


Website:

mercerwine.com



Tasting Room:

Open Wed-Sun 10-5

Touring & Tasting is a media company that produces a wine and travel magazine and is also partner in the Hitched Wine Club.