Pull In to Port Ludlow for Fun and Adventure
Beautiful scenery, golf, glorious food and much more is just a hop outside of Seattle.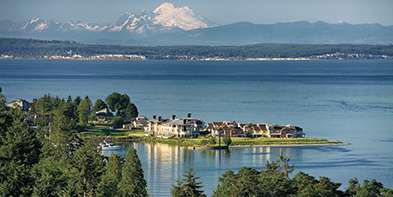 Photos courtesy of The Resort at Port Ludlow
---
"
They fill their basket with their favorite discoveries and deliver it back to the inn two hours before dinner. They are then treated to a fabulous dinner made from the fresh ingredients..."
On the shores of the Puget Sound's Olympic Peninsula, just a 90-minute drive or 15-minute seaplane ride from Seattle, The Resort at Port Ludlow offers guests the best of all worlds. The enchanting three-story waterfront property sits at the heart of Port Ludlow, with a history that dates back to the mid-1800s. Once a logging and shipbuilding village, it has evolved into a wonderful oasis where couples and families reside, vacation, or simply slip away for the day.

Situated less than 10 minutes from the west end of the Hood Canal Bridge, The Resort at Port Ludlow features a 37-room boutique waterfront inn, a 300-slip marina, and a championship 18-hole golf course, recognized as a Top Course to Play in 2012 by Golfweek. The resort's well-appointed suites include gas fireplaces, jetted tubs, and sitting areas, ideal for cuddling or reading. Second- and third-floor balconies provide spectacular views of the Olympic Mountains and Port Ludlow Bay. There are also several cozy common areas, like a fireplace setting inside the lobby and the Marina Room, where guests can relax with a magazine or engaging board game.

The inn's award-winning Fireside Restaurant is aptly named. It features a giant double-sided fireplace, sweeping views of the mountains and bay, and a daily menu that features the bounty of local farms' vegetables, produce, artisan meats, and cheeses. Executive Chef Dan Ratigan and his culinary team have attracted a great deal of attention with their eclectic blend of Northwest fare that celebrates the region's rich bounty. Beyond offering superb cuts of organically raised local beef and lamb, an abundant variety of fresh seafood, and produce from local farms, the menu boasts a delightful collection of beverages from local vintners, breweries, and cideries all selected by Cellar Master Anne Sackett. Anne also conducts many fun and educational wine tastings and winemaker dinners at the inn.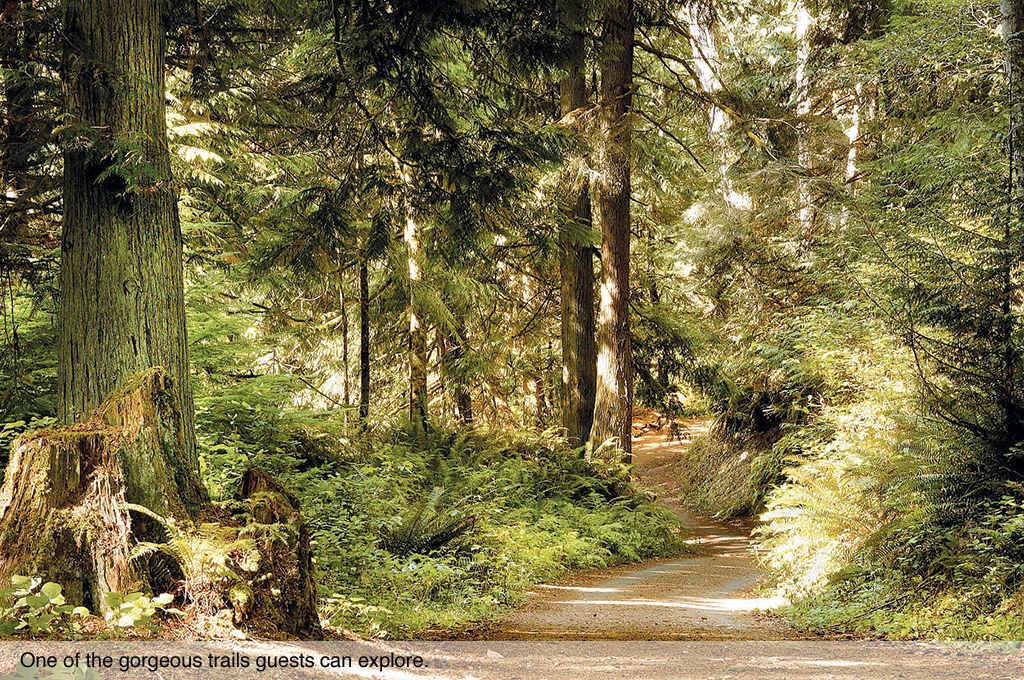 From June through October, resort guests are invited to discover the area's agricultural richness with a Farm Package. Guests are given a basket, "farm bucks," and a map to guide them as they explore several local farms. They fill their basket with their favorite discoveries and deliver it back to the inn two hours before dinner. They are then treated to a fabulous dinner made from the fresh ingredients they selected. This outing is very popular with families, groups of girlfriends, honeymoon couples, and all kinds of foodies. Another thing that delights first-time guests is the discovery of all Port Ludlow has to offer in the way of recreation, nature, history, and culture. The picturesque Port Ludlow Golf Club, designed by distinguished Golf Course Architect Robert Muir Graves provides golfers a challenging and rewarding experience. A great part of the reward is the scenery, in fact, the course was named Most Scenic in the World by Esquire Magazine. History buffs appreciate Port Ludlow's storied past. The Resort was built on the site of a former sawmill. It features a totem pole depicting the history of the property as well as a metal smokestack once used for lumber scraps.




When it comes to relaxing, rejuvenating,and indulging in oneself and each other, The Resort at Port Ludlow has it all—just a quick slip from Seattle.

For more info, visit portludlowresort.com.

Touring & Tasting is a media company that produces a wine and travel magazine and is also partner in the Hitched Wine Club.


---
---
---
Leave a Comment