In the five short years that Diane and Jeff Cranor's Nottingham Cellars has been crafting wine, its name has become synonymous with premier quality Livermore Valley wine. Jeff first founded Nottingham Cellars because he saw tremendous untapped potential in Livermore Valley fruit. He also saw potential in his son, Collin, who naturally gravitated toward the cellar as a gifted winemaker. Vintage after vintage, Collin's wines receive top awards, high acclaim, and many 90-plus scores from the world's top critics. Once recognized as a rising star by this publication, Collin continues to receive high praise and, according to Wine Enthusiast, "remains one of Livermore's most promising young winemakers."

Yet Collin and Jeff are quick to point out that their winemaking philosophy is not about technique, it's about fruit quality. They source the best fruit from the region's "best thought-out" vineyards—sites that maximize a variety's potential through location, elevation, sun and wind exposure, and soil type. This careful selection of fruit ensures the production of extraordinary wine.

Nottingham Cellars first acquired an enviable reputation for its limited-production single vineyard Cabernet and Bordeaux blends, but it has quickly expanded its scope to fully demonstrate the region's diversity. The Livermore Valley possesses many distinct microclimates, which support an impressive array of winegrapes. To adequately explore this diversity, the Cranors now produce their wine under three distinct brand names. Each brand is designed to honor the potential and history of the Livermore Valley. Under the NC Collection, Nottingham Cellars is the flagship brand of fine Bordeaux varietals. Vasco Urbano Wine Company, named for caricature artist Vasco Urbano Loureiro, who sketched portraits of several prominent Livermore Valley residents in the early 1900s, showcases exceptional Rhône varietals. And, 1846 by Nottingham Cellars Wines are premium Livermore Valley wines available on tap at high-end restaurants and wine bars.

It's evident that this passionate family-owned and -operated winery will be decisive in writing the next chapter in the history of Livermore Valley wine.

For more information, visit nottinghamcellars.com.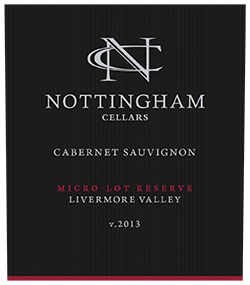 What to Buy




'12 Supremacy - $80


Dark fruit, chocolate, red cherry, herbaceous earthy tones



'12 Smith Ranch Vineyard Designate Cabernet - $60


Dark cherry, chocolate, floral tones



'13 Vasco Urbano GSM The Sheriff - $36


Blackberries, raspberries, strawberries, earthy tones



Special Notes


Winemaker dinners, wine club events and discounts, culinary events, private tastings and tours by appointment, corporate events.



Contact


2245 S Vasco Rd.
Livermore, CA  94550



Phone:

925-294-8647


Email:

info@nottinghamcellars.com


Website:

nottinghamcellars.com


Tasting Room:

Open Thur–Sun 12–4:30 or by appointment.

Touring & Tasting is a media company that produces a wine and travel magazine and is also partner in the Hitched Wine Club.