Situated near the eastern part of the Cascade Mountains with the Wenatchee River flowing through the center of town, Leavenworth is a fun-filled destination. In the early 1960s, Leavenworth adopted Bavarian culture, redesigning its architecture and creating a series of vibrant festivals. Today, Leavenworth is an ideal spot for those craving outdoor adventure, offering infinite recreational opportunities.

From hiking, climbing, horseback riding, and rafting from spring through fall, or skiing, snowboarding, and sledding in winter, it provides four seasons of fun in the great outdoors. Leavenworth is also the host of frequent celebrations and events, all rich in Bavarian tradition. With so much to taste, see, and do, it comes as no surprise that Leavenworth is one of the most popular and unique travel destinations in Washington State.



Local Wines, Beer & Spirits



In Leavenworth's downtown Bavarian Village, an impressive 20 wine tasting rooms and many restaurants with inspired wine lists await. In the surrounding Cascade foothills and along the Wenatchee River's scenic shores, there's an abundance of vineyards and wineries. You'll find everything from hearty reds and refreshing whites to German-style Glühwein. Plus, Leavenworth's craft beer and spirits scene is booming with intimate venues and family friendly breweries and distilleries to visit.



Nearby Wineries



C.R. Sandidge Wines
Ray Sandidge has devoted 30 years to making beautiful, superbly balanced red and white wines. Aside from short stints on Long Island, New York, and in the Rheingau region of Germany, Ray has spent 23 years making wines in Washington State.

Karma Vineyards
When Julie and Bret Pittsinger opened Karma Vineyards on the beautiful south shore of Lake Chelan in 2007, they had plenty to celebrate. Not only were they launching a business named in honor of their children, Karle and Matthew, they were introducing the first method champenoise house to Washington's eleventh American Viticultural Area, the Lake Chelan AVA.

Tsillan Cellars
Nestled on the gently sloping south shore of Lake Chelan with breathtaking views of the lake and mountains, Tsillan Cellars is an enchanting slice of Italy.



Local Food



Did you know that Leavenworth is one of the largest exporters of organic pears in the nation? Many local restaurants are acclaimed for their farm-to-table menus inspired by ingredients plucked fresh from their own organic gardens. If you're yearning for authentic German and continental cuisine, you've certainly come to the right place. But there's also traditional Mexican, South American, and Italian food. Not to be missed are Leavenworth's handmade to perfection breads and pastries.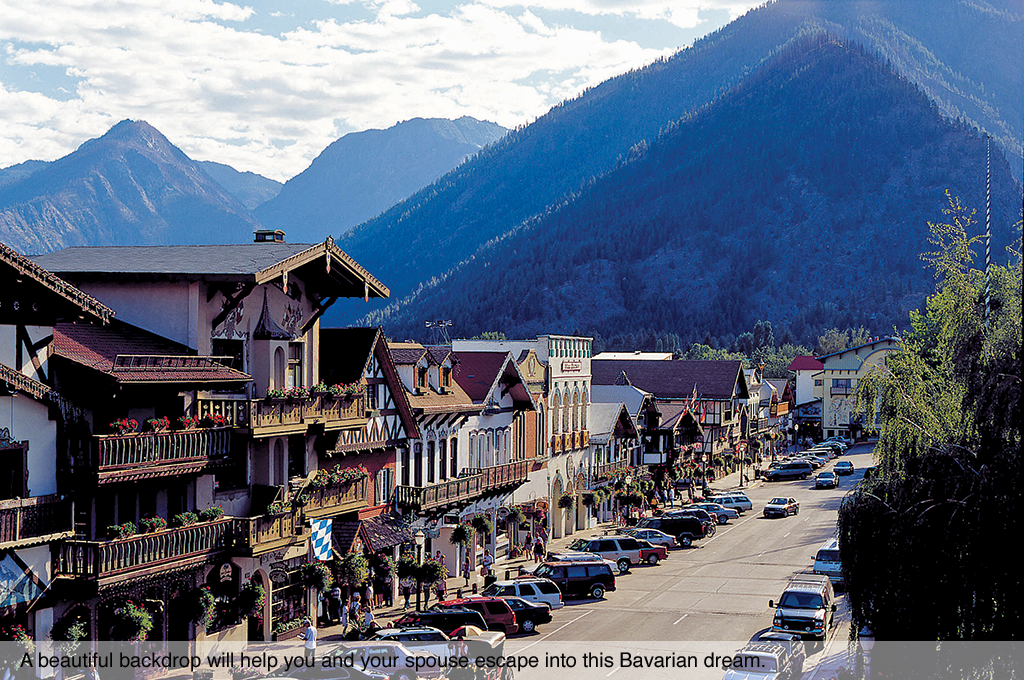 Local Lodging



Whether you're looking for a luxury hotel with breathtaking views of the Cascade Mountains, an authentic, alpine lodge, or a cozy bed & breakfast walking distance from the Bavarian Village, there is something for everyone's taste and budget. Outdoors lovers have a number of options for camping, and there are also cabins, vacation homes, and suites for rent. Fully immerse yourself in the joys of Leavenworth and plan to stay a while!

For more information, see leavenworth.org.

Touring & Tasting is a media company that produces a wine and travel magazine and is also partner in the Hitched Wine Club.