Gold Rush: Outdoor Adventure Awaits in El Dorado County
An exploration that was sparked by the gold rush, El Dorado County in the Sierra Foothills offers an amazing family outdoor experience.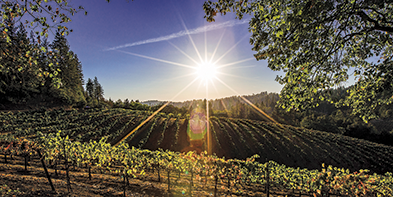 Photos courtesy of El Dorado County
---
"
Vineyards and wineries flourished here during the mid-to-late 1800s, making the county one of California's oldest wine-producing areas."
With spectacular Sierra Mountains spanning more than 1,800 square miles and elevations ranging from just a few feet to more than 10,000 feet above sea level, El Dorado County is one of the most diverse and naturally beautiful places you'll ever visit. The 1848 discovery of gold in the American River near Coloma touched off the largest mass migration in the history of the United States. Today, this thrilling chapter of history is evident in the rustic mining towns and historic sites that dot the landscape. Now, El Dorado County is a year-round vacation destination overflowing with outdoor adventure, a welcoming wine and agricultural scene, enriching family activities, and a sense of community pride that resonates across its striking terrain.



Culinary Treasures



The true taste of El Dorado is rooted in its terroir starting with the land and the growers, continuing to the artisans who turn the crops into wonderful craft wine, cheese, and beer, and all the way to your plate, courtesy of creative local cooks and chefs. El Dorado County celebrates at its tables and in its communities through festivals and events, including local farmers markets that play a critical role in connecting visitors interested in indulging in honest-to-goodness farm freshness.



Wine at a Higher Level



El Dorado Wine Country has breathtaking vistas, a wide diversity of award-winning wines, and other delightful discoveries around every bend. The wineries are renowned for making vibrantly flavorful, distinctly delicious wines, grown in the dramatic elevations of the Sierra Foothills. Vineyards and wineries flourished here during the mid-to-late 1800s, making the county one of California's oldest wine-producing areas. In the 1970s, El Dorado experienced a rebirth in the growth of premium vineyards and wineries. Today, the county has more than 2,000 acres of vines producing 50 grape varieties and is home to more than 70 wineries. Each winery is passionately tended by a winemaker, with his or her own, individual winemaking approach, who loves working with every diverse acre to achieve its perfect harvest.



Cozy Quarters



Accommodations are as diverse as El Dorado itself. Whether you prefer a riverfront cabin, boutique hotel, elegant and historic inn, charming bed-and-breakfast,, or a vineyard vacation rental, you'll find it in El Dorado County.

Touring & Tasting is a media company that produces a wine and travel magazine and is also partner in the Hitched Wine Club.


---
---
---
Leave a Comment