Me, You, Dupree and a Sportscaster
ESPN Sportscaster Mike Greenberg's wife thinks he's an idiot.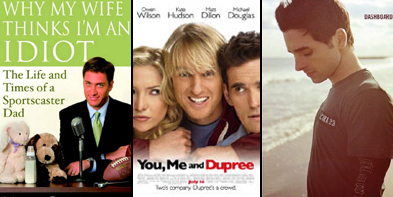 ---
READ
Why My Wife Thinks I'm an Idiot: The Life and Times of a Sportscaster Dad
By Mike Greenberg
www.randomhouse.com/rhpg/villard

You know that look your wife gives you every time you share one of your brilliant ideas? Mike Greenberg knows exactly how you feel. In Why My Wife Thinks I'm an Idiot, Greenberg gives readers a hilarious look into his relationship and how he applies the lessons he's learned in sports to raising his daughter. As a TV anchor for SportsCenter and radio host for ESPN Radio, Greenberg's testosterone-packed, sports-dominated life has definitely skewed his view of the opposite sex. His book is a compilation of real-life anecdotes and transcripts from some of his more memorable, funny programs that'll leave you slapping your knee—and your forehead—at all the stupid things he's done that you can probably relate to.

WATCH
You, Me and Dupree
Owen Wilson, Kate Hudson and Matt Dillon
www.youmeanddupree.com


Just when you thought you had a break, yet another comedy starring Owen Wilson as a wacky, yet loveable character hits the big screen. In You, Me and Dupree, Carl and Molly Peterson (Matt Dillon and Kate Hudson) are embarking on their new life together as newlyweds when Carl discovers his oldest friend, Randy Dupree (Owen Wilson), drowning his sorrows in a bar after recently losing his job and his home. Carl invites Dupree to crash at his place until he gets back on his feet, but his friendship with Dupree, and his relationship with his wife, is quickly put to the test by Dupree's antics. It's a hilarious movie, but watch out, guys—you'll never be able to convince your wife to let your old college buddy crash on your couch ever again.

LISTEN
Dusk and Summer
Dashboard Confessional
www.dashboardconfessional.com

Emo fans across the country have anxiously been awaiting Dashboard Confessional's follow-up album to 2005's A Mark, A Mission, A Brand, A Scar, which helped launch the indie band into the mainstream spotlight. With their latest album, Dusk and Summer, Dashboard Confessional gains even more exposure with their first single, "Don't Wait," which has been put on loop in what's left of MTV's video schedule. The good news for DC fans is Dusk and Summer delivers the same heart-wrenching melodies and tear-jerking ballads they've come to love from their previous albums. The bad news is Dusk and Summer delivers the same heart-wrenching melodies and tear-jerking ballads as their previous albums. Diehard DC fans will no doubtedly embrace this newest album, but less-devoted fans may want to steer clear of this carbon-copy release.


---
---
---
Leave a Comment