Improve Your Marriage Without Talking About It
A book that tells you how to improve your marriage without talking about it.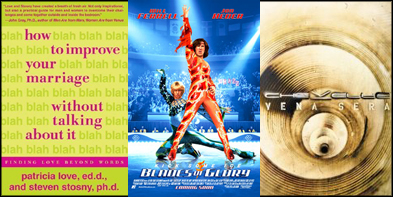 ---
READ
How to Improve Your Marriage Without Talking About It
Patricia Love, Ed.D., and Steven Stosny, Ph.D.
www.randomhouse.com

Finally, a relationship book that guys can get on board with—one that encourages less talk and more sex. According to the authors, biological differences are the root cause of most couple conflicts. Women's instincts drive them to reach out and talk, while his hardwiring causes him to bristle in self-defense. To bridge the gap there needs to be respect for each other's deepest insecurities; for women, it's the fear of isolation and deprivation, and for men it's the dread of failure and shame. Concrete exercises and examples show couples how to reconnect—without talking the relationship to death.

WATCH
Blades of Glory
Will Ferrell, Jon Heder
www.bladesofglorymovie.com

Two rival Olympic ice skaters, played by Will Ferrell and Jon Herder (Napoleon Dynamite), are banned from competing and stripped of their medals after an all-out brawl between them disgraces the sport. As much as they hate each other, three years away from the sport, their love for skating brings them to set aside their differences and take advantage of a loophole that will allow them compete again—as pair figure skaters. Unlike most slapstick comedies where all the good parts are spoiled in the previews, Blades of Glory delivers a consistently funny, albeit stupid, plot, thanks to the comedic chemistry between Ferrell and Herder.

LISTEN
Vena Sera
Chevelle
www.chevelleinc.com

Chevelle definitely has the formula down: a little bit of screaming, a little bit of acoustic ballad, and a lot of hardcore rocking. Anyone who's a fan of the last two albums will add this one to the list. Although they come out a little harder on this one compared to their last album, This Type of Thinking, they don't explore any new territory. Despite the similar sound, it's a sound that has worked in the past and continues to work, so why change now? Expect some hard-hitting singles to keep you on the Chevelle bandwagon.


---
---
---
Leave a Comment