Why You Should Start a Morning Routine
The morning sets up your day ahead. Use these tips to get off on the right foot.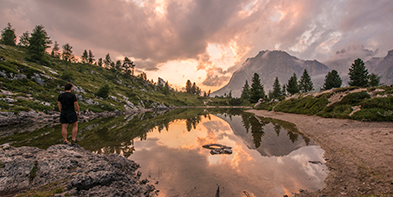 ---
"
If you commit to making these efforts in the morning, you will reap their benefits, no matter what pops up the rest of the day."
H

ow you spend your morning sets the tone for the rest of the day. There are a myriad of proven and suggested benefits for maintaining a morning routine. First and foremost, studies indicate that your willpower is at its highest in the morning before fatigue has a chance to set in. Instead of starting your day in a rush and feeling like you're already behind, set aside the time to complete some necessary tasks that boost your energy levels rather than deplete them. Here are a few suggestions to help you take advantage of the most productive part of the day:



Breakfast



You've probably heard many times that breakfast is the most important meal of the day, and there may actually be some truth to this. In fact, some studies show that skipping breakfast can make weight control more difficult. However, sugary cereals and other poor choices can set you up for a sugar crash, so be sure to set aside time to eat strategically in your morning routine.

Eggs are a great breakfast choice. They have high levels of vitamin A, folate, vitamin B5, vitamin B12, vitamin B2, phosphorus, selenium, vitamin D, vitamin E, vitamin B6, calcium, zinc and many other important nutrients. Omega and pasture-raised eggs are by far the best choice. Mixing up the way you prepare your eggs is a great way to keep breakfast exciting. For example, Kraft's recipe for a breakfast casserole combines eggs, onions, peppers, milk, cheese, bread and seasoning for a flavorful breakfast treat.



Meditation



Meditation isn't just for yogis. Practicing mindfulness in the morning ensures that your day gets off to the right start and helps you feel better equipped to deal with the rest of your day. If you are new to meditation, learning does not need to be an overwhelming and complicated process. While it might seem counterintuitive to use an app to help you learn to meditate, "Headspace" offers simple techniques and helpful guidance to live a happier and healthier life through meditation.



Exercise



As long as you don't go overboard and wear yourself out, exercising in the morning is a great way to energize your mind and body before tackling the rest of your day. If you tend to run on autopilot in the mornings, use a workout video (many are now available online on YouTube or through Amazon Video). This way you'll be guided through the routines without having to expend too much brainpower before your morning coffee.



Regularity



The most important factor in any of these morning suggestions is incorporating it into a regular routine, one that you ideally practice every day. Sometimes the biggest barrier to eating healthy, practicing mindfulness and getting enough exercise is the natural inconsistencies in life that come as families get bigger and busier. If you commit to making these efforts in the morning, you will reap their benefits, no matter what pops up the rest of the day.

Emily Wells writes fiction and journalism. She lives and works in Southern California.


---
---
---
Leave a Comment