In 2003, B Cellars co-founding partners, Duffy Keys and Jim Borsack, designed a premium winery committed to handcrafted, complex, beautifully balanced, food-friendly wines. They decided upon the name B Cellars and the degree symbol depicted in its logo for the metric term BRIX, which indicates the optimal sugar content for the grape at harvest time.

In 2014, the winery was moved from Calistoga to its new Oakville address, an extraordinary property set among some of the world's most celebrated wineries, including Opus One, Silver Oak, and Plumpjack in the Oakville AVA. A destination in itself, the estate includes a state-of-the-art wine-production facility, including an amazing cave network for barrel storage; tours, tastings, and private events; and a Hospitality House featuring an interactive, open-hearth kitchen wrapped in comfortable seating.

Winemaker Kirk Venge brings two generations of Napa Valley winemaking legacy as he follows in the footsteps of his father, renowned Winemaker Nils Venge. Kirk applies a unique style of his own to craft exceptional blends and vineyard-designated wines procured from Napa Valley's most desirable vineyard properties.

Among its many attributes, the winery has taken a unique approach to wine tasting with the unveiling of its Hospitality House. Here, guests are engaged in a variety of tasting rooms and private event spaces that lead to the chef's garden, chicken coop, and apiary program that brings many beneficial elements to the vineyards and gardens while doing its part to strengthen the health of the local bee community. A six-wicket center-pin croquet court and adjacent event lawn connects the production winery and caves, housing additional tasting rooms, the Grand Salon, and barrel storage.

Referred to as Wine Journeys and Culinary Adventures, B Cellars' wine tastings invoke a multi-sensory experience drawing sight, sound, smell, taste, and touch into the equation. Interacting with a wine guide, guests walk the property with glass in-hand connecting with the many facets of the operation, including a barrel tasting within the caves. For example, the Oakville Trek experience is artfully paired with "B Bites" prepared à la minute (cooked in the moment). Various other tasting options are offered, including curated private tastings conducted in specially designed private salons in the caves and Hospitality House.

The Beckstoffer Heritage private tasting room, located within the caves, showcases B Cellars' six single-vineyard heritage wines produced from grapes grown by pioneering grower Andy Beckstoffer from his storied vineyards: Dr. Crane (home to the first-ever Bordeaux cuttings in the Napa Valley), To Kalon, Georges III, Las Piedras, Bourn, and Missouri Hopper, established in 1858, 1868, 1895, 1860, 1872, and 1877, respectively. These six vineyards are perhaps the most historic and respected vineyard properties in Napa Valley, widely recognized as producing some of the best wines for which the region is known. A testament to the winery's long-term partnership with Andy Beckstoffer, the room pays homage to his accomplishments and celebrates his commitment to B Cellars.

Currently, B Cellars is the only winery where guests will be able to experience wines from each of these six vineyards.



"Various other tasting options are offered, including curated private tastings conducted in specially designed private salons in the caves and Hospitality House."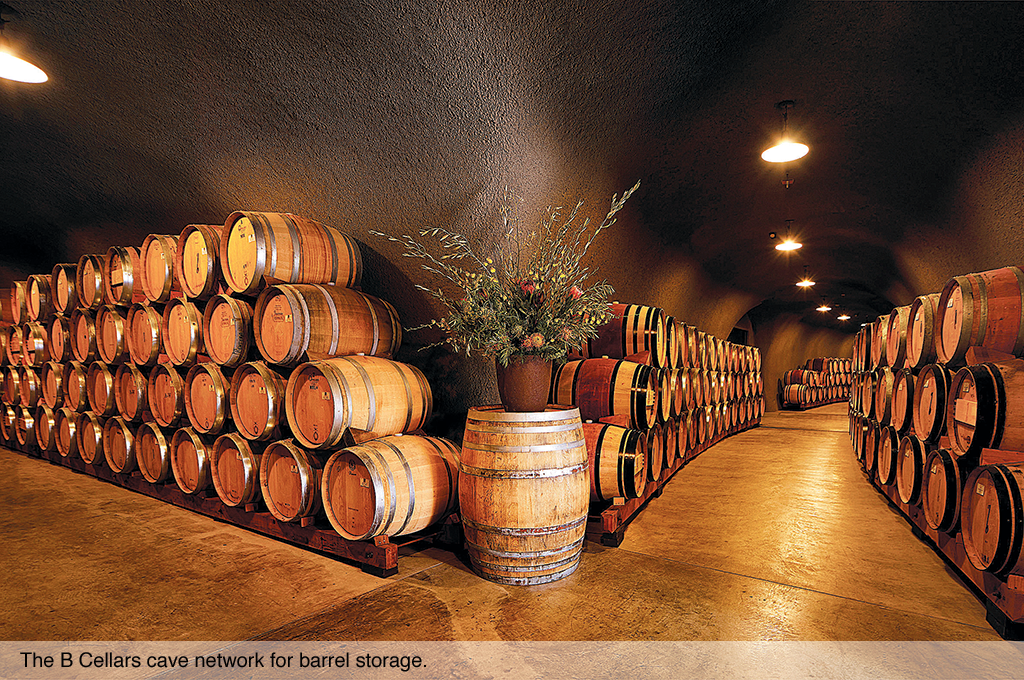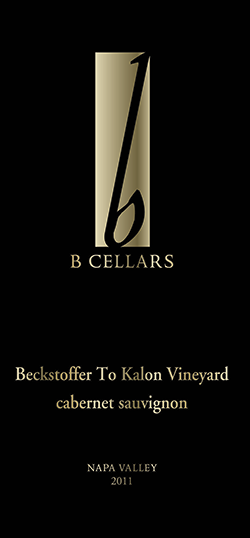 What to Buy




'12 Blend 23 - $38


Citrus, savory minerality, stone fruit, honeysuckle, fresh flowers



'12 Beckstoffer To Kalon Cabernet Sauvignon - $225


Black fruits, dried violets, graphite, dark roasted coffee, maraschino cherries, anise



'12 Ehrlich Cabernet Sauvignon - $115


Ripe cherries, plum, blackberry jam, forest floor, cola



Special Notes


Private tastings, special culinary activities, social gatherings, special events.



Contact


703 Oakville Cross Rd.
Oakville , CA  94562



Phone:

707-709-8787


Email:

info@bcellars.com


Website:

bcellars.com



Tasting Room:

by Appointment

Touring & Tasting is a media company that produces a wine and travel magazine and is also partner in the Hitched Wine Club.