At the end of a quiet country road, just south of the Mokelumne River in northwest Lodi, Oak Farm Vineyards offers visitors to the region an unrivaled wine tasting destination. The historic 70-acre estate, replete with lush grapevines, majestic century-old oaks, and a plantation-style mansion and barn dating back to 1865, dedicates 10 acres to its guests' enjoyment.

Oak Farm's sophisticated winery and tasting facility provides guests a truly elevated tasting experience, with a spacious tasting bar, floor-to-ceiling windows offering vineyard views, a private room for wine club members, four indoor and outdoor fireplaces, and an inviting covered outdoor terrace.

"Our goal is to give visitors to the Lodi appellation a place to enjoy great wines in an elegant, yet casual, environment," says Dan Panella, whose agriculture-oriented family purchased the property and namesake vineyard in 2004. "We want Oak Lodi, California Farm Vineyards to be the destination winery for wine lovers who come to tour and taste in Lodi."

The Panellas entered family winemaking in 2008, and Dan—who describes himself as a third-generation American farmer—serves as Oak Farm Vineyards' managing partner and oversees vineyard operations, production, and "the grand scheme of things."

Oak Farm Vineyards specializes in hand-crafted, small lot, and single vineyard varietals that truly express their terroir. All of the grapes used to make Oak Farm Vineyards wines come from the estate vineyard or other family-owned vineyards nearby. The well-balanced, food-friendly wines, skillfully crafted by Winemaker Chad Joseph, are structured, yet supple: never over-oaked or overworked. The wines repeatedly earn high acclaim. At the 2015 Winemaker's Challenge International Wine Competition, the 2014 Albariño was awarded 94 points and named the Platinum/Best, and the 2012 Zinfandel was awarded 93 points. But great scores aren't what's most important at Oak Farm Vineyards.

"Oak Farm Vineyards is all about comfort and enjoyment," Chad notes, "and that extends to the style of our wines as well. These are wines that embrace the wine lover, not just the wine critic. And no matter how complex they are, they seem familiar—like a longtime friend that you just can't wait to see again."

With the opening of the 7,500 case per year winery and tasting facility in 2014, and the replanting of vineyards with a host of terroir-appropriate varietals, Oak Farm Vineyards has begun a metamorphosis into a premium estate winery that will make most, if not all, of its wines from fruit grown on its own 60 acres of vines. "We're excited about where Oak Farm is headed," says Dan Panella, "and we're looking forward to sharing this journey with our long-term fans and our newfound friends as well."

"Every visitor to Oak Farm Vineyards is greeted with exceptional warmth and hospitality," says Heather Panella, Oak Farm's Business Manager. "We know that there are a lot of wine tasting choices, and we want our guests to feel that an afternoon getting to know our wines is truly time well spent."



"Oak Farm Vineyards specializes in hand-crafted, small lot, and single vineyard varietals that truly express their terroir."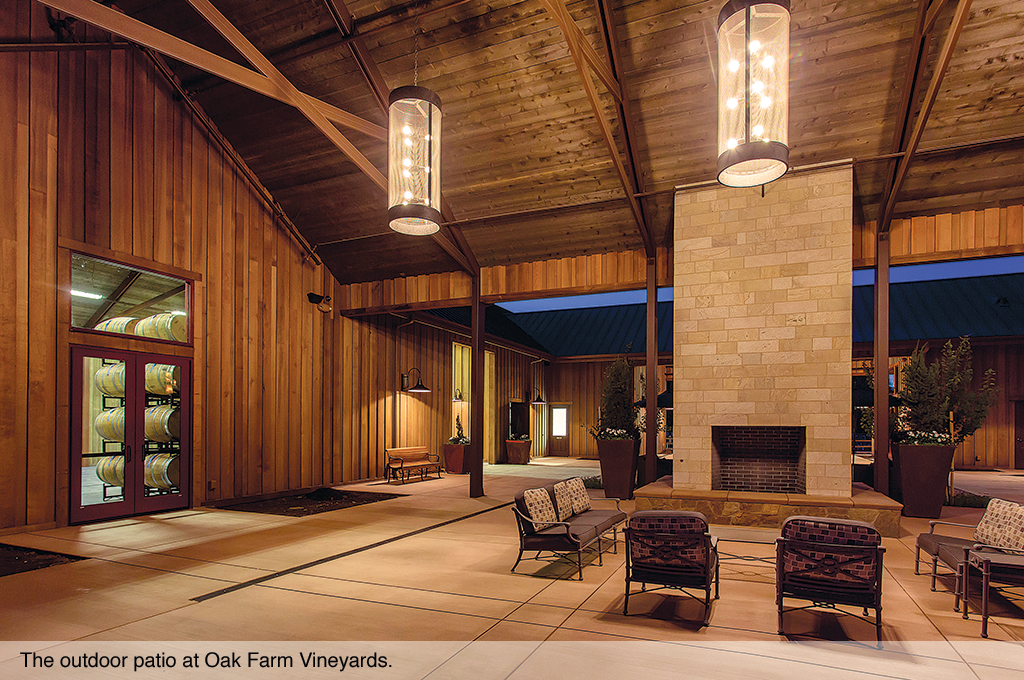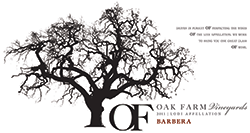 What to Buy




'15 Albariño - $19


Lime zest, citrus blossom, jasmine, dry finish



'14 Grenache - $28


Jammy strawberry, spicy undertones



'14 Indigenous Zinfandel - $32


Wild yeast, cherry, subtle spice



Special Notes


Private tours by appointment, picnic grounds, scenic views, pet friendly, sustainable farming.



Contact


23627 North DeVries Rd.
Lodi, CA  95242



Phone:

209-365-6565


Email:

info@oakfarmvineyards.com


Website:

oakfarmvineyards.com



Tasting Room:

Tasting Room open 7 days a week from 11-5 or by Appointment

Touring & Tasting is a media company that produces a wine and travel magazine and is also partner in the Hitched Wine Club.