With his belief that the Napa Valley could be the center of a gracious lifestyle embracing wine, food, and art, Robert Mondavi built the valley's first major winery since Prohibition in 1966. Since then, Robert Mondavi Winery has been the quintessential destination for Napa Valley visitors, who are drawn by the winery's history, legacy of fine winemaking, stunning mission-inspired architecture by Cliff May, and the robust menus of tours, tastings, and elevated wine programs.

There is a wide array of interactive ways for guests to learn more about Robert Mondavi wines. The Signature Tour and Tasting leads them along the path of the grape, from vineyard to cellar to bottle. The Exclusive Cellar Tasting gives wine collectors and aficionados a chance to taste limited production, Reserve, and older vintage wines. The Harvest of Joy Tour and Lunch treats guests to a tour of the winery and a three-course lunch paired with wines. The Twilight Tour takes visitors on a 90-minute sunset tour of the To Kalon Cellar and barrel aging rooms, followed by a tasting of Reserve and Spotlight wines with artisanal cheeses. No matter how visitors choose to spend time on the picturesque grounds, they're bound to appreciate the major contribution Robert Mondavi Winery has made around the world as a leader of California's wine industry.

The winery's main tasting bar, located in its spacious Vineyard Room, opens to several inviting patios where guests can relax and enjoy the beauty of the celebrated To Kalon Vineyard. It also serves as an exquisite cultural center, with visual arts exhibits, concerts, book signings, and culinary pairings.

Robert Mondavi's vision to make the Napa Valley an international center for food, wine, and art has been realized, and it's practiced impeccably each day at the winery that bears his name.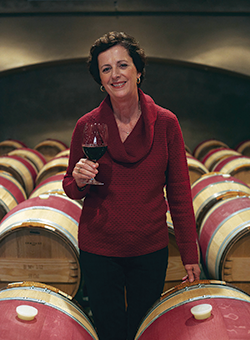 AN INTERVIEW WITH DIRECTOR OF WINEMAKING GENEVIEVE JANSSENS



T&T: The historic To Kalon Vineyard has an extraordinary reputation. Why is this?

GJ: As Mr. Mondavi often said, "To Kalon is head and shoulders above the others. It is a vineyard with a distinguished history and a magical name." These uniquely complex and resilient soils create the foundation for consistently high-quality Cabernet Sauvignon. It is the perfect definition of a great terroir.

T&T: The role of Director of Winemaking at Robert Mondavi sounds like such a big job! How do you work with your team of growers and winemakers?

GJ: As a leader, Mr. Mondavi gave us very clear direction to accomplish his vision and mission. We all work together as a unique team toward the same goal. With the spirit of the team it makes my responsibilities easier to accomplish. We're all working toward the same thing.

T&T: You have received many honors in your winemaking career. Is there one that means the most to you?

GJ: My biggest honor was to be asked to work with Mr. Mondavi and with the To Kalon Vineyards.

T&T: Do you have a personal favorite in your current portfolio?

GJ: It's impossible for me to single out one individual wine. All vintages of Robert Mondavi Winery wines hold a special place for me. Each one has a story and each vintage is teaching me something new. They all have a unique aspect of their own.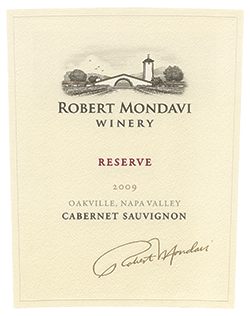 What to Buy




'13 Moscato D'Oro - $25


Peach, lychee fruit, orange blossom



'13 Pinot Noir Reserve - $65


Ripe black cherry, clove, nutmeg



'12 Oakville District Cabernet Sauvignon - $60


Black fruit, fresh bay, black pepper



'12 Cabernet Sauvignon Reserve - $155


Black cherry, cassis, dried herbs



Special Notes


Corporate events, wine club discounts, winery exclusive wines, sustainable farming practices, culinary events, curated luxury experiences.



Contact


7801 St. Helena Hwy
Oakville, CA  94562



Phone:

888-766-6328


Email:

info@robertmondaviwinery.com


Website:

robertmondaviwinery.com



Tasting Room:

Open Daily 10-5

Touring & Tasting is a media company that produces a wine and travel magazine and is also partner in the Hitched Wine Club.