In 1961, Joe and Alice Heitz purchased their first vineyard of eight acres just south of St. Helena, with the belief that a lot of hard work would make their American dream of owning a successful family business come true. This year, Heitz Wine Cellars celebrates its 55th anniversary as a family-owned winery that is now three generations strong. The Heitz family's vineyards now encompass more than 400 acres throughout Napa Valley, located in six appellations.

The year 2016 marks a 50-year milestone for the family and the entire Napa Valley. In an historic handshake deal over a half century ago, Joe and Alice agreed to purchase grapes from the first harvest from Martha's Vineyard, an Oakville farm owned by Tom and Martha May. From that agreement, Heitz Martha's Vineyard Cabernet Sauvignon, the very first vineyard-designated Cabernet in the Napa Valley, was born.

Through the past half century, the Heitz family has continued to set benchmarks of quality for California wines. Believing that wines from their region could compete on the world stage, they were among the first to export, helping to secure an international reputation for Napa Valley wines.

Representing the second generation, Kathleen Heitz Myers and David Heitz have maintained the high standards set by their parents for a strategic blend of forward-looking business practices and valued traditions. Third-generation family member Harrison Heitz joined the business in 2012, and he has been instrumental in helping to develop the winery's solar energy plan.

Today, Heitz wines grace dining tables throughout the world. Best known for Cabernet, Heitz Wine Cellars also produces Sauvignon Blanc, Chardonnay, Grignolino, Zinfandel, and Port. Through the years, the iconic Heitz Martha's Vineyard Cabernet Sauvignon has been the family's greatest source of pride. Not only does it showcase the authentic character of an incomparable vineyard, it also epitomizes an enduring friendship between the Heitz and May families that is now three generations strong.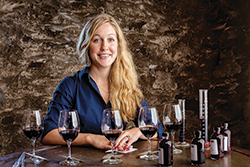 AN INTERVIEW WITH ENOLOGIST BRITTANY SHERWOOD



T&T: How do you think Heitz Wine Cellars has been able to achieve lasting success?

BS: The first thing that comes to mind is outstanding quality. Our winemaking process begins with some of the best fruit in Napa Valley. That includes Martha's Vineyard on the western side of Oakville and Trailside Vineyard in the heart of the Rutherford appellation. We approach every harvest with thoughtful restraint, because we think it's important to allow Heitz wines to reflect the distinctive character of each vineyard. The company culture of creativity and hard work is another reason our team has been able to achieve lasting success. There is an emphasis on new technology and education and, at the same time, a respect for the classic style of winemaking. That balance is a big part of how Heitz Cellars is able to create outstanding wines year after year.

T&T: What is most rewarding about working for a historic winery?

BS: Being associated with a brand that has inspired so many wine "aha" moments in people around the world has been the most rewarding part of my job. I cannot tell you the number of stories I've heard that have started with "I had a bottle of (insert any vintage) Heitz Martha's Vineyard, and that's what really got me into wine." The fact that I get to be a part of bringing such a memorable product to people is very special.

T&T: As a member of the winemaking team, what standards do you hold yourself to when crafting wines for the Heitz Family?

BS: We are in the business of making world-class wines that people have enjoyed for over a half a century. With that comes a huge sense of understanding how important it is to always uphold the highest possible winemaking standards. We continually conduct in-house research, attend winemaking seminars, and educate our cellar crew so that every member on staff is aware of our standards and expectations. I wouldn't say I'm neurotic, but I think everyone I work with understands how much I care about what ends up in every bottle of Heitz wine.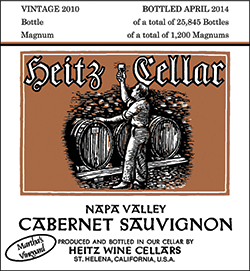 What to Buy




'10 Martha's Vineyard Cabernet Sauvignon - $225


Boysenberries, cassis, mint, cigar box, chocolate



'14 Napa Valley Chardonnay - $26


Ripened melon, apricot, mineral notes



'11 Napa Valley Cabernet Sauvignon - $49


Violets, bright fruit, spicy fennel



Special Notes


Scenic view, certified organic, sustainable farming practices, private tours by appointment.



Contact


436 St. Helena Hwy S
St. Helena, CA  94574



Phone:

707-963-3542


Email:

info@heitzcellar.com


Website:

heitzcellar.com



Tasting Room:

Open Daily 11–4:30

Touring & Tasting is a media company that produces a wine and travel magazine and is also partner in the Hitched Wine Club.