Tips on Throwing a Successful and Delicious Vegan-Themed Party
Going vegan for your party doesn't mean it has to be boring. Use this guide to throw a successful and tasty vegan-themed dinner.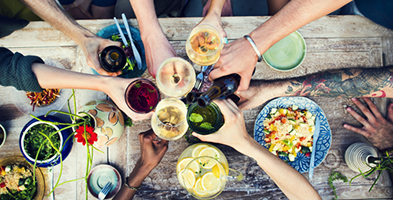 ---
"
Many non-vegans may envision endless meals of chewy and bland tofu, which is not appealing."
C

reating the menu for a party can be difficult even in ideal circumstances. However, if you have decided to give up eating animal products or several of your attending friends are vegan, it can be a bit more challenging if you're unfamiliar with a vegan menu. Fortunately, with a little planning and tasty recipes, you can throw a memorable and delicious vegan-themed party. For inspiration, check out the following ideas:



The Appetizers



No matter if your guests are vegans or carnivores, everyone loves hummus. Plus, there are a wide variety of dippers, including pita chips, cucumbers and carrots. If this isn't hitting your fancy, baba ganoush is another scrumptious vegan appetizer made up of roasted eggplant mixed with lemon, garlic and tahini. Check out Minimalist Baker for an easy recipe.



The Main Meal



Many non-vegans may envision endless meals of chewy and bland tofu, which is not appealing. Bust this misconception at your dinner party by ditching the tofu, tempeh and seitan and go for something more mainstream. Pizza is a great vegan option, and it is fun and cute to set out ingredients for a make-your-own pizza bar. Instead of traditional mozzarella, offer pizza cheeses made from soy and almond or follow the recipe on It Doesn't Taste Like Chicken to make a surprisingly gooey and stretchy pizza cheese from cashews and tapioca. For the sauce, set out bowls of an olive oil and garlic blend, traditional pizza sauce and spicy arrabbiata. Provide tons of sliced veggies including classics like mushrooms, black olives, green peppers, tomatoes and onions, along with more exotic choices like artichoke hearts, thinly sliced eggplant and arugula.



The Beverages



When your guests get thirsty, be sure to have plenty of thirst-quenching vegan beverages on hand. In addition to sparkling water and a variety of tasty juices, offer your friends some delightful adult beverages. Skip the wine and beer and go straight to the hard stuff since almost all hard liquor is vegan-approved. The only no-nos are mixed drinks that contain dairy, like White Russians. If you need some inspiration for rum-based cocktails, check out Captain Morgan's Instagram for some vegan recipes that will delight you and your friends.



The Dessert



No meal is complete without a scrumptious dessert. This is where meal planning gets especially challenging for vegans; and since butter, cream, milk and eggs are off limits, many traditional choices like cakes and cookies are off limits or must be made with animal-free ingredients. If you do some research ahead of time, no-bake desserts can be a good option. For example, The Chalkboard has a raw berry cheesecake recipe that is surprisingly easy to make and contains ingredients you can find at any mainstream grocery store. The crust combines raw almonds, dates, coconut oil and vanilla extract; and the filling features cashews, coconut, maple syrup and tons of fresh berries like blueberries, raspberries and strawberries.

Creating a vegan menu doesn't mean your guests have to suffer bland or boring food. Put in a little extra time before your party to do some research and you will find plenty of resources to help you throw a delicious and fun party.

Alison has been a freelance writer for the past 15 years. She enjoys writing about a wide variety of topics, and always looks for opportunities to learn about new subjects.


---
---
---
Leave a Comment