A bit more than two hours southeast of Seattle in Central Washington, Yakima Valley has an average of 300 days of sunshine and a bounty of just about everything. If it grows in the Pacific Northwest, there's a good chance it grows in abundance in the Yakima Valley, which is home to four American Viticultural Areas (AVAs), more than 70 wineries, and over one-third of the state's vineyard acres. Yakima Valley also grows more than 40 commercial crops, including 78 percent of the hops harvested in the entire United States! It's almost impossible to not eat local, with fields, farms, and orchards in every direction. With so many vineyards in the area, it seems only natural to stroll through one and see how the grapes are grown. Here, you can walk through most every vineyard with the winemakers themselves. Many of the wineries serve as venues for up-and-coming musicians, and the valley is fast becoming a hub for great live music.

Yakima Valley welcomes Fido too, with pet-friendly wineries, breweries, and restaurants. So bring your leashes, sunglasses, and fine-tuned palate and discover Yakima Valley.



Inside Scoop



Yakima Valley's Taste & Tote Program gives you lots of perks! Check your first case of wine for free when you depart Yakima Air Terminal, waive rental car drop fees, and enjoy free tastings at participating wineries. See tasteandtote.com.



The Lay of the Land



At the eastern edge of the valley, the town of

Prosser

has an historic downtown that's great for browsing, with tree-lined cobbled sidewalks lined with shops, tasting rooms, and restaurants. Don't miss the fascinating Walter Clore Wine and Culinary Center. During the first weekend of May,

Sunnyside

hosts Cinco de Mayo festivities, and

Toppenish

is home to three museums, including The American Hop Museum. The town of

Union Gap

is home to the amazing Central Washington Agricultural Museum. At the valley's northwestern edge,

Downtown Yakima's

revitalized downtown has an array of fine restaurants, boutiques, and tasting rooms.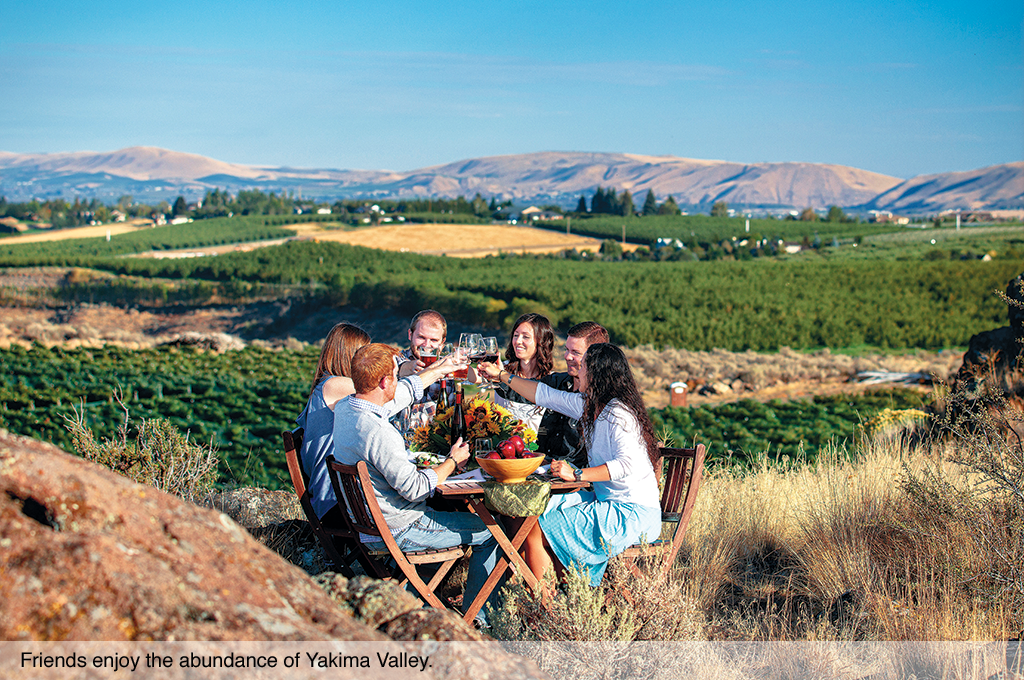 Local Wines, Beer & Spirits



Yakima Valley has a rich diversity of soils and microclimates, yielding many grape varieties including Merlot, Cabernet Sauvignon, Chardonnay, Syrah, and Riesling. Ways to tour and taste are just as diverse, from a walking tour of tasting rooms in historic downtown Yakima to leisurely scenic drives to the vineyards. In this abundant valley, there seems to be a hop farm at every turn! Many are owned and operated by multi-generational families. Yakima Valley is easily one of the world's most important hop-growing regions, and its thousands of acres of orchards make it an important fruit producer as well. In recent years, craft beer, hard ciders, and distilled spirits have become the talk of the valley! The Yakima Valley Spirits and Hops Trail provides a great introduction to the region's burgeoning craft beverage and distilled spirits scene.



Local Food



Eating local is a snap when you're surrounded by farms and orchards. Farm-fresh produce is within reach from April through November, and many local restaurants change their menus frequently to feature ingredients that have just come off the tree or vine. Many local family farms sell their own produce at seasonal stands and, of course, there are farmers' markets, where you can meet the growers and get cooking tips as well!



Local Festivals



Besides a wealth of intimate museums, shops, and restaurants, the valley puts on many popular festivals. This year, the Spring Barrel Tasting is April 22–24, the Yakima Roots & Vines Festival is May 16, and the Yakima Blues and Local Brews Bash is June 11. It's time to plan an escape to Yakima Valley for sunshine, farm-fresh experiences, and an abundance of food, wine, beer, and spirits!



Website:

visityakima.com

Touring & Tasting is a media company that produces a wine and travel magazine and is also partner in the Hitched Wine Club.