Marriage-Improvement Tips for Young Couples
There can be a long adjustment period for newly married couples. Here are a few thoughts to improve your alignment with each other.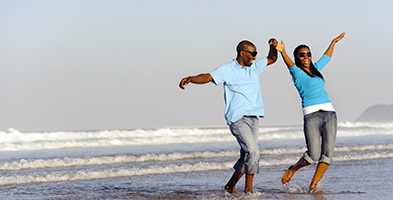 ---
"
When people enter marriage as individuals, their expectations of marriage may differ."
T

he set of problems a newly married couple faces are much different than those of a couple celebrating a 10-year anniversary. Newlyweds are creating the rules, boundaries and roles that will define their life together—styles of communication are beginning to form. When a young couple enters my office, it is because something is happening that worries them. There are sources of conflict that they cannot resolve. Arguments occur that go nowhere and leave the couple with feelings of confusion and helplessness.

Who is right? Who is to blame? When people enter marriage as individuals, their expectations of marriage may differ. Their experience of being a couple is recent. As a result, they are not yet thinking like a couple.

The "I" still dominates the "we." As a therapist of couples, it is paramount to listen to the way couples disagree and argue. Learning how to express anger and how to cope with a partner's anger, is essential to strengthening a marriage.

I will use Jane and William as an example. They have recently celebrated their first anniversary. This is normally a happy time for a couple. However, for Jane and William, this milestone was filled with resentment and unhappiness. Jane was very angry because she believed William was relatively dismissive regarding the occasion. Her feelings were hurt. Jane expected an anniversary card, flowers and an expensive dinner at a special restaurant. William, completely unaware of these expectations, took her to dinner at a modest bistro and gave her a card that, in Jane's opinion, was ordinary and unmemorable. Consequently, she was furious.

Unable to deal with Jane's anger, William retreated in silence. Withdrawal was his favored mode of operation in the face of Jane's verbal assaults. It only made matters worse as she became increasingly frustrated with his responses. They were at an impasse. Jane and William were thinking as individuals rather than as a couple.

Rather than attacking him, Jane should express how she feels and offer him an opportunity to make a more thoughtful response. William expresses regret and suggests that she should have been more explicit about her expectations. He explains that anniversaries in his family were not a big deal. This couple needed to learn how to defuse the situation, rather than escalate an argument. They have now found a way out of their seemingly hopeless dilemma. Hurt feelings and anger should not result in disappointment and emotional isolation. With a different approach, there can be improved understanding; and this may generate greater emotional intimacy.

Couples need to work together and take the thoughts and feelings of their partner into consideration. They must not hold onto anger too long, criticize one another too much, or ignore each other's feelings. Even older couples often think as individuals rather than as a couple. Improved communication and listening skills, openness about feelings and desires, an improved ability to express admiration and appreciation for one's spouse, will all serve to enhance the happiness of your marriage. This requires effort and prioritization. It doesn't sound romantic, but it is realistic and the rewards will make the effort very worthwhile.

Bob Strauss is author of "Dancing in the Dark." Strauss is a psychotherapist specializing in couples and relationship therapy for more than 30 years. He has a Bachelor of Science from Brooklyn College, a master's degree from Columbia University and a Master of Social Work from Hunter College.


---
---
---
Leave a Comment