W

ith a romantic and tranquil setting, organic cuisine, and a spa-like atmosphere, Le Puy A Wine Valley Inn provides everything one needs to relax and rebalance in the heart of Northern Willamette Valley Wine Country. Although this beautiful oasis may first sound like a traditional bed and breakfast, with a home-like atmosphere and owners in residence, Le Puy is a more modern, "new age" B&B, geared to suit the needs of today's discerning traveler.

Designed by owner/residents Lea Duffy and Andy Kosusko, who are both architects, the inn demonstrates the principles of feng shui in colors, furnishings, and décor. Each of the eight spacious guestrooms features its own private bath, Tempur-Pedic bed, mini refrigerator, LCD/Blu-ray player, and spa-like amenities. Every guestroom also offers a singular view of the breathtaking countryside, which includes a panoramic view of Chehalem Ridge and peeks of the Coastal Range, Mount Hood, and Mount Jefferson. Beyond their lusciously appointed rooms, guests enjoy spending time in several inviting common areas including The Loire Room, with satellite television and exercise machines, and The Great Room, featuring a mighty stone fireplace and a large balcony with a vista view.

Le Puy's spectacular surroundings provide guests with much more than stunning scenery. Each morning, a full breakfast made from fresh eggs, fruits, vegetables, meats, jams, and more—sourced from local organic farmers and producers—is served. Since Lea and Andy's intention is relaxation and rebalance, breakfast is served within a window of time at individual tables, to suit the needs and whims of every guest.

Beyond providing guests with a beautiful spa-like environment in a picturesque location and fabulous breakfasts to start each day, Lea and Andy have a wealth of knowledge when it comes to the surrounding wine country. After all, this is their home, and they are eager to introduce their guests to local wines, sites, and restaurants as they unwind in Willamette Valley Wine Country.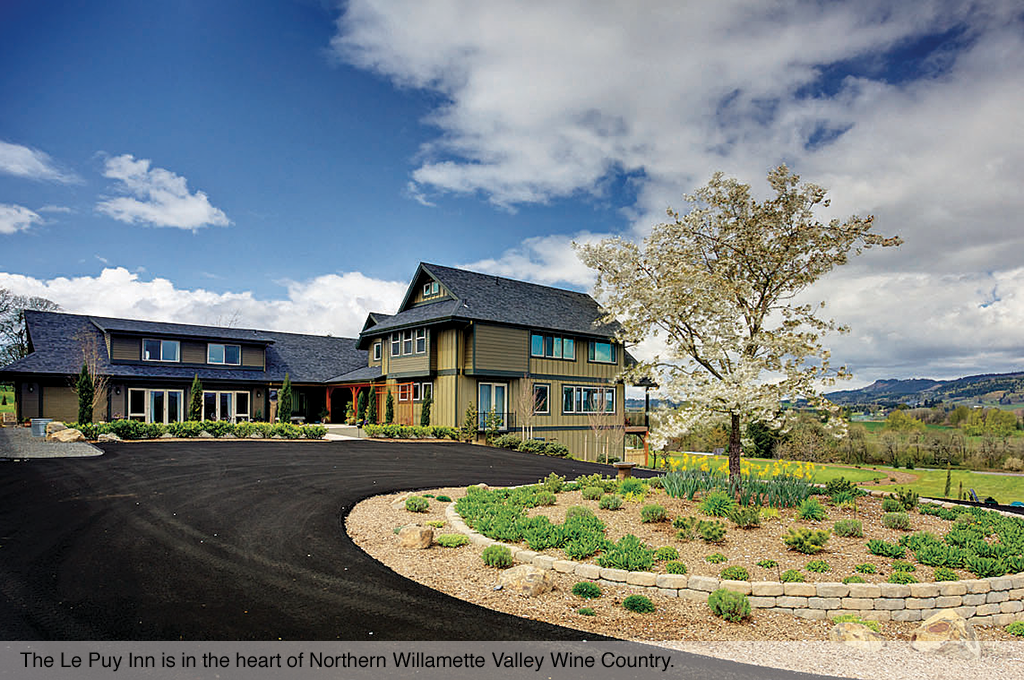 NEARBY WINERIES





Adelsheim Vineyard


With the conviction that Oregon's cool climate and soils could yield distinctive wine, Ginny and David Adelsheim planted their first grapevines in 1972. To this day, the Adelsheim Vineyard is regarded as a leader in the growth and development of the Oregon wine industry.



ArborBrook Vineyards


Gentle elevation; subtle microclimates; and Oregon's long, cool growing season places ArborBrook Vineyards in an ideal terroir for producing a smooth Pinot Noir that lingers on the palate.



Argyle Winery


Argyle Winery's history is a quintessential Oregon tale, complete with the promise of staking claim to new spaces, taking risks, and embracing opportunities and possibilities.



Brooks Wines


When Brooks opened its new tasting room in September 2014, the event was about much more than just brick and mortar. It was a celebration of the generosity and friendship of the Oregon wine community, who helped the winery get through devastating times when its founder passed away at an early age—only to carry on, rebuild, and uphold his legacy.



Carlton Cellars


Genuine friendships and a fierce love for Willamette Valley Pinot Noir led Dave Grooters and his wife, Robin, to found Carlton Cellars just a decade ago.



Chehalem Wines


From the beginning, Chehalem has made conscious farming choices that best express the flavors of the vineyard's singular terroir while demonstrating a reverence to the land.



Cliff Creek Cellars


With each passing vintage, the wines of family-owned Cliff Creek Cellars attract national accolades that further confirm Vern Garvin's excellent decision to build one more business at the age of 70.



Domaine Drouhin Oregon


A magnificent 225-acre estate perched atop the famed Dundee Hills, Domaine Drouhin Oregon is credited with introducing many Burgundian practices to Oregon.



Duck Pond Cellars


Located in Dundee, Oregon, Duck Pond Cellars is known for producing great quality wines at modest prices.



Elizabeth Chambers Cellar


Today, Elizabeth Chambers Cellar is dedicated to the small-lot production of high-quality handcrafted Pinot Noir.



Elk Cove Vineyards


In terms of terroir, the Willamette Valley is often described as the United State's answer to Burgundy, and Elk Cove Vineyards has developed a reputation for crafting a refined French-style libation.



Hyland Estates


The wines of Hyland Estates provide a taste of history.



Lange Estate Winery & Vineyards


When Wendy and Don Lange first founded their namesake winery in 1987, it was one of the first wineries in the northern Willamette Valley's beautiful Dundee Hills.



Le Cadeau Vineyard


Back in 1977, when Deb and Tom Mortimer first discovered the uncultivated land that would become the Le Cadeau Black Hole Vineyard, they knew instantly that it was an excellent site to grow Pinot Noir.



ROCO Winery


ROCO Winery represents the combined energy of a tireless married couple who dreamed for decades of starting their own winery focused on grapes grown ontheir property



Silvan Ridge Winery


Silvan Ridge Winery is like a slice of Alsace just 12 miles from downtown Eugene, Oregon



Sweet Cheeks Winery


Sweet Cheeks Winery, much like it's name, produces some of the most innovative and interesting wines in the world.



The Four Graces


When Paula and Steve Black founded The Four Graces in the Red Hills of Dundee ten years ago, they set out to make rich, complex wines that elegantly express their unique Oregon terroir.



Trisaetum Vineyards


As a family business with three generations working side-by-side, Trisaetum (tris-say-tum) is a blossoming winery located in the heart of Oregon's Ribbon Ridge AVA.



Utopia Vineyard


Driven by a love for Willamette Valley Pinot Noir and a desire to produce his own, Daniel Warnshuis searched far and wide before he found his dream spot and founded Utopia Vineyard in 2002.



WillaKenzie Estate


WillaKenzie Estate was named after the sedimentary soil on which most of the estate vineyards are planted.



Willamette Valley Vineyards


The objective of Willamette Valley Wines is to grow the highest quality fruit and to achieve wines that are the purest expression of the variety and the soil from which it's grown.



Winderlea Vineyard & Winery


Winderlea's commitment to stewardship is everywhere—in its business practices, the tasting room, the vineyard, and the wines it produces.



Contact



20300 NE Highway 240
Newberg, OR  97132



Phone:

503-554-9528


Email:

innkeeper@lepuy-inn.com


Website:

www.lepuy-inn.com

Touring & Tasting is a media company that produces a wine and travel magazine and is also partner in the Hitched Wine Club.