Just a few years into their venture and three partners are already producing well-received wines.
W

ith the deepest respect for the synchronicity of coincidence and the series of events that brought their winery to life, three partners founded Eleven Eleven Wines in 2013. Ellie Anest, Aurelien Roulin, and Carol Vassiliadis can literally trace the origin of their business back to the air, where Ellie and Aurelien met on an international flight. When it came time to name their enterprise, Eleven Eleven was the perfect name, because it symbolizes every surprising, awe-inspiring, or fated moment that awaits everyone.

The trio purchased a winery facility for their brand in October 2013 and, throughout their fledgling year of 2014, they focused on servicing their custom crush clients while working on their vision for the winery space. Recognizing that their ideal location in downtown Napa put them within walking distance of many hip, urban restaurants and shops, they decided to create a chic gathering place where guests will want to visit again and again. With about 3,500 square feet as their canvas, they designed several unique tasting areas throughout the space, each with an inviting and intimate atmosphere ideal for truly experiencing the moment and discovering Eleven Eleven wines. And there is a lot to discover.

High scores from leading wine critics are always impressive, but they are particularly so in the case of a winery this young. In its short history, several Eleven Eleven wines have been awarded scores of 90 and above. Robert Parker's Wine Advocate awarded the 2013 Eleven Eleven Cabernet Sauvignon 95 points noting "a gorgeous nose...voluptuous texture, great purity and stunning finish" and 90 points to the "juicy, full-bodied, pure, and quite elegant" 2013 Eleven Eleven Syrah.

Tasting room guests are invited to "make their moment" with an inviting list of tasting options in an unrivaled atmosphere that fulfills all of the senses. They can opt for the Eleven Eleven Experience, a sampling of six wines; a wine and artisan cheese pairing; or arrange in advance for a number of custom experiences tailored to their desires.


An Interview with Co-Founders Ellie Anest and Aurelien Roulin



T&T: We understand that your partnership is a close collaborative effort between three people who were destined to meet. Please tell us more!

AR: We are continually amazed at the chain of events that led us to this day. It really reads like a novel! All three of us bring a diversity of skill sets and talents to our business, yet we share the same value of a strong work ethic, integrity, and leadership.

EA:
Having an eye for detail, being healthy minded, and staying physically active are traits that all three of us share, along with high energy, lots of laughter, and positivity. We're perfectly balanced, like the time 11:11, which makes the winery name the perfect choice.
T&T: What prompted you to seek out the renowned Kirk Venge as your winemaker, and what characteristics is he bringing to your wines?

EA:
Actually, Aurelien already knew Kirk. They unexpectedly reconnected at an event where Kirk expressed interest in our business venture. This prompted a lunch between the three of us, where, by the time we were through, the decision had been made to make wine together. Kirk brings a strong knowledge of viticulture and focuses on the vineyard first.
AR: Kirk contends that the winemaker has to start with consideration of the wine from every angle. He treats wine like a slow food, utilizing gravity and low impact techniques. This yields the types of wines we're going for: soft, packed with fruit, and no flaws.
T&T: You've created an exceptional tasting room venue. What is your vision for guest experiences?

AR:
We strive to have our guests feel like they're in their own homes with comfortable, warm, and elegant décor and enchanting music. Aesthetically, we combine rustic charm and sleek urban curves and nuances, like the round bar, designed to reflect the Eleven Eleven symbol.
EA: When entering our tasting room, guests are welcomed warmly with a splash of Rosé of Syrah. We've created various tasting experience areas for them to make their Eleven Eleven moment. We celebrate the culture of wine, food, art, and entertainment unique to the Eleven Eleven experience. And our guests keep returning for more.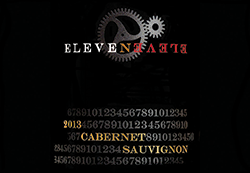 What to Buy
'14 Chardonnay, Dutton Ranch - $48
Honeysuckle, citrus zest, hint of roasted vanilla
'13 Pinot Noir, Bacigalupi Vineyard - $65
Deep cherry, vanilla, fresh red berries
'13 Estate Cabernet Sauvignon, Laki's Vineyard - $125
Chocolate, espresso, raspberries, cassis, sweet black cherry
Special Notes
Private tastings and tours by appointment, wine club events and discounts, cheese pairings, owners on site, experiential tasting room.
Contact
620 Trancas Street
Napa, CA  94558
Phone:
707-224-2211
Email:
info@ElevenElevenWines.com
Website:
elevenelevenwines.com
Tasting Room:
Mon. - Closed; Tue. - Sun. 9AM to 5PM
Touring & Tasting is a media company that produces a wine and travel magazine and is also partner in the Hitched Wine Club.
---