Perfect Summer Picnic Hacks
No picnic table, no problem. Want dessert without the mess, we've got you covered. Check out these 7 genius picnic hacks.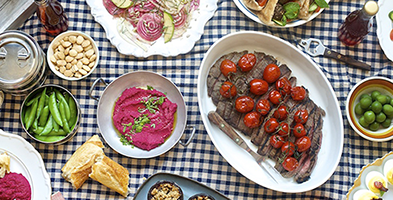 Photo courtesy of ZesterDaily.com
---
"
Schlep goodies from the car to the picnic site in an old-school red wagon, then use the wagon as a table."
(Zester Daily)



Y

ou're standing on a rooftop in Portland, Ore., Aperol spritz in hand. The bubbly orange cocktail matches the summer sky at sunset. Prosciutto-wrapped grissini—long, crispy breadsticks enveloped in buttery ham—appear as if by magic for snacking. City lights sparkle below and bridges reach across the Willamette River as you dine on a salad of juicy peaches, creamy burrata and fresh basil, followed by succulent roast pork with green garlic sauce. Dessert is zabaglione with ripe berries. When the sun goes down, all eyes turn to the crisp white sheet taped to the wall, where a projector beams Stanley Tucci's "Big Night," a film about two brothers from Italy who open a restaurant in New Jersey. You sigh contentedly as you munch on a bowl of Pecorino popcorn.

This may sound like a delicious culinary dream, but it was the Portland Picnic Society's La Dolce Vita gathering last summer. This group of 20 ladies meets monthly in the spring and summer to throw fabulous fetes. With summer here, we're anxious to steal some of their picnic pointers. But don't fret if an Italian-themed al fresco gathering seems like too much to plan. "Picnics are so flexible: You can dress them up with involved recipes and elegant touches, or you can head to your favorite market and throw together a pop-up party in a matter of minutes," says Jen Stevenson, a founding member of the Portland Picnic Society, co-author of "The Picnic: Recipes and Inspiration from Basket to Blanket," and the gastronomical genius behind the food blog Under the Table With Jen. Get inspired for your own gathering with these ideas.



Rethink Deviled Eggs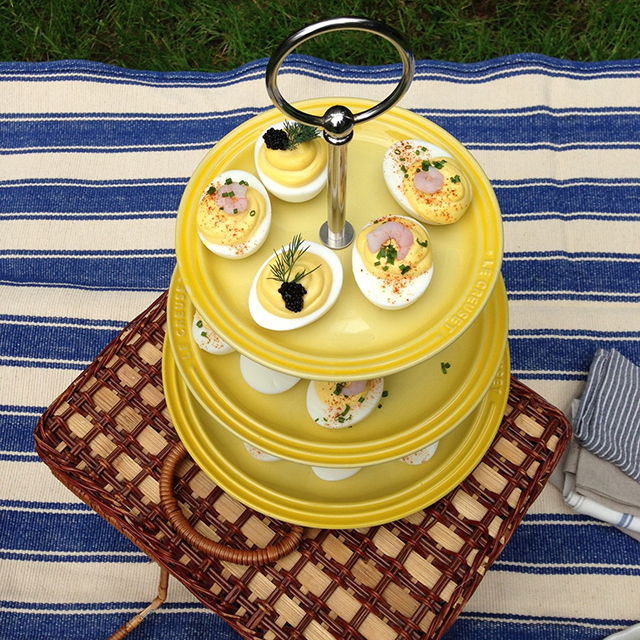 The classic recipe always pleases, but it's fun to take a crack at a new version. Here, two that Stevenson loves:

Try a BLT: Mix minced cooked bacon into the filling; garnish with 1/2 cherry tomato and a piece of baby arugula.

Perk it up with pesto: Mix in a bit of store-bought pesto to the filling, then top with tiny fresh basil leaves.



Make a Daring Dip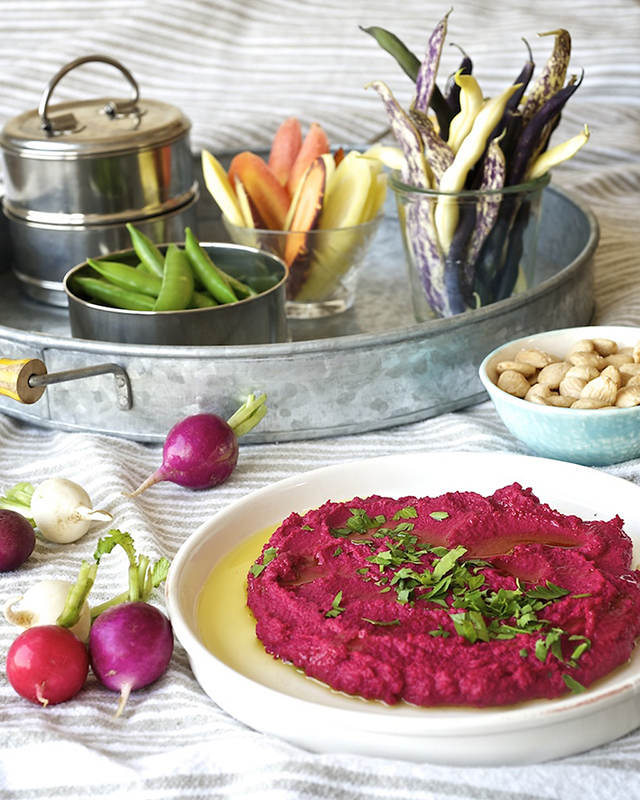 Crudité and dip are an easy appetizer, but it's fun to wow your guests with a shock of color.

"Hummus doesn't have to be boring," says Stevenson. "Add roasted red beets to turn the dip a gorgeous shade of magenta, or blend in a handful of parsley for a fresh flavor and a pretty green hue."



Prep Individual Desserts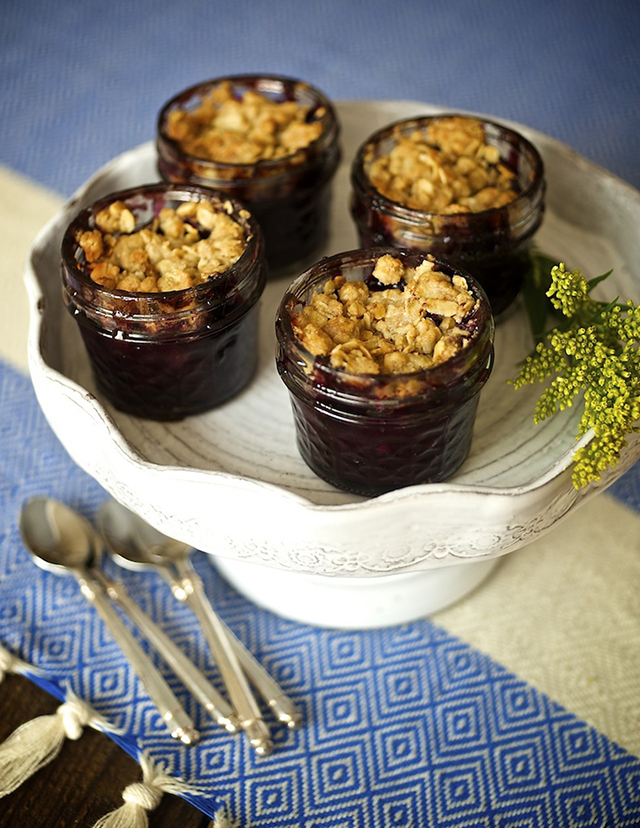 What's cuter than a mini mason jar? A sweet treat for one inside that itty-bitty container. Serve lemon curd topped with whipped cream, chocolate pudding with fresh strawberries, or a fruit and yogurt parfait. Or bake a crumble (like the Portland Picnic Society's drool-worthy Blueberry Cardamom Crumble, pictured here) right in the jar.

"Most crumble recipes can be baked in jars or ramekins; just be careful not to overfill since they tend to bubble up while cooking," recommends Stevenson.



Forget Tired Sandwiches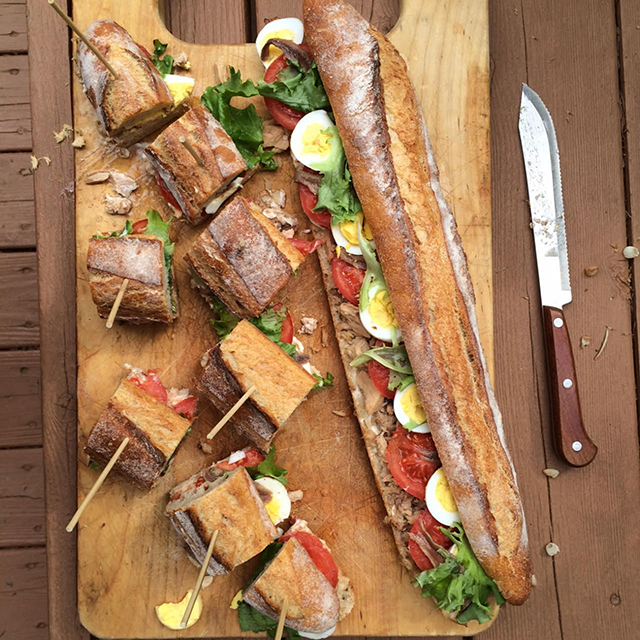 Turkey or tuna salad on whole wheat screams "school lunch," not glam outdoor gathering. One of the most colorful and delicious sandwiches to bring is the classic pan bagnat, which is based on salade Nicoise.

It's easy: Split a fresh baguette from your favorite bakery, then layer it with high-quality canned tuna, sliced hard-boiled eggs, anchovies, olives, sliced fresh tomatoes and lettuce. This is a seriously picnic-proof sandwich; the hardy crust protects the gourmet goods you stuff inside. It's a cinch to transport if you wait and slice on-site (bring toothpicks to secure each individual sammy).



Get Creative With Props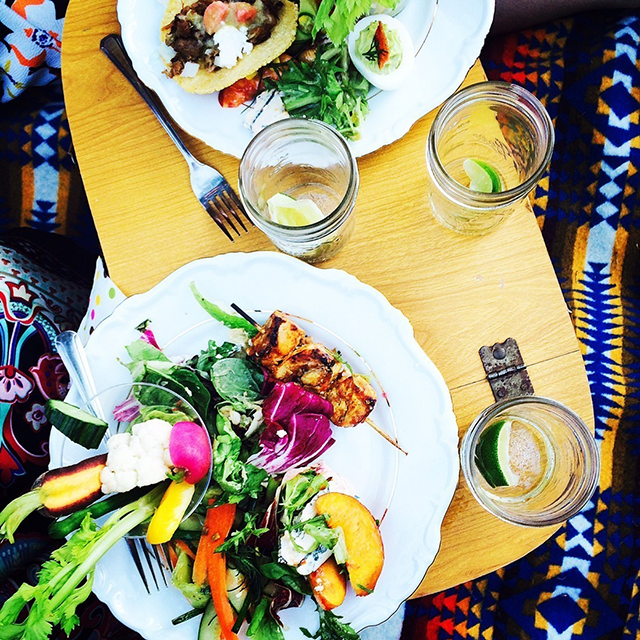 Sometimes the most picturesque spots lack a picnic table, but a basket with a flat, hard top can serve as a miniature table once it's unpacked. You can also incorporate everyday kitchenware into your spread for easier serving. Bring cutting boards and platters to set food on.

"We like to fill a Le Creuset Dutch oven with ice, then keep our wine and bottled cocktails in it," says Stevenson. "Eight-ounce jam jars make the perfect glasses, because they're easy to nestle into the grass."

Another idea: Schlep goodies from the car to the picnic site in an old-school red wagon, then use the wagon as a table. If someone asks you to pass the three-bean salad, you can just give the wagon a push in her direction.



Sip In Style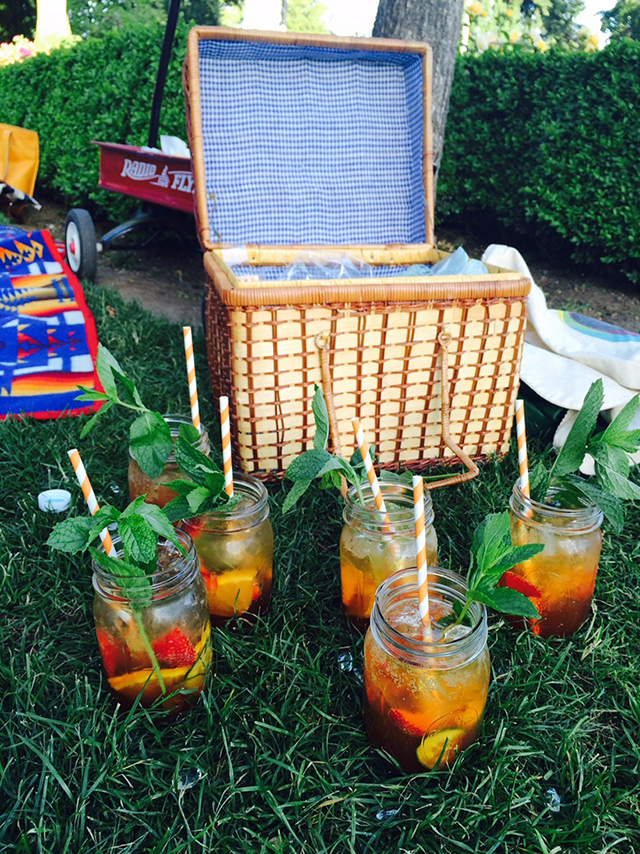 With all those delicious snacks, don't forget about drinks. The Pimm's Cup, a classic gin-based English cocktail, is refreshing but not too sweet. With this version, from "The Picnic," each guest gets his or her own mason-jar cocktail for easy transport.



Elderflower Pimm's Cup



Excerpted from "The Picnic" by Marnie Hanel, Andrea Slonecker and Jen Stevenson (Artisan). Yield: 1 serving



Ingredients



Lemon Simple Syrup:

1/2 cup sugar

1/2 cup water

1 small lemon, zested with a peeler into 1/2-inch strips

Pimm's Cup:

2 ounces Pimm's No. 1 Cup

1 ounce St. Germain liqueur

1 tablespoon fresh lemon juice

1 tablespoon Lemon Simple Syrup

1 strawberry, hulled and quartered

1 thin slice orange, quartered

3 thin slices cucumber

Club soda

1 mint sprig

1 1/2 strips lemon peel, from Lemon Simple Syrup

Mint sprigs

Paper straws

Ice

Club soda



Directions



Before the picnic:



1.

Make Lemon Simple Syrup by bringing sugar and water to a gentle simmer in a small pot. Stir frequently until the sugar has dissolved and the syrup is clear. Remove from heat and add the lemon peel. Let the syrup steep for one hour. Strain the syrup into a jar. Reserve the lemon peel for garnish.



2.

Combine the booze, lemon juice, and simple syrup in a Mason jar. Add the strawberry, orange, and cucumber. Replace the lid and pack in a cooler filled with ice.

At the picnic:



3.

Add ice, top with club soda, garnish with a mint sprig and lemon peel strip, add a straw, and serve.



Pick A Theme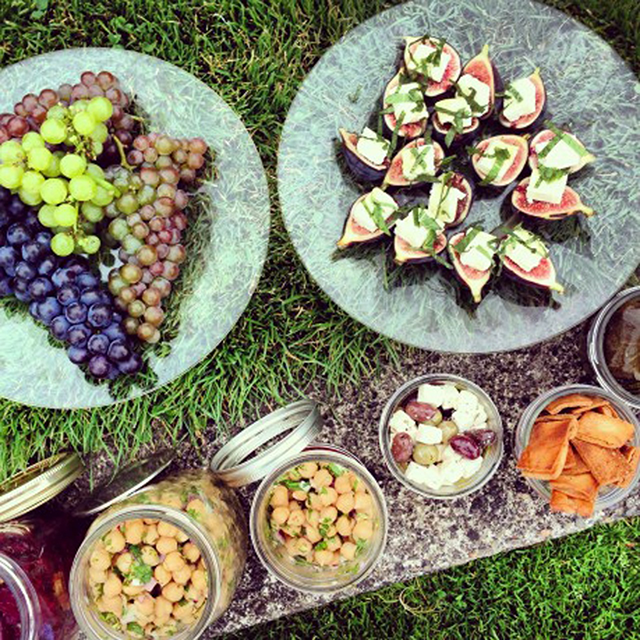 Instead of just throwing food in your basket willynilly, pick a theme to tie everything together. Make it meze madness (meze are small plates, dips and salads common throughout the Mediterranean and Middle East) with feta-topped figs, bunches of fresh grapes, hummus and pita, kalamata olives, and dolma (grape leaves stuffed with rice).

Host a Southern soiree with deviled eggs, macaroni salad, fried chicken and sweet tea. Plan a Parisian party with roast chicken; Lyonnaise potato salad; crusty baguette with brie, Camembert and chevre; rainbow-hued macarons; and plenty of rosé.

Copyright 2016 Bethany Gumper via Zester Daily and Reuters Media Express. In-article photo credits in order from top-bottom: Jen Stevenson, David Reamer (x2), Andrea Slonecker (x3), Jen Stevenson.


---
---
---
Leave a Comment