N

estled an hour east of San Francisco, the Livermore Valley is one of California's oldest wine growing regions. Surrounded by lush vineyards, picturesque hills and quaint suburbs, the Livermore Valley has a rich history of wine making. Fifth generation winemakers, new winemakers and vineyardists all work in unison to usher the Livermore wine region into a new era of wine renaissance.

The region's earliest history of winemaking began in the late 18th century, as Spanish missionaries planted and tended to the first Livermore Valley vineyards. Now, over 200 years later, the region has 40 functioning wineries, with over 5,000 acres of vineyards. These wineries range in size, from small, intimate 100-case wine growers, to the large, bustling 400,000-case heavyweights.

In addition to the welcoming and award-winning tasting rooms, the Livermore Valley has a wide array of activities for wine lovers and tourists of all kinds. There is an assortment of restaurants, ranging from fresh-seafood at Scott's Restaurant to authentic Italian food at Terra Mia Cucina Italiana. Specialty wine shops, upscale retail outlets and beautiful country clubs guarantee that there will always be something to do in the Livermore Valley.


Insider Tips



Wineries for Events
Garre Winery & Bella Rosa
Las Positas Vineyards
Page Mill Winery



Tasting Rooms of Note


BoaVentura de Caires Winery
Darci Kent Winey
Fenestra Winery
Mitchell Katz Winery
Nottingham Cellars
Steven Kent Winery



Cool Spots:


The Bridges Golf Club
Lake Del Valle
Lawerence Livermore National Laboratory Discovery Center
Livermore Premium Outlets
Swirl Wine and Tapas Bar
Vine Cinema and Alehouse
The Winemakers Studio at Wente Vineyards



Craft Breweries & Distilleries:


Altamont Beer Works
Sutherland Distilling Company
Visit Tri-Valley Beer Trail
Working Man Brewing Company



Featured Wineries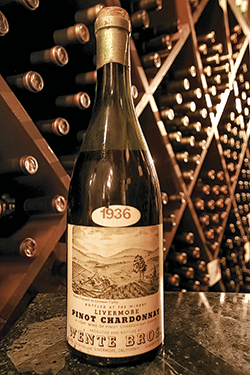 Cedar Mountain Winery & Port Works


Combining a passion for winemaking with its owners' creative endeavors in wine, food, and art, Cedar Mountain Winery & Port Works specializes in handcrafted small-lot table wines and ports produced from Livermore Valley grapes.



Garré Winery & Bella Rosa


In the heart of Livermore Valley, Garré Vineyard & Winery warmly welcomes guests with wonderful wines and genuine family hospitality.



Las Positas Vineyards


Founded by Lisa and Lothar Maier in 2006, Las Positas Vineyards produces small-lot, estate-grown wines of exceptional character.



Nottingham Cellars


It's evident that this passionate family-owned and operated winery will be exponential in writing the next chapter in the history of Livermore Valley wine.



The NC Collection: Vasco Urbano Wine Collection


With the conviction that the Livermore Valley's unique terroir is ideal for growing Rhône varieties, familyowned Nottingham Cellars launched Vasco Urbano Wine Company in November 2014 to showcase a distinctive portfolio of Rhône-inspired wines.



The Steven Kent Winery


Winemaker Steven Kent Mirassou's Lineage is the realization of his personal mission: to create one of the best single Bordeaux-style wines—not just in Livermore Valley—but in the entire world.



Wente Vineyards


Wente Vineyards is the oldest continuously operated family-owned winery in the United States. From its earliest years, it has also been a leader in the world of wine, maintaining a global vision for quality and integrity in every aspect of the wine industry.



Winemakers Studio at Wente Vineyards


Wente invites guests to engage in hands-on, interactive, and educational winemaking and grape-growing fun at The Winemakers Studio.



Featured Hotels & Resorts





Courtyard by Marriott Livermore


Locally owned and operated since the Livermore hotel was built in 1999, Courtyard by Marriott Livermore features 121 guest rooms and suites, several with large, in-room whirlpool spas.



Hawthorn Suites by Wyndham Livermore


The gracious extended-stay hotel is located in a prime spot just a mile north of downtown Livermore, with easy proximity to Livermore Valley wine country.



Hilton Garden Inn Livermore


Technologically advanced with all the comforts of home, Hilton Garden Inn Livermore offers 97 guest rooms and suites, some with whirlpools and fireplaces.



Hyatt Place Dublin/Pleasanton


Never settle for anything less than Hyatt Place.



Marriott Pleasanton


Offering luxurious rooms that serve as an oasis after a day of wine touring, Marriott Pleasanton provides an ideal blend of amenities: ultra-comfortable bedding, high-speed Internet, and flat screen TVs.



The Purple Orchid Wine Country Resort & Spa


Set in the hillsides of Livermore Valley, the Purple Orchid Resort and Spa offers ten beautifully appointed guest suites, each with a fireplace and Jacuzzi tub. 



Other Notable Businesses





Tri-Valley Conservancy


Tri-Valley Conservancy strives to preserve its legacy.



Sterling Horse & Carriage Co.


Spark some romance or make a special memory with friends and family as a horse-drawn carriage takes you on an enchanting tour in Livermore wine country.



We Olive Walnut Creek


Dedicated to informing and delighting guests with the benefits and deliciousness of California olive oil, We Olive offers an unforgettable olive oil experience.



Contact


620 Trancas Street
Napa, CA  94558



Phone:

707-224-2211


Email:

info@ElevenElevenWines.com


Website:

elevenelevenwines.com



Tasting Room:

Mon. - Closed; Tue. - Sun. 9AM to 5PM

Touring & Tasting is a media company that produces a wine and travel magazine and is also partner in the Hitched Wine Club.