Flying With Fear
Fear of flying is more common than you might imagine. Yet most of us find ways to continue to fly for business and vacations. Dr. Fiore explores the possible causes of the fear of flying and ways that many have learned to overcome it.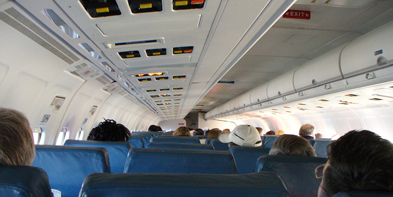 ---
Why do I have a fear of flying?

You may have had a childhood event that caused you to doubt your safety in the world and to seek constant reassurance from your parents. Anyone, however, who has experienced rough turbulence on a flight, suffered a panic attack when the cabin doors close, has a fear of heights or claustrophobia, or worries about hijackings, can develop a fear of flying.

The major and underlying fear is a fear of not being in control of events and your body's reactions. While many believe that we fear death from a plane crash, most seem to have a greater fear of not being in control of the plane. In fact, I've worked with people who feel stressed at the very thought of having to take a flight, but who are perfectly calm while taking flying lessons and piloting the plane.

Another underlying fear that can lead to several phobias—fear of flying being just one––is the fear that you will hate yourself, make yourself anxious, and, in general, beat yourself up if anything doesn't go your way. This usually takes the form of denying your human limits and vulnerability and insisting on achieving a god-like control over events.

What can I do to overcome my fear of flying?

Know what you can control. Know what you can do in case of an emergency landing––e.g., return to your seat, tighten your seat belt, lean forward, check for the closest exit, etc. The fact is that many people survive airplane crashes by following instructions and staying calm.

Know that you will not blame yourself for taking this flight if the plane gets into trouble. Develop an agreement with yourself that "Regardless of what happens, I won't make you feel bad." This is your ultimate plan for survival and for living fully.

Learn to accept yourself as merely human, with limited control. Self-acceptance is a very loving act that calms those aspects of your personality and brain that are afraid of self-criticism.

Calm yourself by practicing three-part breathing:
1. Inhale
2. Hold your breath and tighten some muscles, then
?3. Exhale completely and float down into the seat and floor

For at least a week before flying, practicing daily will train your body to slow your stress response and release muscle tension whenever you consciously exhale. Knowing that you can calm yourself will build confidence that you can control your body and your attitude.

Use Systematic Desensitization or find a therapist who will lead you through this process of facing your fears in small, incremental steps. Start by just imagining going to the airport and stay with that scene for 20 to 30 seconds before shutting it off and doing some relaxation exercises. Gradually, you or your therapist advances the scenes so you're on the plane, taking off, breathing through any bumpy patches, and landing safely. Soon you'll be able to stay with and diminish your fear response.

For free information from a former pilot, you may want to visit www.fearofflyinghelp.com.

What do I do if my spouse has a fear of flying?

Avoid trying the "rational" approach of reassuring him or her that, statistically, you are 29 times safer flying in a plane than driving on the freeway. Avoid saying, "It's okay. There's nothing to worry about."

Instead, use my "Yes Template" that goes something like this, "Yes, you're scared. Yes, of course some part of you doesn't want to fly. Yes, it's normal to wonder how a big plane can be held up by air. And, if you choose, you can learn to calm yourself and wonder about how flying can become exciting for you."

Dr. Neil Fiore is a psychologist practicing in Berkeley, CA , a coach, a speaker, and author of "Awaken Your Strongest Self: Break Free of Stress, Inner Conflict, and Self-Sabotage" [McGraw-Hill, 2006]. You can find Dr. Fiore's "Free Articles & Tips" at www.neilfiore.com. His bestselling book "The Now Habit" is revised and available on CDs at iTunes under "Audiobooks" and at www.audible.com under "Self-Development."


---
---
---
Leave a Comment