Study: Military Couples Who Avoid Problems Fare Worse After Deployment
Couples who fight for their country do better when they also fight for their relationship through good communication.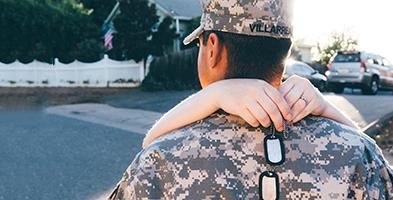 ---
"
…Soldiers and their significant others who had an avoidant coping style were significantly more likely to experience depression, anxiety and PTSD symptoms after the soldiers returned home…"
(Reuters Health)



M

ilitary families face many stresses and partners who tend to avoid dealing with issues directly before a deployment are more likely to have mental health and relationship problems after the soldier returns home, according to a recent U.S. study.

"A deployment is a stressful event for couples who endure a lengthy separation," said lead author Adrian Blow, a researcher at Michigan State University in East Lansing.

"Service members are deployed in a combat zone with all of the dangers involved. Partners are faced with numerous stressors back home," he told Reuters Health by e-mail.

Some military couples struggle with the stresses of deployment while others are remarkably resilient, the researchers write in the Journal of Clinical Psychology.

To determine how personal coping styles before deployment affect the couples afterward, the study team surveyed 122 National Guard members and their partners.

Before deployment, the service members and their partners answered questions about their own coping styles to determine if each member of the couple had an active coping style, meaning they tried to reduce the stress of a situation, including accepting it, seeing it in a more positive light, developing strategies to manage issues and/or turning to others for support. Or, if they had an avoidant style, meaning they avoid dealing with problems, rely on denial, giving up or using alcohol or drugs to cope.

After deployment, the participants completed questionnaires assessing relationship and parenting issues as well as depression, anxiety and symptoms of post-traumatic stress disorder (PTSD).

Relationship issues included problems with joint decision-making, values, affection and satisfaction with the relationship.

The researchers found that having an active coping style pre-deployment did not have a significant effect on any of the outcomes when the soldiers returned from deployment.

In contrast, both soldiers and their significant others who had an avoidant coping style were significantly more likely to experience depression, anxiety and PTSD symptoms after the soldiers returned home, compared with those who didn't avoid their issues.

Soldiers with more avoidant coping styles had significantly greater parenting stress, while partners of soldiers who were avoidant were more likely to experience relationship stress, the study also found.

Avoidance in significant others also had an effect on the soldiers, and military members whose partners were avoidant were more likely to experience parenting stress, compared with other soldiers.

"If soldiers are not happy in their family life, they're not going to do their job as well," said Howard Markman, a distinguished professor of psychology at the University of Denver and coauthor of the book "Fighting for Your Marriage."

"The best way to help military couples . . . is to help couples learn communication skills and principles that are associated with having a healthy and happy marriage," Markman, who was not involved in the study, told Reuters Health by e-mail.

Important communication skills for couples include being able to call a timeout when things are going badly and to take turns speaking and paraphrasing back what they hear, Markman said.

"Get each person's perspective on the table before trying to solve something," Markman added. "All couples need a way of talking without fighting about important topics," he said.

"Coping through denial, avoidance, or drugs/alcohol when facing a stressful deployment can have negative implications for one's mental health and family wellbeing after the deployment is over," Blow said.

SOURCE: Journal of Clinical Psychology, online May 11, 2017.


---
---
---
Leave a Comment