Koontz New Thriller Focuses on Husband
Dean Koontz has scribed another thriller, this one is called "The Husband".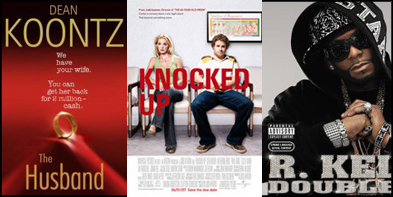 ---
READ
The Husband
Dean Koontz
www.deankoontz.com

Mitch Rafferty is your typical guy. He owns a small but successful landscaping business, lives in a modest home in Southern California, and shares it all with his loving wife. Everything changes, though, when a stranger calls his cell phone demanding $2 million for the safe return of his wife, who, unbeknownst to Mitch, has been kidnapped. To prove his seriousness, the caller tells him to look out the window just as a man walking his dog is shot to death. Mitch must find a way to come up with the money, all while juggling a police inquiry into his wife's disappearance without letting them on. The Husband is a tense, suspenseful thriller about a husband's determined love for his wife.

WATCH
Knocked Up
Set Rogen, Katherine Heigl
www.knockedupmovie.com

Allison Scott (Heigl) and Ben Stone (Rogen) are two completely different people; she's a career-driven journalist and he's a laid-back slacker. After a one-night stand produces an unexpected pregnancy, the two are left wondering if they can survive as lifetime partners. This is the second film for Judd Apatow, director of The 40-Year-Old Virgin, and he's obviously found a winning formula he's sticking to. Despite the crude, bawdry humor, Knocked Up manages to be both hilarious and surprisingly sweet, making it the perfect date-night movie for both men and women.

LISTEN
Double Up
R. Kelly
www.r-kelly.com

R&B master R. Kelly delivers yet another bump-n-grind hit with Double Up. As always, his lyrics are slightly ridiculous, but his incredible ability to produce chart-topping hits is undeniable. His smooth voice, thinly-veiled metaphors for sexual acts and hot hip-hop beats are all here again for yet another hit album for this legendary crooner.


---
---
---
Leave a Comment