Fajita Feast
This week, Mitchell Anderson takes your Fajita skills to the outer limits with a complete Mexicana Fiesta feast fit for the Gods… drinks included!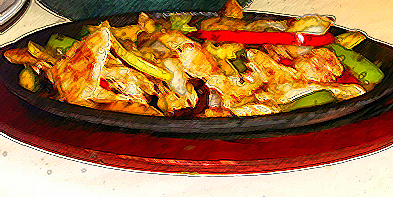 ---
The first thing you and your partner are going to want to do is make the perfect Margarita. This recipe is foolproof, not too sweet, and always makes for a good time. Normally, I don't drink frozen Margaritas; I prefer a hand-shaken Texas Margarita on the Rocks. However, at home and on special occasions I pull out the blender and let it rip. My family has been making "1-2-3s" when we gather by the pool since college and we swear by them!

1-2-3 Margaritas

You will need:
A blender
One (or more) small Minute Maid Frozen Lime Juice cans
Triple Sec
Your favorite Tequila—we use Jose Cuervo Gold because he is like an old friend.
Fill the blender with ice. Take a sharp kitchen knife and cut the lime juice can in half. Scoop out one half of the frozen lime juice into blender and save the (now empty) can. Put the other back in the freezer for the second batch.
Pour two parts Triple Sec into the blender.
Guess what your "3" is—that's right, three parts of our friend Jose!
Blend until frothy and pour into a glass.

Get some Tortilla Chips and your favorite salsa to snack on while you prepare your dinner.

Now you are ready to prepare your perfect fajita feast.

Fajita Feast

You will need:
Three limes
1 each red and yellow bell pepper
1 sweet yellow onion
1 jalapeno or banana pepper
2 ripe tomatoes
2 garlic cloves
1 ripe but firm avocado
1 bunch of cilantro
Chicken tenders (precut at your grocery in the meat department)
Worcestershire sauce
Olive oil
6 Flour tortillas
Grated cheddar/jack cheese
Your favorite salsa
Sour cream
Refried or black beans
Begin by marinating the chicken (this can be done up to three hours ahead, but it is not necessary). Place the chicken tenders in a shallow baking dish. Chop one clove of garlic and sprinkle over chicken. Squeeze one lime over chicken and two tablespoons olive oil and two or three squirts of Worcestershire Sauce. Add a little salt and pepper and move the chicken around with a fork to cover with liquid. Put in refrigerator until ready to use.

Pour can of beans in pan and slowly warm—they will burn if you are not careful.

Prep condiments: salsa, avocado, cheese and sour cream and put on table for later.

Now you are ready for the chopping. Don't be scared: With two of you and another glass of "1-2-3s" it is easy.

Cut onion in half along the stem side and peal the outer skin. Cut onion in half moons and break apart. Place in bowl.

Cut the peppers into strips. Here's how—place pepper "stem side up" on cutting board. Cut straight down on all four sides and discard the middle (seeds should mostly stay attached to stem.) Cut peppers into strips and place in bowl with onion.

Mince garlic and add to bowl.

Cut the tomatoes in quarters and set aside.

Chop cilantro and set aside.

Now you are ready to cook! (How's the Margarita—need another batch?)

Place a large skillet on the stove and turn it on to medium high heat—if you have an iron skillet, this is preferred, but not necessary.

Pour in olive oil to just cover the bottom of the pan and let it heat up just to the point of smoking. Add the peppers and onions—this should sizzle when you add them to the hot oil. This will seal in the flavor of the peppers and onions. Stir in hot pan for about three minutes and then add the marinated chicken. Cook the chicken until white all the way through. Turn down the heat and squeeze another lime over fajitas along with another couple of squirts of Worcestershire sauce. Add tomatoes and a small handful of chopped cilantro. Toss in the pan to mix. The tomatoes will cook instantly.

Put Fajita mixture in a serving bowl.

Heat tortillas in microwave between two plates for about 45 seconds.

Fill up your margarita, light a candle on the table and serve fajitas while hot. Everyone has their own perfect fajita mixture; I like it loaded with beans, sour cream, cheese and a couple of sliced of avocados.

Here are some alternatives: Use talapia (it's a fish) instead of chicken in fajita mix or if you have a grill, marinate a London Broil or another steak for three or four hours and grill. Slice thin and add it to the sautéed peppers and onions.

Did we forget to mention we've got a desert for you to?

Haagen-Dazs Mango Ice Cream with Sautéed Bananas.

Heat a small skillet with two tablespoons of canola oil. Slice two bananas in half lengthwise and place flat side down in hot oil. Flip after two minutes (or less). Serve along side a scoop or two of Mango Ice Cream. Drizzle some Dulce De Leche sauce for extra goodness.

Owner and Head Chef Mitchell Anderson created MetroFresh Café in Atlanta, Georgia after leaving the Hollywood scene and completing a successful acting career. Now, Anderson has created a restaurant that touts itself as a healthy alternative to fast food. Check out his website at www.metrofreshatl.com to find out more about this actor turned chef.


---
---
---
Leave a Comment