4 Essential Keys to a Long and Successful Marriage
There's no exact formula for a happy marriage, but these foundations are tried and true.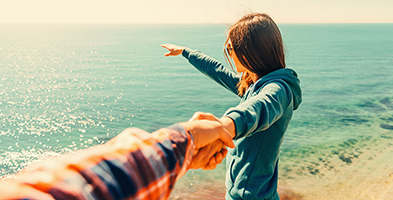 ---
"
Discuss issues right away so they don't escalate and cause bigger conflicts or arguments."
W

hether you're celebrating newlywed bliss or you've been together for 20 years, one thing remains constant: marriage requires effort. You and your partner must work together and work on the relationship if you want your marriage to withstand the test of time. There are certain tell-tale signs that can help to determine the strength and longevity of a relationship, and when you know which factors to focus on, you can work smarter not harder. Whether you're struggling or just need an occasional reminder, here are five keys to a long-lasting, successful marriage.



Open Communication



Lack of communication in a marriage can lead to confusion and conflict. Sometimes, when you're with someone for a long time, you assume you know each other. No matter how long you've been with your spouse, remember, humans are not mind readers. The only way to really know what someone else is thinking is to talk about it. "Researchers are unanimous: couples who communicate effectively consistently report greater marital satisfaction, and satisfied couples are healthier and consequently live longer," according to Dana Bagwell from Our Everyday Life.

Make sure you and your spouse communicate regularly. Talk about your day, talk about your feelings, express your love for one another. Check in with one another about your needs. What can one or both of you do to help the other?

Discuss issues right away so they don't escalate and cause bigger conflicts or arguments. Sometimes, however, couples will argue, just try to be respectful and loving. Also, understand you and your spouse may have different love languages or communication styles. When you learn how your partner feels and expresses love, you will be able to communicate on a much deeper level.



Trust



Trust is vital in any relationship, but especially in a marriage where you vow to share your life with another person. Trust lets you be open and honest and vulnerable with your partner. "Trust in a relationship is a must," according to Ashley McILwain from Start Marriage Right. "Without it there is fear and insecurity, dampening and limiting the relationship's potential."

Many people think of trust when it comes to being faithful, but trust ties into every aspect of your relationship including finances, intimacy and communication. You can strengthen and maintain trust in your relationship with honesty and open communication. When trust is broken or damaged, due to dishonesty or infidelity, it can be devastating to a marriage. If you want your marriage to last, you must do whatever you can to rebuild this trust; hard work, outside help, therapy, etc.



Mutual Support



When you get married, you vow to support each other for better or for worse. Part of upholding these vows is to help your partner be the best version of him or herself. Couples should share their goals, dreams and passions, and do what they can to help the other person succeed.

If both of you work outside the home, what can you do to support each other in your respective careers? Although it may be harder for double-income families to divvy time between work and family, statistics show this can lead to a stronger marriage. Based on a study, 35% of employed people get divorced, compared to 42% of unemployed people.

Make sure your partner knows he or she has your love and support in their personal and professional endeavors. You're capable of achieving so much more when you work together as a team.



Put Your Marriage First



Your marriage will evolve over time. Your family started out as just the two of you, but there may be kids in your future. You must continue to put your marriage first, even before your children. When you prioritize your marriage, you will not only be happier as a couple, you also set a positive example for your kids. "Putting your spouse first does not diminish the love your children feel from you. It enhances it as long as you show love to them as well," according to Gary and Joy Lundberg, a marriage and family therapist and writer, who co-author books on relationships.

Even if you don't have children, you must work to prioritize your marriage over friendships, personal interests and work. This doesn't mean you shouldn't spend time with friends or explore hobbies and passions, but give your partner the respect, loyalty and love he or she deserves, and put your marriage first.

These factors build on each other to create a partnership based on love, trust, loyalty and respect. No matter how long you've been together, remember, a strong, healthy marriage requires effort. Develop a solid foundation and continue to work to strengthen your relationship.

Maile Timon is a professional blogger and content editor. She writes articles on lifestyle and family, health and fitness, education, business, how to and more. Maile earned her Bachelor's in Broadcast Journalism from Chapman University. When she's not writing, she enjoys hiking in Southern California.


---
---
---
Leave a Comment