New Movie Magic
New tips on an old standard. We've got the secrets to enhance your moviegoing experience.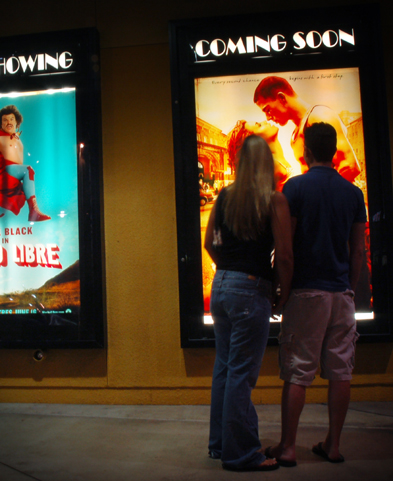 ---
For many, it's the very first place you went on a date. And for every couple that complains it's a weekly outing that's become mundane, another couple laments they haven't been to the movies since they started showing "talkies." Whatever the situation, our society loves the fantasy and fun of the cinema. Although DVDs, TiVo and On Demand programming have made the home theater a new haven where snacks pulled from our cupboard are cheap and attire can be as comfy as your slouchy sweats, there's something to be said about the experience of heading out to catch a flick.

Snuggling inside the theater isn't just for infatuated teens, even adults love to hold hands and await the flickering images. "Going to the movies continues to be a popular date option for people of all ages," says Melanie Bell, vice president of corporate communications at AMC Theatres. "Movie theatres provide all of us with a chance to get out, escape from everyday life and be completely entertained in a quiet, relaxing and intimate environment. It's the perfect date experience."

If Arnold Schwarzenegger was still on the big screen the last time you visited, you may want to do a little research before going back (check theater websites or call)—things have changed. With updated designs, a little research can reveal if a theater has seats that can recline, have adjustable arm rests that truly allow for a "love seat" experience or are even upholstered with soft leather. Also, fears of the irregularly tall man sitting right in front of you can be put to rest if you seek out theaters with stadium seating. Plus, there's no better place to beat the summer heat than in the air-conditioned sanctuary of the movie theater.

If you're stuck in the Saturday night dinner and a movie cycle, mix it up and meet each other for an early movie after work during the week, or on Friday. Then you can unwind and maybe grab dinner afterwards, while still making time for other activities or a quiet night at home. If choosing the movie is a hassle, adopt a fair agreement: Your spouse chooses this time, you get the next one; because isn't marriage all about compromise?

Now, we've all watched the ticket prices soar at the box offices, but rest assured theater companies are well aware of our watchful eyes and our tightened budgets. Many major theaters offer frequent moviegoer programs that reward you for patronizing their theater chain. Regal Cinemas, which is comprised of Regal Cinemas, United Artist Theaters and Edwards Theaters operating in 40 states, has their Regal Crown Club program, which has free enrollment. Most other theaters, including AMC, offer similar programs. You can apply for the Regal program at theaters or on their website (www.regalcinemas.com). Presenting the card when purchasing tickets, you receive points or credit for each time you frequent their theater. Upon a certain credit accumulation, you are given a reward—no it's not Johnny Depp or Keira Knightley. Sometimes it's free popcorn, drink, discount off a combo item or best, a free movie ticket. You can even check your balance online.

Do you have a GAT? It's not a weapon, but it does deter the fleecing of your wallet. General admission tickets are a great way to keep expenses low, offering discounted prepaid tickets that can run $3 to $4 less than the normal price. Sometimes workplaces offer these—check with your HR person—otherwise, credit unions stock them as well. The Entertainment Books also carry GATs. Most often, you cannot use GATs for brand-new films, but you can either pay a $1.50 upgrade fee, which is still usually less than the normal price, or wait 10 days from the release date when GATs are accepted. Don't forget, if you're a student and have an ID, some theaters will also offer a slight discount.

If what you've read so far still doesn't warrant the crowbar coming out to open the wallet, you can try second run theaters. Often called "dollar theaters," these discount movie houses can offer tickets as low as $1. With your busy schedule, missing a first run release doesn't mean having to wait for the DVD anymore. While many of these houses try to recoup their cut-rate prices with concession temptations, you can always keep it cheap by bringing your own treats. But the best treat of all (yes, even with Schwarzenegger temporarily retired) is spending some time with your spouse and escaping into a fantasy world together.


---