Check-In To 1408
The new movie 1408 based on a Stephen King short story will have you gripping your spouse in the dark theater.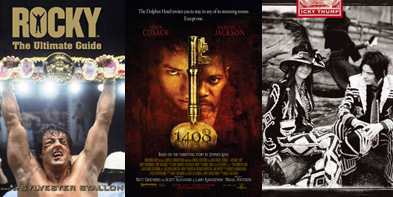 ---
WATCH
1408
John Cusack, Samuel L. Jackson
www.1408-themovie.com

Horror novelist Mike Enslin (John Cusack) is a skeptic—he writes haunted stories, but doesn't really believe in the specter of the supernatural. When researching his latest book, he decides to stay in Room 1408 of New York City's historic Dolphin Hotel. The dire warnings of the hotel manager (Samuel L. Jackson) about the tragic fates of former guests do not dissuade the writer who is determined to spend one night in the ominous room. Based on a short story by Stephen King, 1408 gets under your skin and envelops you in the terror that Enslin is feeling for the first time. Rated PG-13, this is a tense thrill ride that will keep you gripping onto your spouse in the dark theater. Reminiscent of films like The Others and The Sixth Sense, 1408 isn't gory, but it will make you think twice about ever staying on the 13th floor.

READ
Rocky: The Ultimate Guide
DK Publishing
http://us.dk.com

This is a must-have for any true Rocky fan. It's the ultimate companion to the six Rocky films, written with full cooperation and access to Sylvester Stallone and MGM. Aching for painstaking synopses of each and every fight scene? This is the book for you. Complete with character profiles, behind-the-scenes photography and real-life fighter stories, this collector's item is just the coffee table book you'll need for those poker night discussions of which Rocky film had the best fight. You know it was when he fought Clubber Lang in Rocky III, but your buddy wrongly claims it was when he kicked Ivan Drago's ass in IV. Trust us—this will be the most fun you've had with a book in a while.

LISTEN
Icky Thump
White Stripes
www.whitestripes.com

The latest album from the White Stripes , Icky Thump is an interfusion of many influences. From hard rock to heavy metal to the 70s feel of classic rock, this is a lively tour de force to add to your music collection. The first single, title track Icky Thump, which showcases not only the guitar gymnastics you've come to expect from Jack White, but a dynamic beat that is the perfect home for lyrics like: Well Americans/what, nothing better to do?/Why don't you kick yourself out?/You're an immigrant too.


---
---
---
Leave a Comment