Transforming the Box Office
The Transformers is this year's biggest summer blockbuster so far.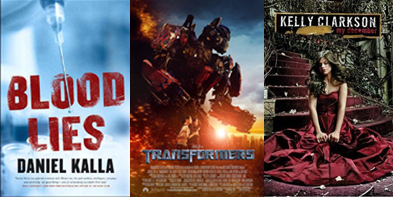 ---
READ
Blood Lies
By Daniel Kalla
www.tor-forge.com/bloodlies

In the mood for a hot thriller during these sweltering summer days? Check out the medical who-done-it as you follow ER doctor Ben Dafoe as he searches for the murderer of his fiancé. With his blood found at the crime scene, is he being framed? Or could it have something to do with his long-dead twin brother? Filled with medical mystery, creepy crime investigations and the dark inner-workings of a drug-filled world, you'll be on the edge of your seat.

WATCH
Transformers
Shia LaBeouf, Josh Duhamel, Megan Fox, Tyrese Gibson
www.transformersmovie.com

This is the must-see film of the summer. Director Michael Bay brings this classic 80s cartoon to the big screen which pays homage to many genres—action, war epic and comedy—bringing to life the war between Optimus Prime and his Autobots and Megatron and his army of Decepticons. The charming Shia LaBeouf plays Sam, a teenager who unwittingly buys a classic Camaro and launches himself into a robot war. The stunning Megan Fox is a strong-willed and resourceful heroine while Josh Duhamel and Tyrese Gibson play Army Rangers with all the firepower you FutureWeapons fans will die for. Funny, action-packed and with just enough hot car action to have you truly considering a Chevy purchase. Both men and women will enjoy this popcorn-fest. And the Transformers are pretty cool too.

LISTEN
My December
Kelly Clarkson
www.kellyclarkson.com

A pop-rock force, Clarkson's third album is her most sophisticated yet. With all 14 tracks written or co-written by Clarkson herself, the listener will be taken for a dark ride with the heartbreak of a heavy sound in "Never Again" and "Hole." More mellow tracks like "Be Still" and "Irvine" showcase Clarkson's sumptuous voice at its most affecting. She turns up the heat with the super sexy R&B tune "Yeah," and "Sober" leads the pack as a crescendo of the emotion of surviving a breakup. Especially cool is the secret 14th track, "Chivas," an awesome post break-up ballad. Though you're happily married now you'll probably just laugh when you hear the lyrics.


---
---
---
Leave a Comment