Gettin' Freaky At The Beach
Whether you're cuddling on the beach or canoodling underwater, sex on the beach should be more than just a fruity cocktail.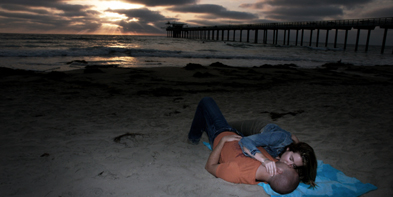 ---
Ah, summertime. Nothing inspires a little hanky-panky like seeing bare skin come out to soak up the sun or to cool off during those warm nights. And if you're lucky enough to score some alone time with your honey at the beach this summer, there are plenty of ways to take advantage of those "inspired" feelings.

Take Jon, 25, who discovered a good way to make a little fireworks of his own this Fourth of July. "Everything exists for a reason; why do [you think] all those beach houses keep their chairs outside on the beach? So couples can walk by, borrow it for 30 minutes, take it to the waterfront and watch the fireworks go off," says Jon. "Makes the grand finale feel like you're the only ones on Earth."

Sounds romantic, right? Getting it on in a beach chair doesn't always create the types of sparks you're looking for, though. In fact, for Cassy*, 25, a little midnight groping on the beach nearly landed her in a Mexican jail cell. "I was in Cancun a couple years ago hitting the clubs and enjoying the crazy night life when my guy and I decided to take the action outside. We were walking along the beach and decided to make use of some beach chairs outside the hotel. We were making out and groping pretty heavily when I looked up and saw a group of Federales walking toward us," says Cassy. "They tore us apart, then threatened to take us to jail unless we gave them money. I was totally freaking out!"

The lesson learned? Be careful when getting busy in international waters. But if beach chairs and Federales aren't in your plans, there are a couple other things to keep in mind for scoring some safe beach action.

Dr. Ari Gabayan, University of Arizona Health Sciences Center, warns couples not to rely on condoms when in the ocean. "The failure rate of condoms is higher in the water," he says—not to mention the difficulty of getting one of those suckers on while no one's looking. "Also, if you're not using condoms, the water may wash away the vagina's natural lubrication, increasing friction and discomfort during sex."

But don't worry girls—the salt water won't cause any burning sensations, and rocking with the rhythm of the waves is a very sensual experience. So grab your bathing suits and test out the theory that it really is the motion of the ocean that counts.

*Editor's note: due to the sensitivity of this subject, the name was changed.


---