The Six-Course Date
Love food? Plan a restaurant-hopping experience that'll have both your mouths watering.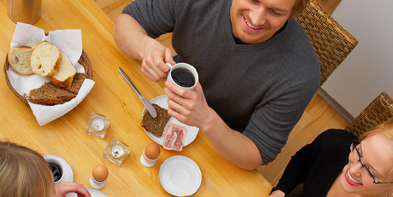 ---
There's nothing quite like eating to bring a couple together. When all ideas fail, enjoying a night at a restaurant is—and always will be—the preferred dating destination.

"We're naturally social animals, and eating is one of the most social experiences we share with others. It's a chance to relax, talk and connect," says Amy Sherman, creator of Cooking With Amy (http://cookingwithamy.blogspot.com), voted one of the top food blogs by Forbes.com.

If eating out has become bland, try spicing it up with this new twist on the traditional dinner date: restaurant hopping. Work your way through a six-course meal at six different restaurants. The idea is that your first destination is for drinks, second is for an appetizer, third is another appetizer, fourth is a main course dish, fifth is for desert, and sixth would be coffee or tea. It's a fun way to explore the many restaurants in your city and satisfy every craving you have. Of course, you could limit your hopping to three or four restaurants while still achieving the fun experience.

So grab your spouse, come hungry, and use Amy's tips for creating the perfect restaurant-hopping experience:
Mix and match for an international journey. For example, try starting your evening with Spanish tapas, next feast on Italian pasta or French crepes for your main course, and end up at a Middle Eastern spot for coffee, tea and baklava. Or try a pan Asian adventure and begin with sushi, move on to Vietnamese noodles, then end with Thai mangoes and sticky rice.


An elegant restaurant is often a great choice for drinks or dessert, and it's an affordable way to sample their menu. Just let the host know you won't be ordering dinner; if they have room, they'll usually be happy to accommodate you.


Choose one compact neighborhood with lots of dining spots to make getting from place to place a breeze.


Pick more lively places early in your evening for cocktails, a glass of wine or sake and appetizers, and wind down your evening somewhere quieter and more cozy.


Take a cab or walk so you can have a drink or two and not worry about driving home.


---