The Funniest Family In America
It only took 18 years, but The Simpsons have finally made their appearance on the big screen and it was well worth the wait.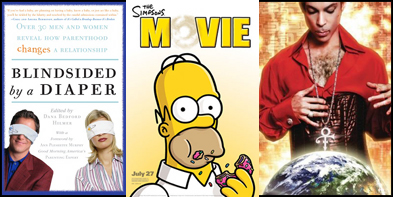 ---
WATCH
The Simpsons Movie
Dan Castellaneta, Julie Kavner, Nancy Cartright, Yeardsley Smith, Hank Azaria
www.simpsonsmovie.com

Your favorite animated family just hit the big screen, and you won't want to miss the antics of America's number one animated, two-haired dad Homer Simpson who, yet again, brings the world to the brink of destruction. Complete with all the mayhem and social satire you love from The Simpsons, watch as creator Matt Groening touches on everything from the environment and government oversight to the very ties holding Homer and Marge together. The flick includes cameos from every important character in the Springfield universe—and a few of the big laughs are definitely deserving of its PG-13 rating. Married folks will love it—wives will be especially thankful their husbands don't adopt pigs and parade them all over the ceiling. "Spider Pig, Spider Pig, does whatever a spider pig does."

READ
Blindsided by a Diaper: Over 30 Men and Women Reveal how Parenthood Changes a Relationship
Edited by Dana Bedford Hilmer
www.randomhouse.com

Thinking about adding a little person to your happy home? Whether you and your spouse are already parents or just thinking about embarking on it, check out this collection of essays about how exactly your bundle of joy will challenge your relationship to the very core. Self-help heavyweights like Hope Edelman and Dr. Susan Maushart share their wisdom along with notables like Moon-Unit Zappa and novelist Leah Stewart. It's fascinating, sometimes funny and always candid. It's like sitting in a room with your dearest friends who will actually tell you the truth about babies.

LISTEN
Planet Earth
Prince
www.3121.com

All you die-hard Prince fans will want to pick up his latest outing. A veritable cornucopia of styles, Prince rocks a smooth groove on Guitar, channels a classic 1940s soul vibe on Somewhere Here on Earth and hearkens back to nighttime R&B sound with Future Baby Mama. He spins a yarn about the fragile earth in the title track, Planet Earth, a haunting melody with lyrics like: There R only 2 kinds of folk/and the difference that they make/The ones that give & the ones that take.


---
---
---
Leave a Comment