Movie Under the Stars
Enjoy a warm summer night at the drive-in—a classic date even modern couples will love.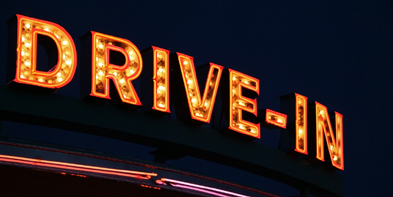 ---
Remember when planning a date used to be simple? Back when you first started dating, you could buy a night of romance for a pair of movie tickets and a cheap dinner at the nearby Chili's. Luckily for you—and your wallet—the old dinner-and-a-movie idea never goes out of style, especially with this classic twist on an old favorite. With its cheap prices and rich nostalgic appeal, the drive-in movie theatre is the perfect summer-time date for couples of all ages. Heck, many of you have probably never been to one.

"The drive-in's casual come-as-you-are atmosphere provides the perfect setting to unwind and kick back," says Jennifer Sherer Janisch, CEO of Drive-On-In, Inc. "I think today's couples find the drive-in appealing because it's affordable, not your run-of-the-mill night out, and it is your parent's drive-in. This American icon has endured and continues to appeal to all ages, generation after generation."

Lily Rich, 28, of Huntington Beach, agrees. "I remember going with my parents and it always seemed like such an adventure, like we were going camping," she says.

A recent birthday surprise from her man allowed her to relive one of her favorite childhood memories. "He brought a picnic dinner of all my favorite junk food. He also had the back of his jeep all set up with blankets, pillows—he even brought flowers. The topper for me was that he brought this little stuffed dog that I still sleep with sometimes. It was intimate and thoughtful."

Despite all his thoughtful planning, Takis Bilios, 29, was less than thrilled about the movie playing—he fell asleep. "The only movie they were showing that week was Shrek 3—I was hoping for a scary movie. Either way, it turned out okay."

If a movie under the stars sounds like the perfect escape, take a cue from Takis and Lily with these three tips for making a night at the drive-in the perfect date experience. Sleeping optional.

1. Bring a snack. Surprise your sweetie with a picnic dinner of their favorite foods. It's a thoughtful—and tasty—gesture that'll make the experience even more special.

2. Get comfortable. Unlike a movie theatre, the drive-in offers a unique, private experience, so make it your own. Pack some blankets and pillows and snuggle under the stars.

3. Make it a marathon. Lots of drive-ins offer more than one show a night. Pay for the double feature and prolong the date, which allows you the extra benefit of visiting the snack bar in between shows—a special memory for many.

For a list of open drive-ins near you, visit www.drive-ins.com.


---