Novel Sex
This week, Dr. Read explores the pros and cons of romance novels.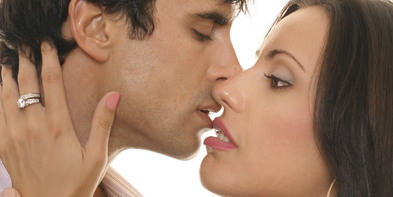 ---
Ah, my first romance novel. I was 14 years old, reading my very first sex scene in the back of my parent's station wagon heading towards our family summer vacation. My face was eight shades of scarlet—I kept looking over my book at my brothers, sister, father and step-mom with shifty eyes—certain they knew what I was reading. I remember holding my breath for entire sex passages and reading the "good stuff" over and over again.

Like many women, Harlequin romances were my introductory sex education manuals. In 2005, studies took this concept a step further to say women who often or always read romance novels are less likely to divorce. Ladies, here is a great reason to actively read smut, and often.

Apparently, Harlequin romance novels sell 160 million copies per year, with 53 percent of all mass-market paperback books sold being Romances. In fact, romance novels earn more money in the United States yearly than major league baseball.

I in turn have a love/ hate relationship with romance novels. So, here is the good, the bad and the ugly on this genre of book.

The Good
Romance novels provide entertainment, pleasure, escapism, a chance to relax and an opportunity for the reader to use their imagination. Romances are usually about healthy relationships thus offering readers optimism and hope for their own.

The heroines in romance novels can be excellent role models: they are strong, smart characters possessing tons of moxy, and refuse to be any man's doormat. These women courageously tackle their problems head-on, are risk-takers and hold fast to their convictions.

I am also an advocate of romance novels because they get a woman's sexual juices flowing. A friend gave me a great idea that I like to share with other women. She keeps an erotica book in her bathroom for those times when she comes home exhausted and still wants to have sex. When things start to get going in her bedroom, she excuses herself for a couple of pages of erotica and then she is ready to roll.

The Bad
I do not like romance novels because they set-up unrealistic expectations about how a woman should be in bed. It would seem no matter what kind of day the heroine has had, if she is tired to the bone, filthy from fighting off pirates, she is still able to immediately shut off her brain and turn on her body. I have read many passages like, "After our three day adventure in the jungle, when I saw him my body started to smolder. Where he touched me left burning marks of desire waiting and wanting to be touched there some more."

Most women I know, when they come home after a hard day of fighting pirates just want to take a nice hot bath and go to sleep. Also, I wonder how this now blissful couple will be in three years when life, work and other commitments have taken over.

The Ugly
I cringe every single time I read a passage describing the heroine having a mind-blowing orgasm the instant her hero enters her. I have read countless passages describing sex as some kind of explosion, "As his rock hard mound of steel penetrated me, my body shuttered and spasmed and I lost control of myself in his manliness."

If you have ever had sex, you will know this is pure fiction, a falsity on how the average woman's biology works. Perhaps, you are thinking this is no-brainer information. Sadly, in the top five questions I receive from women it would be: I can have a clitoral orgasm, but I still cannot seem to have a vaginal orgasm. Can you please tell me how I can have vaginal orgasms too?

Let me set the record straight. Only a small percentage of the female population can have a vaginal orgasm; most women can only have a clitoral orgasm.

In an effort to understand why writers keep producing this mythical rubbish, I took my sex scene beef to the source. While at the 2004 Surrey Writer's Conference, I asked a gaggle of romance chick-lit writers why they do not write more realistic sex scenes. They simply looked at me as if I had three heads. Their retort back was, "How could I possibly let my mother read a realistic sex scene after I have written it?"

I guess the conclusion is to read many romance novels and absolutely enjoy every single minute. However, while reading, understand this book is a work of fiction—real life and sexual relationships usually do not work that way.

Dr. Trina Read has a doctorate in human sexuality. Dr. Read is also an international speaker and offers free sex tips on her website www.bestsextipsever.com.


---