Meatloaf Supreme
Ready to make your kitchen smell great? Mitchell Anderson gives you a great summertime meatloaf recipe along with a simple, yet pleasure-healthy fruit dessert.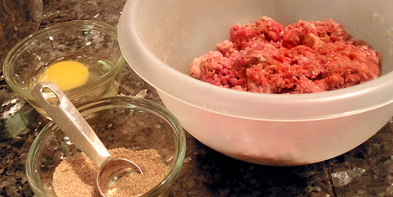 ---
This is not your mother's meatloaf, so keep reading. In fact, this meatloaf is simple and uses lean ground turkey, spicy Italian turkey sausage, and just enough breadcrumbs to hold it together. It is a perfect two-person meal since there is a little chopping involved and, well, who likes to chop solo?

Serve your new favorite meatloaf with a simple green salad and cauliflower "mashed potatoes."

Ingredients:

- 1 package (about 1 lb.) of lean ground turkey
- 4-5 links of hot Italian turkey sausage (also about 1 lb.)
- 1 red small onion
- 1 red bell pepper
- 1 yellow or orange bell pepper
- 1 bunch of flat leaf (Italian) parsley
- ½ cup of chopped fresh basil
- ¼ cup of chopped fresh mint (optional)
- 1 cup ketchup
- 2 tbs. Worcestershire sauce
- 3 large eggs slightly beaten
- About 1 cup of plain bread crumbs
- salt and pepper to taste

Note: You can use ground beef and pork sausage instead of turkey, but I like this recipe because it has less fat and is relatively low carb.

Cooking Instructions:
Preheat the oven to 350. Put Turkey in a large mixing bowl. Squeeze the sausage from its casing and add to the turkey.

Dice peppers to about a half-inch dice and add.
Dice onion to about a half- inch dice and add.

Tip:
Good to know for this and other recipes: If the pepper pieces are too big the meatloaf will fall apart.

Chop the parsley, basil and mint and add this to the mixture. Add eggs, ketchup and Worcestershire sauce and a little salt and pepper.

Now, take off you rings, wash your hands and plunge them into the bowl and mix your ingredients all around. Make sure to integrate the sausage and egg completely into the ground turkey. Your partner will then add the breadcrumbs while you continue to do the dirty work. Add enough breadcrumbs until the mixture is just firm.

Tip:
First, make sure the egg is completely mixed into the meat before you add the breadcrumbs. If you don't you may find yourself with some soggy gray bits after the meatloaf is cooked, which just might remind you of your elementary school cafeteria. Second, be sure to use just enough breadcrumbs to make the mixture hold together; remember, you want more meat, less bread!

Place your well-mixed ingredients into a greased loaf pan. Drizzle ketchup over the meat and bake for about one hour. If you have an instant read thermometer, the temp should read 165 in the center of the loaf. If not and you are using a loaf pan, the meat should be firm to the touch and the juices bubbling around the sides.

While the meatloaf is in the oven, making your kitchen smell incredible, you can prepare the cauliflower "mashed potatoes." I think Suzanne Summers first introduced this as a replacement for real, carb-heavy mashed potatoes. I like both, but if you are worried about carbs, this is a really tasty alternative. It is also a lighter, less filling addition to the meal, which makes it a great summer choice.

Cut florets from one head of cauliflower. Put them in a medium sauce pan and just cover with vegetable broth.

Tip: Vegetable broth cubes are available in your grocery store, just like chicken- and beef broth cubes.

Cook on medium high heat until the cauliflower falls apart with a fork. Drain the remaining liquid and whip the cauliflower with a whisk. Salt and Pepper to taste – and if you are like me add some butter or your favorite butter substitute.

I know I usually give you some incredible cocktail or wine to pair with your dinner—but for this meal I would recommend a super cold beer, something cheap and domestic. The icy cold beer is great with the spicy, tangy-turkey meatloaf.

We're keeping dessert simple too. Most berries are in season right now; blueberries, raspberries and strawberries mixed together or by themselves with a little Greek yogurt (available at Whole Foods or Trader Joe's) and some honey are the perfect finish for this meal. Or you could just put the berries over your favorite French vanilla ice cream and call it a day.

Owner and Head Chef Mitchell Anderson created MetroFresh Café in Atlanta, Georgia; though he still acts occasionally, most days you can find Mitchell in the kitchen or otherwise handling the business of the restaurant that touts itself as a healthy alternative to fast food. Check out his website at www.metrofreshatl.com to find out more about this actor turned chef.


---
---
---
Leave a Comment