Tattoo Taboo?
Getting a tattoo is also 'til death do us part.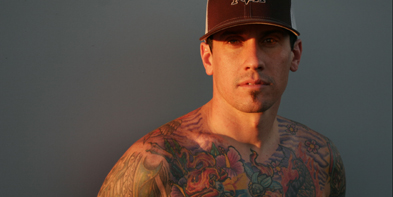 ---
Shortly before turning 40 on a recent business trip Gary Prusher, now 41, refrained from getting himself a girlfriend. Melissa, his 39-year-old wife says that would have been fine with her. "Me, I would have preferred the girlfriend because at least she'd go away after six months." Instead, Gary finally got a tattoo, without Melissa's consent. "I still love him," she says. "And he's still the same person…he's just been inked."

It's easy for Melissa to joke about it now, but tattoos can be a real pain in the ass (or just above the left shoulder for Gary) for couples, especially when the tattoo is of someone's name. Consider the fact that 24 percent of Americans between 18 and 50 are tattooed, according to a survey in the Journal of the American Academy of Dermatology. That percentage goes up with younger people: 36 percent of Americans age 18 to 29 have tattoos. Potentially, that's a lot of names.

"I think tattoos are a great way for an individual to express themselves and to represent their lifestyles," says motocross star and tattoo enthusiast Carey Hart. Hart, who is married to singer Pink, has extensive tattoos on his arms, chest, back and neck, including several of his wife's name. "There is a lot of speculation about names," Hart says. "In general, it is frowned upon." Although common sense tells us that getting someone's name tattooed on our bodies isn't the smartest idea, Hart is comfortable with his decisions. "I think that couples tattoos are great, but a lot of thought has to go into it. People have to seriously realize that it is there forever. There is a huge misconception that if you don't like a tattoo, that you can go down and laser it off. It doesn't work that way," Hart says.

He's right. James Morel, CEO of laser removal center Dr. TATTOFF, says that the removal process is relatively simple but time consuming and costly. Depending on the color and size of the tattoo, the process can take anywhere from three to 10 treatments, and those are spaced out about a month apart. Removal treatments can cost anywhere from $100 to $200 per visit, so that simple little name can end up costing you some big bucks.

But don't tell that to Christopher Bennett and Kate Morris. Both 27, the newlyweds decided to get each other's names inked before their wedding. "We were excited to get married, but wanted to do something really adventurous, wild and maybe even a little crazy," Bennett says. Bennett acknowledges the risk, but is adamant about their decision. "It's not the smartest thing, I mean, you never know what will happen, but we're in love," he says. "There's no way anyone could've talked us out of it." Christopher says that he and Kate have no regrets and that the permanence of the tattoos brought them closer. "I'm proud of it, I know she is too. I love seeing the look on people's faces if they notice it at the beach, or around the pool," he says. "We know what they're thinking… "Man, what a bad idea!" But we get a kick out of it."

The permanence of tattoos isn't for every couple, but then again, marriage is 'til death do us part.


---
---
---
Leave a Comment