A Realistic Nightmare
Right At Your Door is sure to scare you to your core and spark conversation after the popcorn.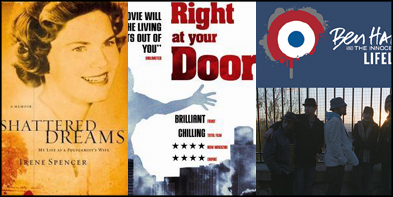 ---
READ
Shattered Dreams: My Life as a Polygamist's Wife
By Irene Spencer
www.hachettebookgroupusa.com

If you're a fan of the HBO hit show Big Love, you know that the world of fundamentalist polygamy is a bizarre one. Read about the real-life experiences of one wife as she recounts being one of 10 wives and a mother of 13 children. From the constant poverty (the family has 58 children to feed) to the secretive hide-from-the-authorities element, the author never shies away from the truly devastating real-life consequences of living "The Principle." This is a true eye-opener, even as you unconsciously reflect on the dynamics of your own monogamous marriage.

WATCH
Right At Your Door
Rory Cochrane, Mary McCormick
www.rightatyourdoor.com

This present-day thriller is an all-to-real imagining of what would happen if a dirty bomb were detonated in Los Angeles. Centered around married couple Brad (Cochrane) and Lexi (McCormick), it asks the question no married couple ever wants to answer: What would you do if one of you carried a deadly toxin? Brad has to face that when he seals himself inside their suburban home, while deadly, toxic ash rains down the landscape. When Lexi arrives covered in the lethal dust, should he let her in? This is a brilliant film by director Chris Gorak that examines our primal fears, our closest relationships and our most claustrophobic nightmares. Currently in limited release, definitely check it out with your spouse—it'll spark some serious conversation.

LISTEN
Lifeline
Ben Harper & The Innocent Criminals
www.benharper.net

If you're even the slightest bit burnt out on all the screaming of alternative rock music, this album is a breath of fresh air. The band's 11th release, "Lifeline" has a mellow groove to it—it would be a perfect listen at your regulars-only, chill local bar. The bass guitar smoothly drives Fight Outta You, while Needed You Tonight channels the spirit of Otis Redding. Having Wings has a solid classic rock feel while the up tempo Say You Will will keep your feet tappin'. The title song, Lifeline, brings a soulful ballad feel to the heartfelt lyrics, "Can't you see me reaching for the lifeline?" You should reach for this one—it's a keeper.


---
---
---
Leave a Comment