Lubrication Basics
Our regular product expert gives you some quick knowledge on lubrication.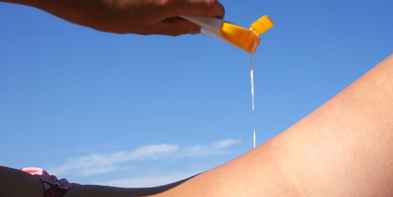 ---
Lubrication is a fact of life. In any relationship where working parts are at play, whether it's an engine, a dinner party or an evening of love, everything works better when it is "well oiled." Lubrication allows for glide, ease and effectiveness. When lubrication is working well, it's invisible, and we don't even think about it. When it isn't working, we know it immediately.

Lacking lubrication in intimacy can take on multiple forms and occur for a myriad of reasons. Age, childbearing and nursing and some medications are often the cause of vaginal dryness and its associated pain in sex. This is not a minor problem; pain with sex affects 40 percent of women at some point in their life. Often this physiological issue is accompanied by a lack of sexual drive because our natural lubrication also acts as a sign that we are aroused. I remember in my teens and twenties when vaginal wetness was a fact of life and arousal happened sometimes without even noticing it. Those body memories are stored deep in our psyche and triggering them can be as easy as finding the right lubrication.

There are many brands of lubricants available on the market. Largely they break down into three main categories:

1. Water based lubricants
2. Silicone based lubricants
3. Oil based lubricants

Each category has its benefits and weaknesses and it's increasingly important to be informed about the choices and consequences associated with different product ingredients. I started my own love product company because so many products that I used after the birth of my third and fourth child only served to further irritate the situation.

Soaking myself in late night baths, I often wondered what was wrong with me and why none of these products were helping me enjoy sex. Being exhausted with burning genitals, instead of feeling satisfied made it easy to believe that the problem was with me, not the products.



Water Based


Water based lubricants are by far the most popular category because they are most often recommended by physicians and are latex compatible. However, because of their ingredient base, which are largely petrochemical, many women experience continuous irritation, burning and infection. Propylene glycol, a primary derivative used in anti-freeze and brake fluid; Polyethylene glycol, an ingredient of oven cleaner and propyl-parabens are very common. The Campaign for Safe Cosmetics—a research advocate arm of the Breast Cancer Fund—has recently identified parabens as potentially carcinogenic and is working to stop their usage in all personal care products.

Another popular ingredient of water-based lubricants is vegetable glycerin. There's some debate about glycerin. On the plus side, it's a great anti-bacterial agent and does provide a certain glide, but in large proportions it has a tendency to inflame yeast problems and usually ends up very sticky and overly sweet.



Silicone Based


Silicone based lubricants are enjoyed by many, with great response. Silicone is known for providing smooth and long lasting glide. Although many lubricant aficionados swear by silicone lube, it's important to take into account the health risks and the fact that it does not wash off your more sensitive tissue with soap and water very easily.



Oil Based


Natural oil-based lubricants offer a sensuous and aromatic choice for individuals who are either allergic to latex or have other birth control methods. Love oils and butters gave me my first really positive and healing sex experience and helped me launch my business in natural love products. The use of olive oil and coconut oil as lubricants are ages old, and for good reason.

If you want to do some experimenting with lubricants there are some great websites with a variety of educational resources and product reviews available. I would recommend blowfish.com , the dinahproject.com, and drugstore.com. Another, more adult site, freddyandeddy.com provides more explicit reviews. Whichever lubricant you decide to choose, realize that your body can teach your mind, and arousal and sexual enhancement may be as close as the bottle on your nightstand.

Wendy Strgar is the founder of GoodCleanLove.com, which provides products and advice for sustainable love. If you have questions about products or toys send them in and Wendy will be happy to share her knowledge.


---