5 Movies Good for Foreplay
Lights, camera, sex! These five sexy movies are guaranteed to get you in the mood.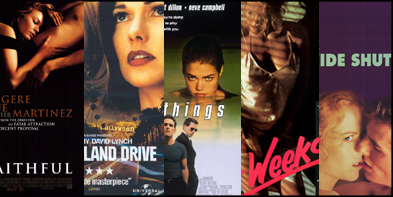 ---
Who says a movie has to be rated X to get you in the mood? Skip the trip to your local porn shop and rent these five "harmless" movies guaranteed to spice up your normally humdrum movie night.

1. Unfaithful (2002)
No movie has as many frenzied, raw sex scenes as Unfaithful, a movie about a married woman who has a torrid affair with a sexy foreigner. The two engage in one frantic romp after another, leaving it impossible to pick one scene that stands above the rest. Just sit back and enjoy the ride as you become engrossed in the sexual energy between Olivier Martinez and Diane Lane.

2. Mulholland Dr. (2001)
Laura Elena Harring and Naomi Watts deliver two fantastically graphic scenes in this genre-defying movie about an aspiring actress who helps an amnesia victim solve the mystery of her attempted murder. From their tender first time to an almost violent scene in which Harring tells Watts they "shouldn't do this anymore," Mulholland Dr. drips with raw sexual tension.

3. 9 1/2 Weeks (1986)
This classically sexy movie about a sadomasochistic affair between Kim Basinger and Mickey Rourke is still considered one of the most erotic movies of all time. In the movie, Rourke pushes Basinger's boundaries with sexual games intended to control and sometimes abuse her, leading to her eventual break down. Some scenes were so real that many wondered if Basinger and Rourke actually participated in them.

4. Wild Things (1998)
Once upon a time, the only way you could see two girls kissing on screen was to rent a XXX or foreign film. That's why Neve Campbell and Denise Richards made such a splash with their sexy pool scene in Wild Things, a movie about a high school guidance counselor accused of raping two of his students. The most memorable scene of the movie shows the two girls passionately making out in a pool while Campbell slowly unties Richards' bikini top.

5. Eyes Wide Shut (1999)
Despite the disappointment this movie garnered as Stanley Kubrick's last film, there's no denying palpable sexuality exuding from the screen. Whether it's the covert sexuality of Nicole Kidman, clad only in her husband's shirt, reminiscing about her almost-affair, or the overt scenes of attractive men and women strutting naked around a mansion and engaging in orgies, Eyes Wide Shut is full of scenes guaranteed to get you in the mood.


---